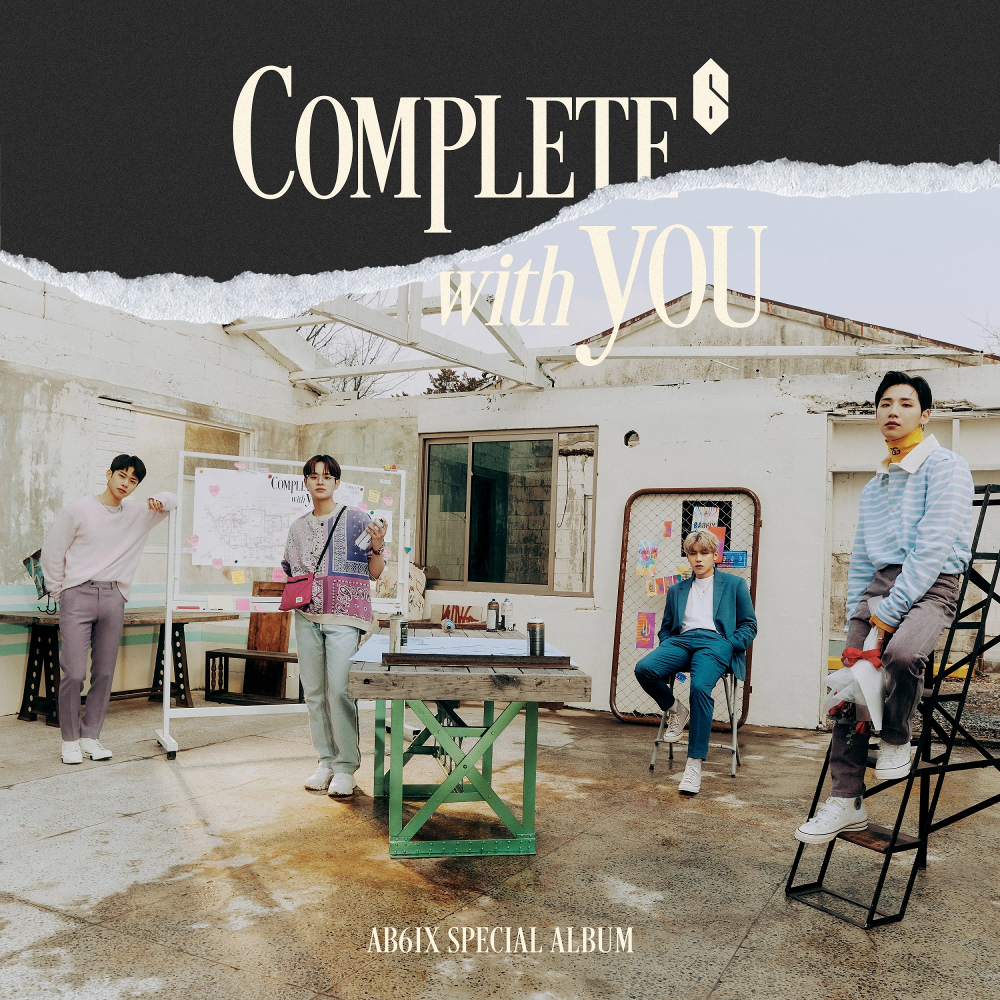 [This review reflects the author's opinions and not necessarily those of allkpop.]
Track List:
1. 1, 2, 3
2. VENUS
3. CONSOLATION
4. CRAZY LOVE
5. IN YOUR EYES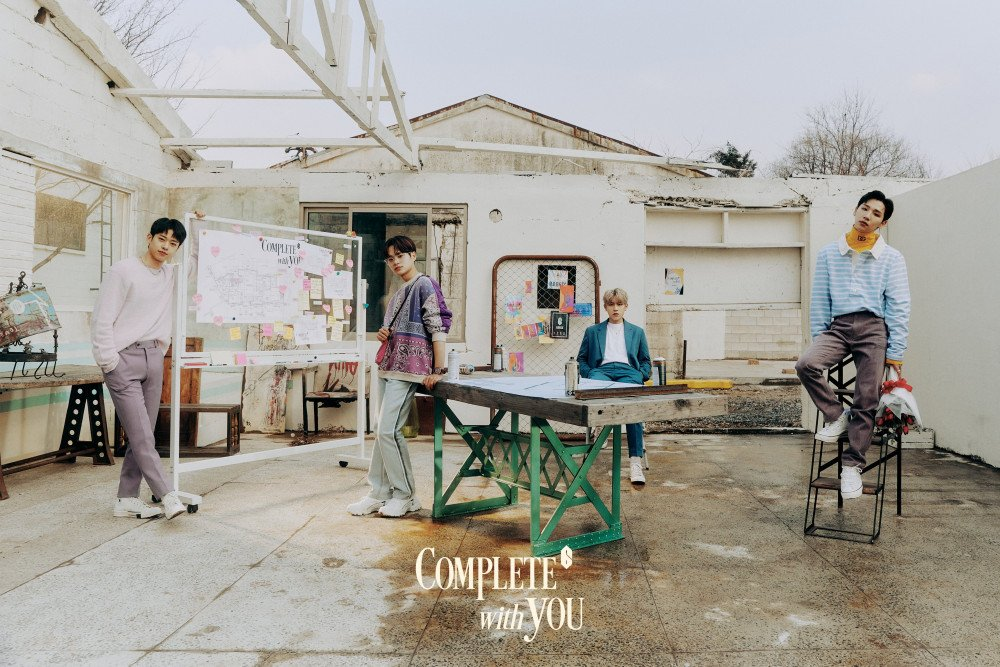 Returning with a special album release, AB6IX is back again with five new songs on their latest EP, COMPLETE WITH YOU. With "1, 2, 3" as the main pop-heavy dance title, this upbeat single ushers in a light-hearted era for the group. COMPLETE WITH YOU serves as a gift to fans around the globe in light of the group's return to the stage for their second concert. Despite the physical distance from fans, the group aims to give this album as a token of appreciation to those who have remained alongside AB6IX throughout the pandemic.
"1, 2, 3" has a simple concept with a straightforward pop sound. This feel-good track is easy to consume and a nice addendum of BGM on a regular day. The title's cheerful sound excites and gives way to an intriguing rest of the album. Rather than continue on with songs that include the entire group, the four members split up the rest of the tracklist to showcase themselves individually.
First up is Kim Donghyun, who opted for an R&B song called "Venus." Sexy and sleek, this song surprised me. Despite the mellow introduction, the song picks up halfway through with a goosebump-inducingly seductive buildup. Of the four solo songs, "Venus" is one of my favorites for its dramatic and serious nature.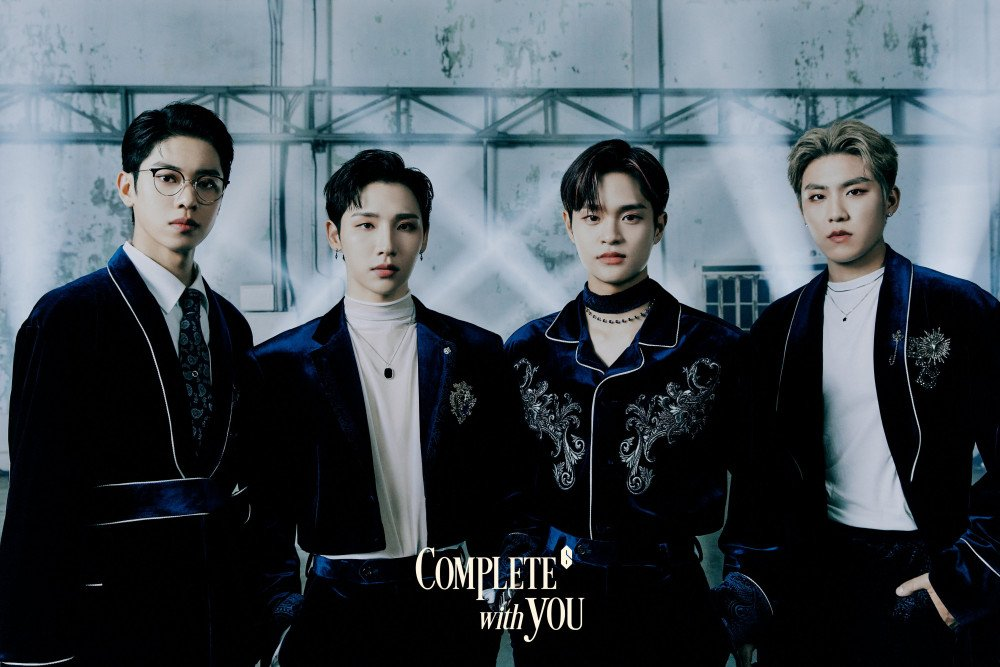 Park Woojin is next up with his song "CONSOLATION." Similar to Donghyun, there's an R&B concept. However, Woojin's track is significantly more mid-tempo than Donghyun's song. Focusing more on rap than anything, Woojin stands alone well but doesn't leave quite the impact that "Venus" had. "Venus" had more of a 'wow factor.' Where "Venus" is alluring, "CONSOLATION" is poignant.

Jeon Woong brings the album's overall tempo back up with his solo song, "CRAZY LOVE." On this particular solo track, the melody is the focal point. It boasts a song progression that builds and ramps up as the song plays out, and the well-timed pauses and vocal delivery make this song a smash. Of the four solo tracks, "CRAZY LOVE" comes second to "Venus."
Lee Daehwi wraps up this special album with a much-needed ballad. Offering up his delicate but robust vocals on a profoundly significant track, one doesn't need to read the lyrics to know that this song is laden with meaning. Based on Daehwi's singing alone, this song illustrates the depth and passion of the idol by offering listeners a vocally-changing song to enjoy. Daehwi's song is a nice bow on the top of a thoughtful present from AB6IX. Strangely enough, I find each member's solo track far better in quality overall in comparison to the group's chosen title.
MV REVIEW
Opting for a performance-based MV, AB6IX offers up a monochromatic theme that brightens alongside the title track, "1, 2, 3". As the song progresses, the MV follows suit, becoming more vivid with the nature of the performance. Plot-wise, there is none, as the group opted to release a performance version in place of your typical MV. That being said, the energy from the artists is felt through their charismatic dancing and cheerful smiles. "1, 2, 3" is a song that's meant to be a gift for fans, and this video feels like it was made for ABNEW.
MV SCORE:
MV Relevance…..7
MV Production…..8
MV Concept……..7
MV Score: 7.33
ALBUM SCORE:
Album Production…...8
Album Concept……...8
Tracklisting…………...9
Album Score: 8.33
Overall: 7.83