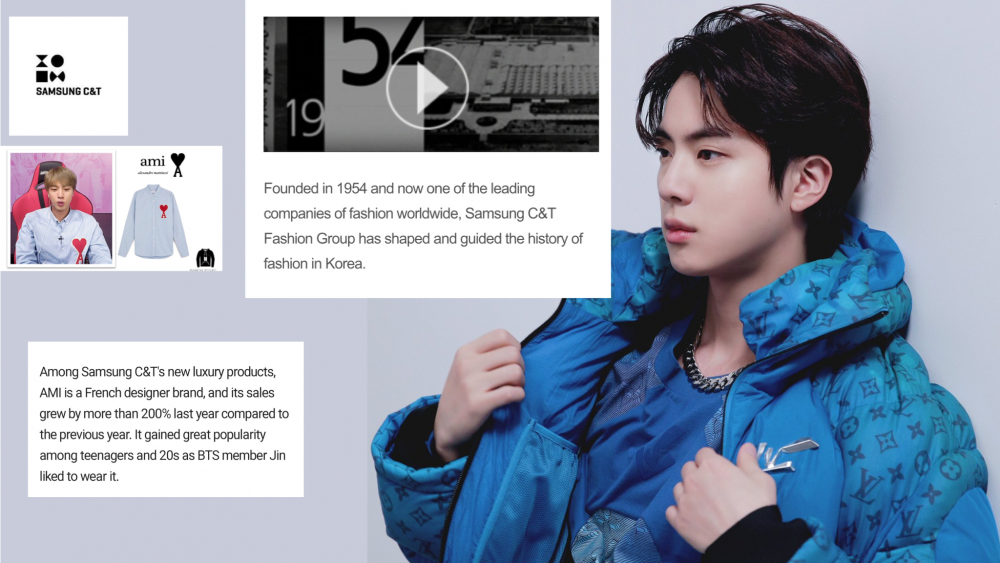 Korean Media, "The Financial Times", made a special report about the success of brands under Samsung C&T Fashion Brand that is owned by Samsung:

"According to the Financial Supervisory Service on the 27th, Samsung C&T's fashion division recorded sales of 1.767 trillion won, and operating profit of 100 billion won in 2021. This is an increase of 14.4% and 377.8% compared to 2020."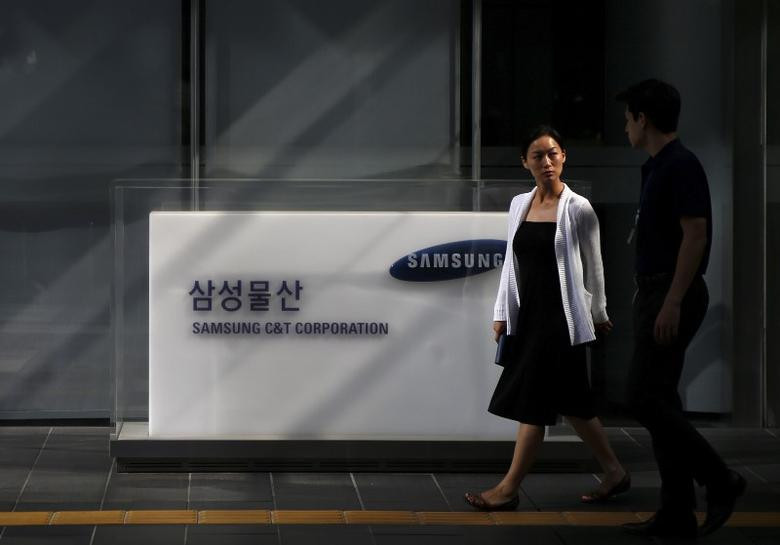 The article is based on analyzing the sales and popularity increase of Samsung C&T fashion brands by 378% since last year. It mentions the few exact brands that had the biggest impact on it. This company was founded in 1954 and is now one of the leading companies of fashion worldwide. Samsung C&T Fashion Group has shaped and guided the history of fashion in Korea.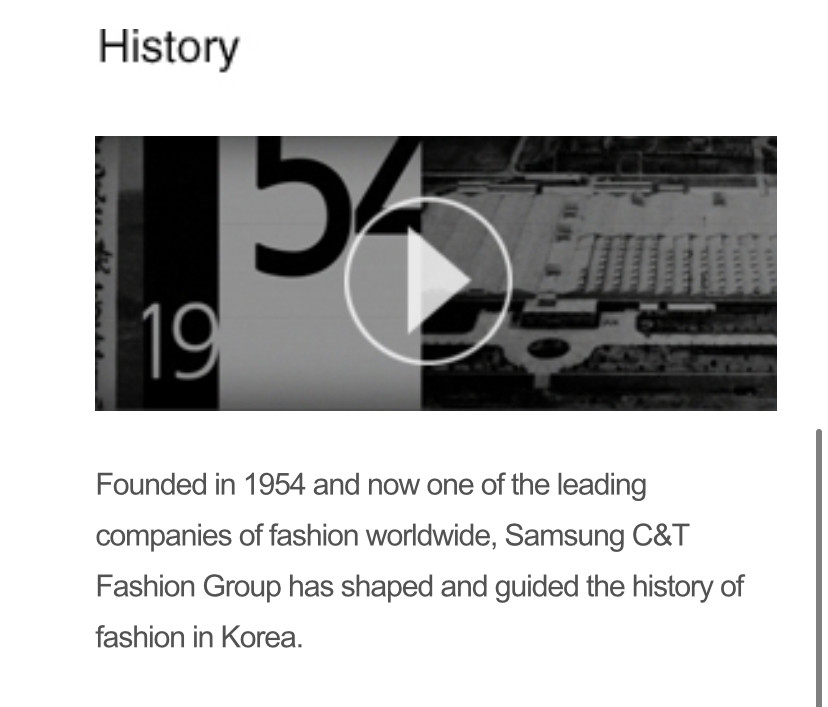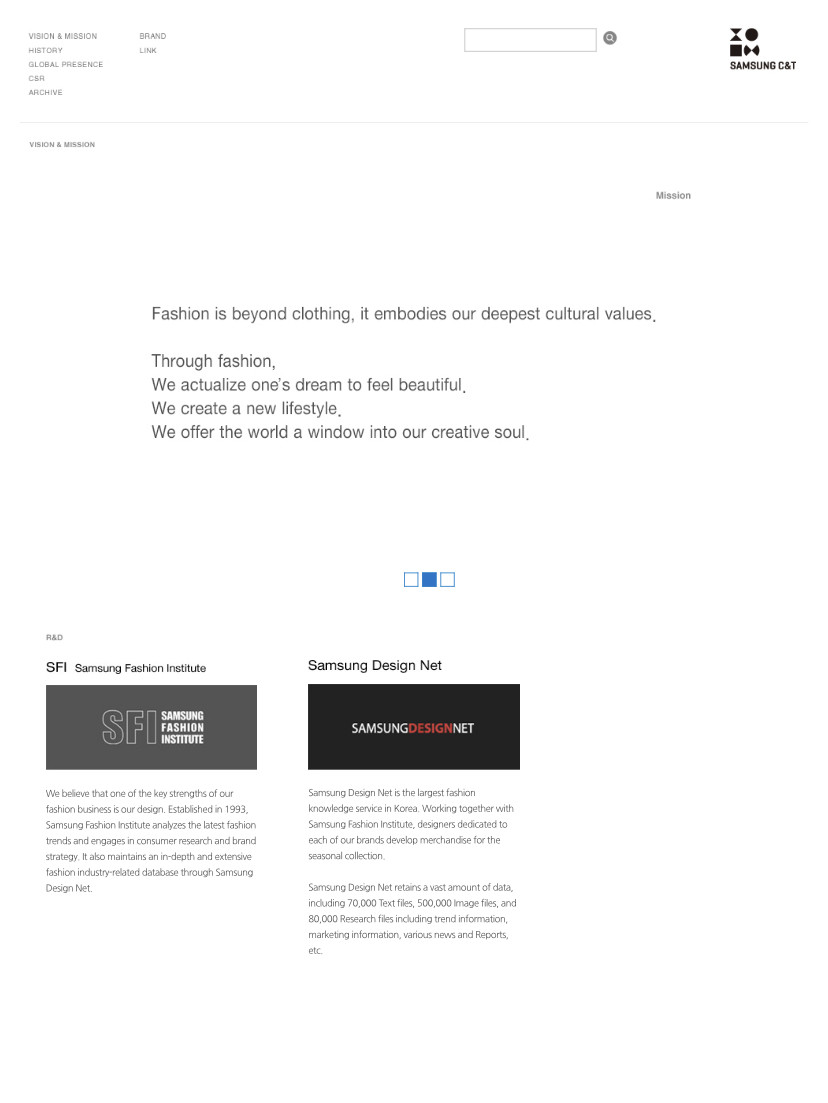 BTS Jin's impact on such a famous Fashion Group got especially highlighted in the article. Jin wearing the fashion brand AMI in 2021 was a driving force behind the revenue growth of 200%, which is the biggest increase for any of the Samsung C&T Fashion Group!

"Among Samsung C&T's new luxury products, AMI is a French designer brand, and its sales grew by more than 200% last year compared to the previous year. It gained great popularity among teenagers and 20s as BTS member Jin liked to wear it."
More than that, BTS's Jin also popularized Thom Browne among millions of teenagers due to it being one of his favorite fashion brands ever. Thom Browne is also a part of the Samsung C&T group. More than that, Samsung designers created the Thom Browne Galaxy phone edition due to Jin requesting such an idea.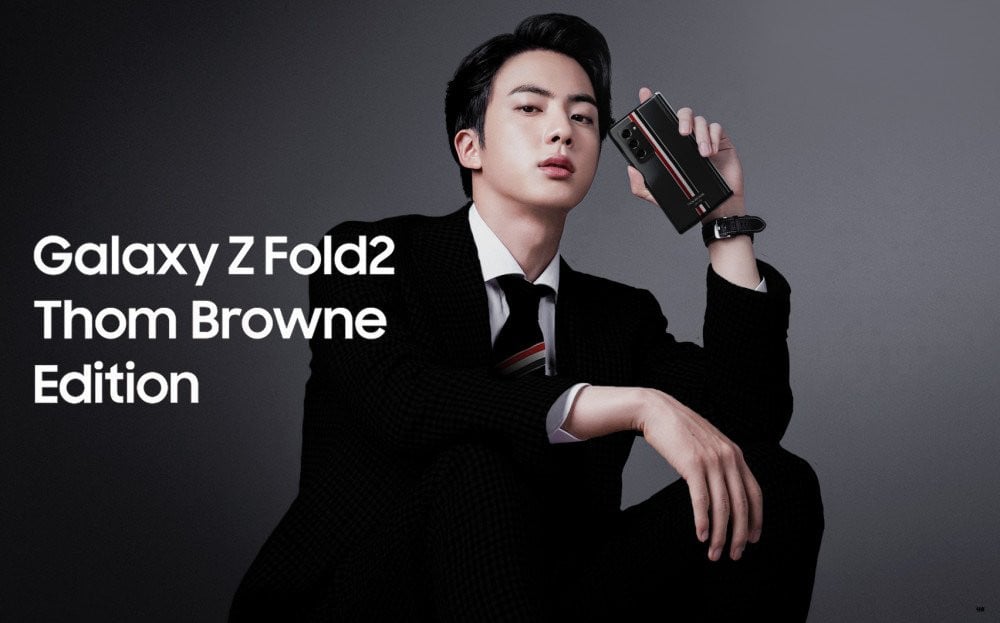 As expected, this collaboration with Samsung, promoted by Jin, who uses the products out of this collection in his everyday life, became a hot topic among millions of customers, and it had an impact on Thom Browne sales. This brand is one of the few brands in Samsung C&T Fashion Group, having the largest increase last year. It is mentioned in the article as well:

"American designer brand Thom Browne also saw sales increase by more than 20 percent last year. In collaboration with Samsung Electronics, the Galaxy Watch 4 Thom Browne Edition and the Z Fold 3 Thom Browne Edition were released and became a hot topic."




It is marvelous how a single person can affect the sales and even the popularity of fashion brands that much.
Samsung C&T Fashion Group got a huge increase in sales last year, and BTS's Jin impacted the two brands that had the hugest increase among the rest of C&T Fashion Group brands. The idol gave the revenue an increase of 220%, which is more than a half. Millions of people see Jin as their fashion idol, loving his taste and desiring to look just as good.