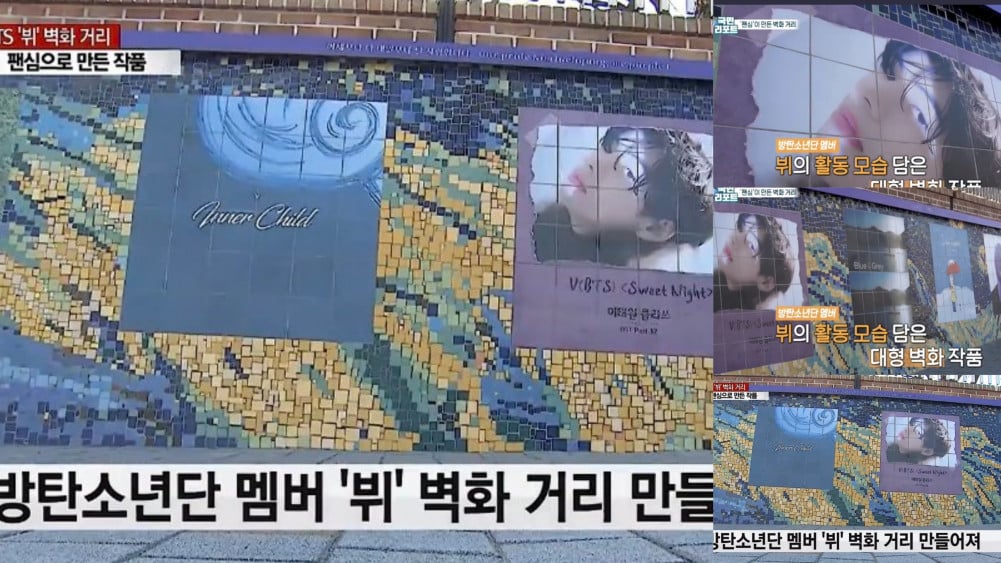 BTS V's birthday was one of the biggest events, which is still a hot topic now.
The Daegu Wall Mural Painting; a project made by V China Bar, is a stand-out project that has created so much interest since its announcement.
The project was covered by almost every news channel in Korea and has remained in the spotlight till now. Korean news channels reported about the location of the project being a main attraction to tourists now and being an inspiration for kids.
Recently, KTV National Broadcasting System reported about the unique "large panorama tile mural" on the outer wall of Taehyung's alma mater as one of his birthday project.
"The project helped in strengthening tourism on Daegu as fans continue to visit, it is also expected to promote Daegu to the global village and revitalize themed tourism in connection with nearby markets."
TBS, a South Korean TV station run by Seoul Metropolitan Government, broadcasted on their news program the wall mural painting birthday project
The wall that was decorated by V's paintings was installed with local government permission.
YTN news talked about Taehyung's mural installed on the outer wall of an elementary school in Daegu:
Eun Gwihyang, Principal of Daegu Daesung Elementary School, gladly agreed to offer the school to install V's mural said, "V is a world-class singer. If our students see this all the time and know about him, this can give dreams and hopes to our kids. So I could decide on this."
The mural wall was featured on the news at Naver TV
Not only in Korea, Taehyung's birthday projects are making headlines worldwide.
TBS Japanese News program, "The Time," reported about the compilation of different birthday projects for Taehyung in 2021. From New York ads to Vietnam's Ferris Wheel to Daegu Wall Mural Painting to Japan LEDs, and lastly, the Burj Kahlifa ad