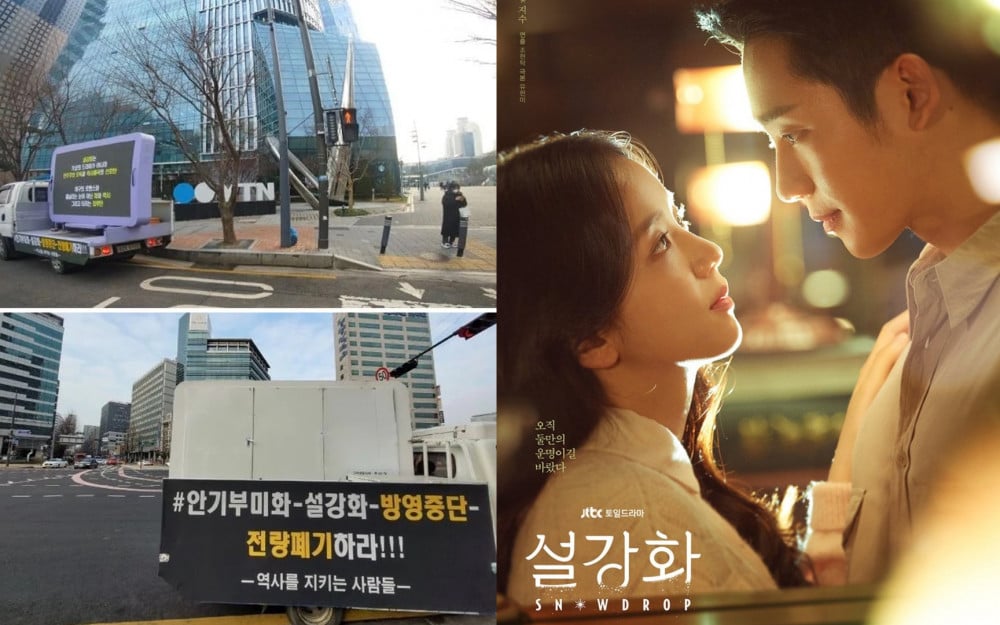 Ever since the production stages, there have been heavy criticisms against the JTBC drama 'Snowdrop.' This is because the drama has been seen as a distortion of history and misrepresenting one of the most critical times in South Korean history.
During the production stages, the plot, and character information have been leaked out to the public drawing many concerns as many netizens. 'Snowdrop' received much backlash when the male lead character was set to be an actual spy in the drama in 1987. Therefore, netizens stepped up to protest against the drama and criticize that the drama is distorting history and mocking the sacrifice the college students at that time made to establish the democracy of South Korea. Nevertheless, JTBC assured netizens and viewers that the story does not center around the democracy movements that occurred during that time.

However, the controversy heightened when the drama first aired, and viewers saw that the plotline was not edited from the storyline that was leaked a few months back. The public became furious as the male lead character was set as a North Korean spy. With the controversy worsening, many sponsors pulled out their sponsorship from the drama, with more than 200,000 signatures signed on the petition to halt the drama.
JTBC continued its attempt to alleviate the anger of the public as they released statements explaining once again that the characters do not get involved in any democratic movements. Additionally, JTBC announced that episodes 3-5 of 'Snowdrop' will all be aired this week to 'clarify misunderstandings.'
Still, this was not enough to appease the public as many netizens banded together to dispatch protest trucks in various areas across Korea.

The protest trucks explain that the drama is an insult to the victims who have suffered torture under the pretense they were spies as they fought for proper democracy for South Korea. The protesting truck presented statements saying, "The victims who were tortured by the NSP are still alive. The perpetrators are still alive. The fight of 1987 has not ended yet. 'Snowdrop' is not a fictional drama but it is an insult to those who fought for democracy and it is a distortion of history."
Many of these protesting trucks criticized the backdrop of the drama and the usage of the character names. The protesting trucks continued to demand that the dramas be halted as it is continuing ridicule to the victims of that time.
Other netizens commented, "This is so much worth it," "these protesting trucks are actually used for a good cause," "I'm going to donate to support these protesting trucks too," "These have to be effective," "this is awesome, "and "I want to support these trucks too."