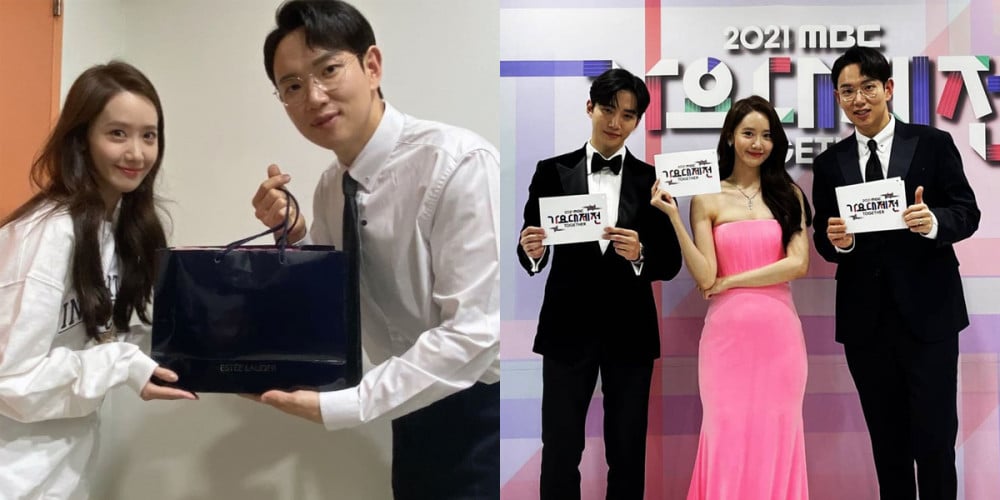 Announcer Jang Sung Kyu expressed his gratitude toward his co-MC, Girls' Generation's YoonA, after receiving a thoughtful New Year's Day gift from the idol.
On January 1, Jang Sung Kyu shared some behind photos from the '2021 MBC Gayo Daejejeon', including a shot of him receiving a large gift bag from YoonA. He wrote:
"Anyone who knows what it's like to receive your first gift of the New Year from YoonA-nim, raise your hand. #Me.
I was surprised when she came to greet me in my waiting room, but then she even handed me a gift for my wife..
It seems like a simple, easy gesture, but there are so many good people out there who find it difficult to turn their good intentions into actions.
Having co-MC-ed the 'Gayo Daejejeon' for 3 years, it always felt kind of awkward for me to be there at a festival for K-Pop idols.
But whenever I was feeling kind of left out, YoonA always came to my aid..
Why do you always give and never take~
Because I felt bad about always just receiving your kindness, I wondered what I could do in return, but there's nothing...
So I will just talk about what a kind person you are.
Lim YoonA's gift at the start of the Im In Nyeon ('The Year of the Black Water Tiger').
Everyone, I wish for you good fortune such as this in the New Year."
Meanwhile, Jang Sung Kyu, Girls' Generation's YoonA, and 2PM's Junho greeted viewers as the hosts of the '2021 MBC Gayo Daejejeon' back on December 31, ringing in the New Year with various K-Pop idol groups.