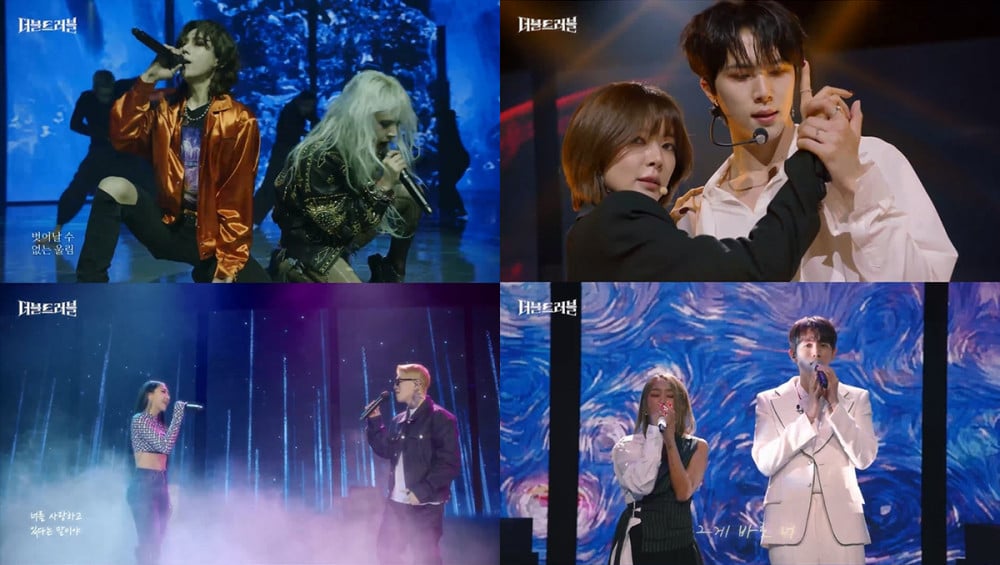 On December 31, the 10 K-Pop idol contestants of the WATCHA-original music competition program 'Double Trouble' showcased their first main round performances!
'Double Trouble' is a music variety starring 10 K-Pop idols from various generations, as they form unlikely units and perform shocking duet stages. Each week, listeners representing viewers in their twenties, thirties, and forties will cast their votes for their favorite performance of the night.
First, Jang Hyunseung and KARD's Jiwoo captivated viewers with a powerful rendition of Pentagon's "Dr. BeBe".
Next up, former 2NE1 member Minzy and Block B's Taeil partnered up for a stunning R&B remix version of Deux's "Say".
One of the most anticipated duets of the first round, Hyolyn and 2AM's Seulong did not disappoint with their vocal performance of "Dream" by Suzy x Baekhyun.
A special collaboration between 2nd generation and 3rd generation, former AOA member ChoA and WEi's Kim Dong Han paired up for a dance performance of Kim Chung Ha's "Gotta Go".
Finally, the only 4th generation idol of the cast, Weeekly's Monday showcased a refreshing performance of BoA's "Atlantis Princess" with her duet partner, SF9's Inseong!
Meanwhile, the first round duet teams of 'Double Trouble' also released their cover tracks digitally on December 31 at 6 PM KST.
Which stage from 'Double Trouble' is your favorite so far?