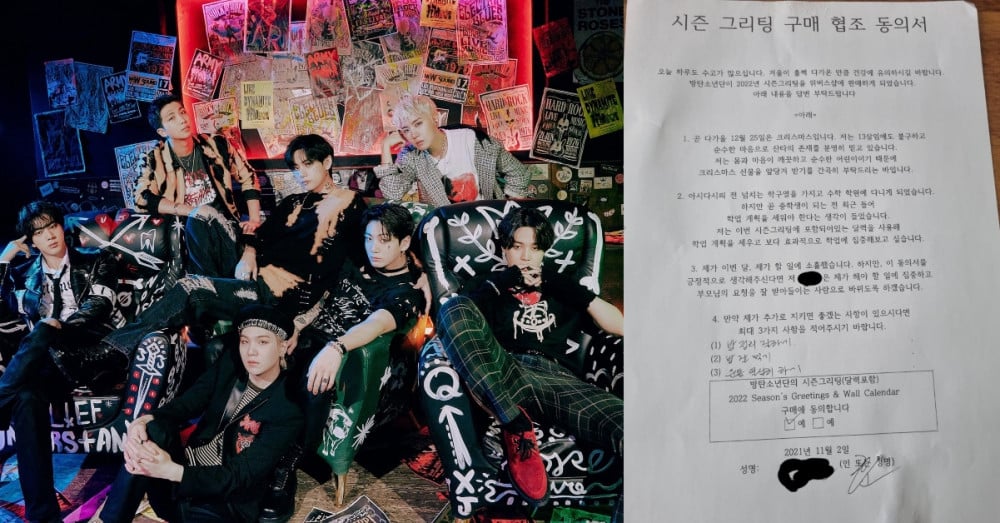 Netizens fell in love with a 13-year-old BTS fan, who wrote a contract to convince their parents to purchase BTS's '2022 Season's Greetings' package.

On November 3, one netizen took to an online community forum to create a post titled, "What this 13-year-old child did because they wanted to buy BTS's Season's Greetings". Here, the netizen added a photo of the contract the fan had written, and wrote, "The child must have written this up and given it to their parents".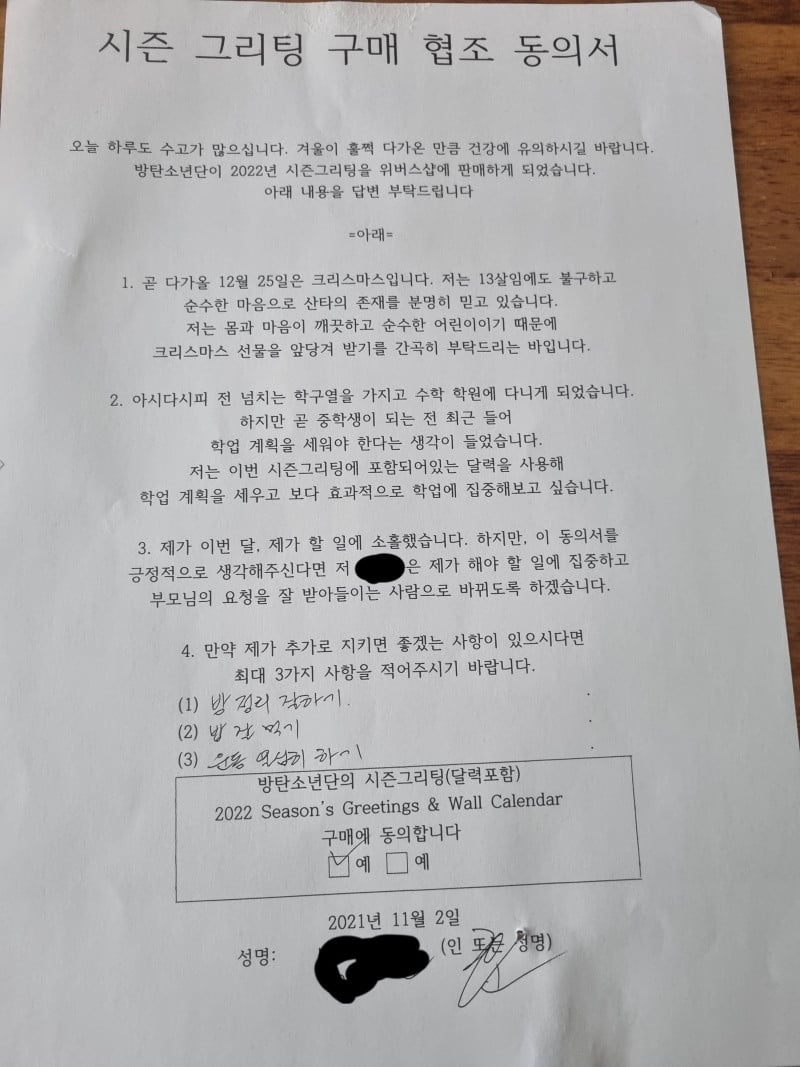 The contract said the following:

"Contract agreeing to purchase Season's Greeting

Once again, you are working very hard today. I hope you both stay in good health, as winter is quickly approaching us. BTS have begun the sales for their 2022 Season's Greeting on Weverse shop. Please reply to the content below.

=Below=

1. Christmas is coming soon, on 12/25. Despite the fact that I am 13 years old, I still believe in the existence of Santa Claus with an innocent heart. Because I am a young child whose mind and body are pure and innocent, I sincerely request that I receive my Christmas gift in advance.

2. As you know, I have an overflowing eagerness to learn, and that is how I began to attend math tutoring. However, I am becoming a middle school student very soon and it recently occurred to me that I should be creating an academic plan. I want to effectively focus on my studies by using the calendar included in the Season's Greeting, and set my academic plans.

3. I was negligent of my responsibilities this month. However, if you view this contract positively, I, (name), will focus on my responsibilties and change into a person who listens well to my parents' requests.

4. If you have additional things you would like me to follow, please write up to three requests.
(1) Clean your room well
(2) Eat meals well
(3) Exercise deligently

2022 Season's Greetings & Wall Calendar
I agree to the purchase
O Yes O Yes "



Netizens who saw this contract commented:
"Yes or yes Lolllll."

"When [the child] grows up, the child will probably make presentation slides really well Lolllll."

"So cute!"

"TT So touching [how the parent wrote as a condition] to eat meals well."

"Oh my gosh, what is up with their advanced vocabulary at just 13 years old? Such a smart kid...This really sounds like a high school student [wrote it] Lolllll."

"The parents are such good people. For additional requests, they wrote 'eat meals well' and 'exercise'."

"Wow...if my child was like that, I would've died at how cute they were."

"Crazy...look at their writing. The child is only 13?? I was like 'buy me!! ack! ' and other dumb stuff [when I was 13], but this child is totally an adult."

"[This child] is so much better than the coworkers I'm doing a project with right now."

"So smart and so cute, that I want to buy it for the child Lolll."