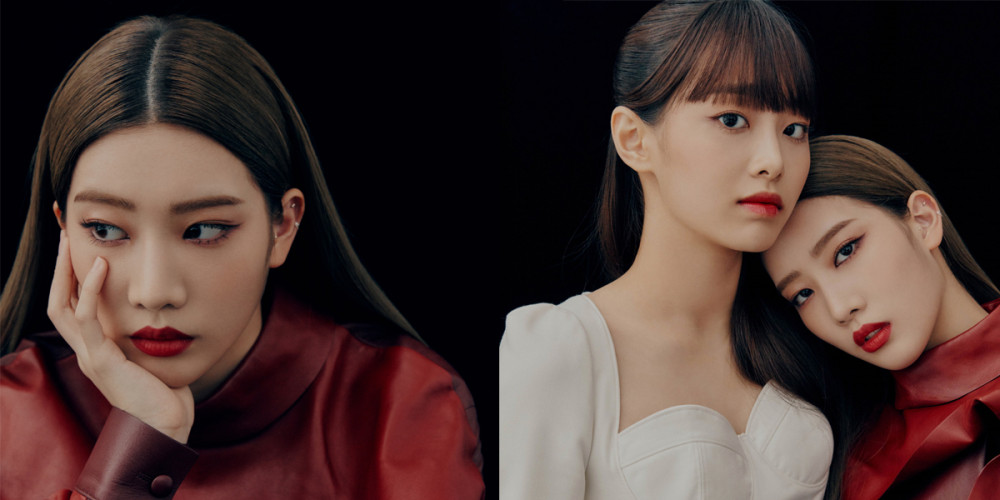 LOONA's lovely 99-line best friends, Chuu and Kim Lip, posed for their first ever unit pictorial together since debut!
For this pictorial, featured in the November issue of 'Esquire' magazine, Chuu and Kim Lip embodied the simple and chic theme of 'Red & Black'. Kim Lip exuded her boldness and charisma by pulling off unique poses and expressions, while Chuu balanced out the mood with her more pure, youthful charms.
During their interview, Chuu and Kim Lip reminisced about how they first became friends at school. Chuu said, "I always like Lip when we went to school together, so I followed her around." Kim Lip added on, "Chuu always expresses her affection well, so I feel bad when I feel like I can't give all that affection back as openly."
The girls then talked about what it's like to live in the same dorm as your best friend. "There are good things when you live with your bff, but there are instances when it's uncomfortable. Because she knows me so well, I can't hide my feelings even if I'm dealing with something difficult and I want to keep it to myself. We know what the other person is thinking just by looking at them."
Meanwhile, LOONA recently marked a successful debut in Japan with their 1st single, 'HULA HOOP/StarSeed'.