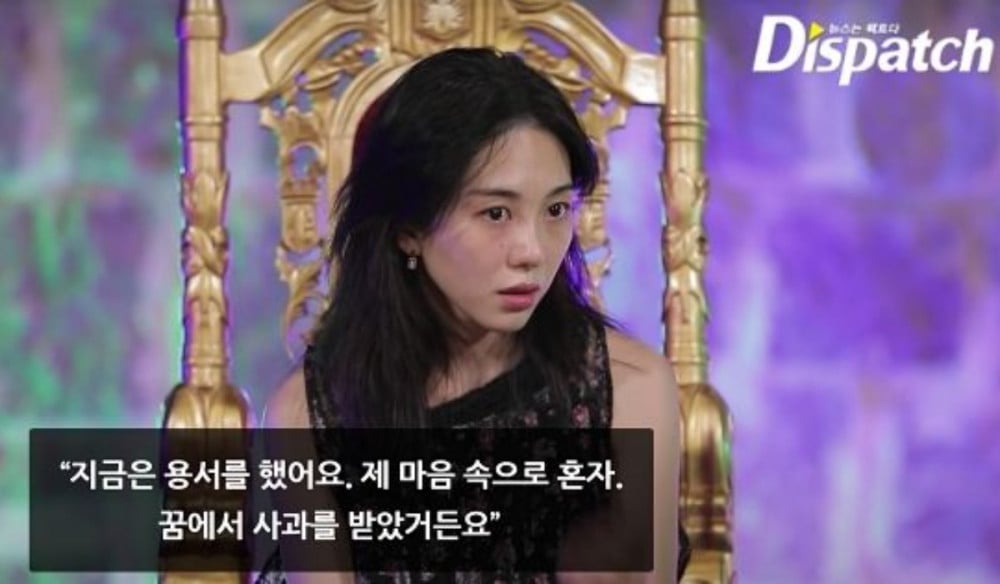 Media outlet 'Dispatch' revealed the 128 minutes long transcript and text messages regarding former AOA members Mina and Jimin, stating they want the public to see the whole picture.

In April 2020, Mina and Jimin made up with each other. On April 3rd, 2020, Jimin's father had passed away. Mina came to his funeral on the 4th and Jimin apologized. According to the revealed text messages, they reconciled and hugged each other.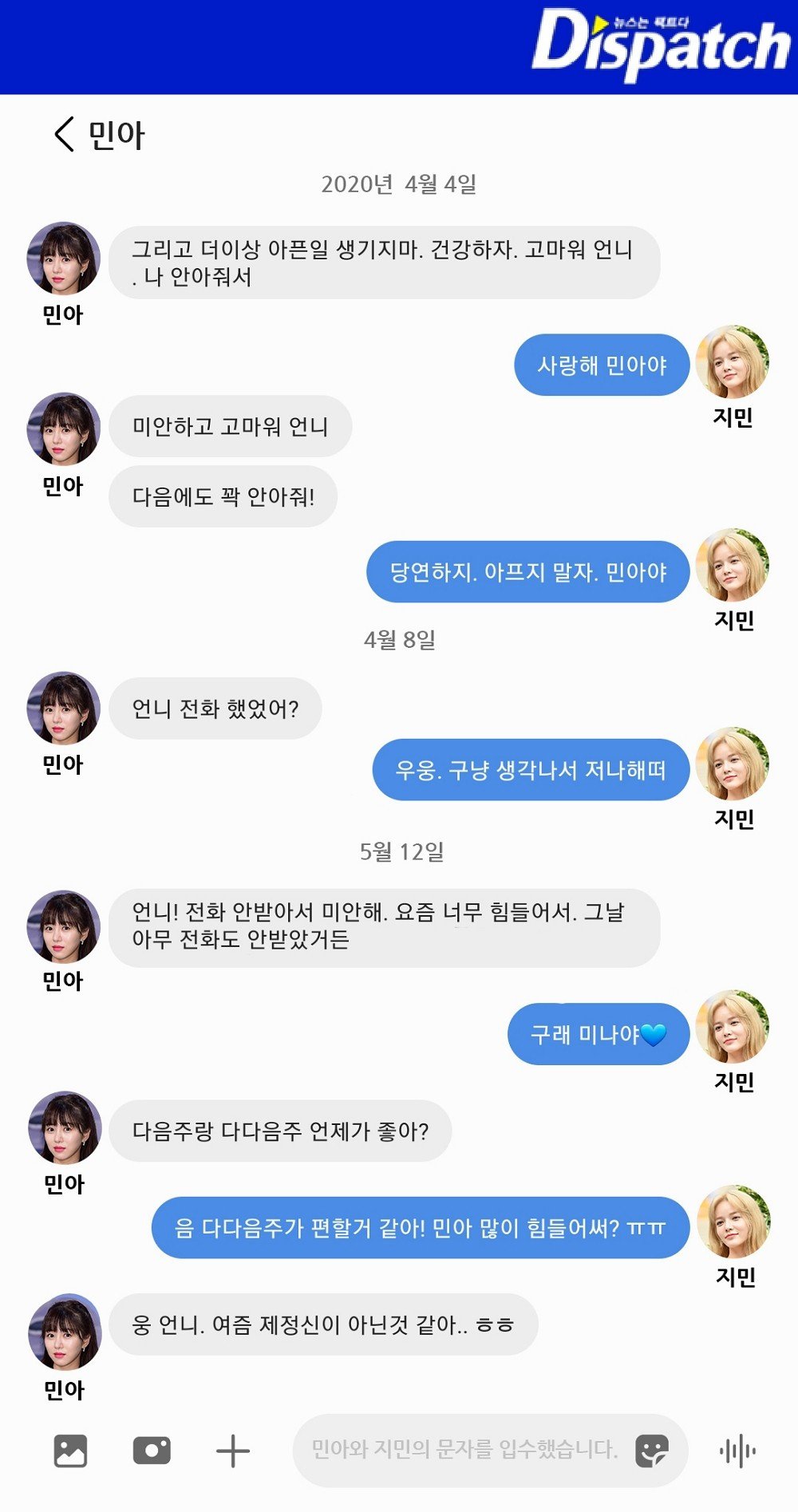 On April 4th, 2020, Mina texted: And don't get hurt anymore. Stay healthy. Thank you unnie for giving me a hug.
Jimin replied: I love you, Mina.
Mina: I'm sorry and thank you unnie. Hug me tight next time as well!
Jimin: Of course. Don't be hurt. Mina.
The rest of the revealed text messages continue to show their relationship was on a fairly good term. Then on July 3rd, 2020, Mina opened up about the bullying in the group. 'Dispatch' then revealed the transcript of the 2 hours long conversation between Mina and the AOA members on that day.
According to the revealed transcript, Jimin said she was sorry for everything but she doesn't really remember what she has done and Mina said that's not an apology if she doesn't even remember anything. Other members came in to arbitrate, however, the two couldn't make up for their differences.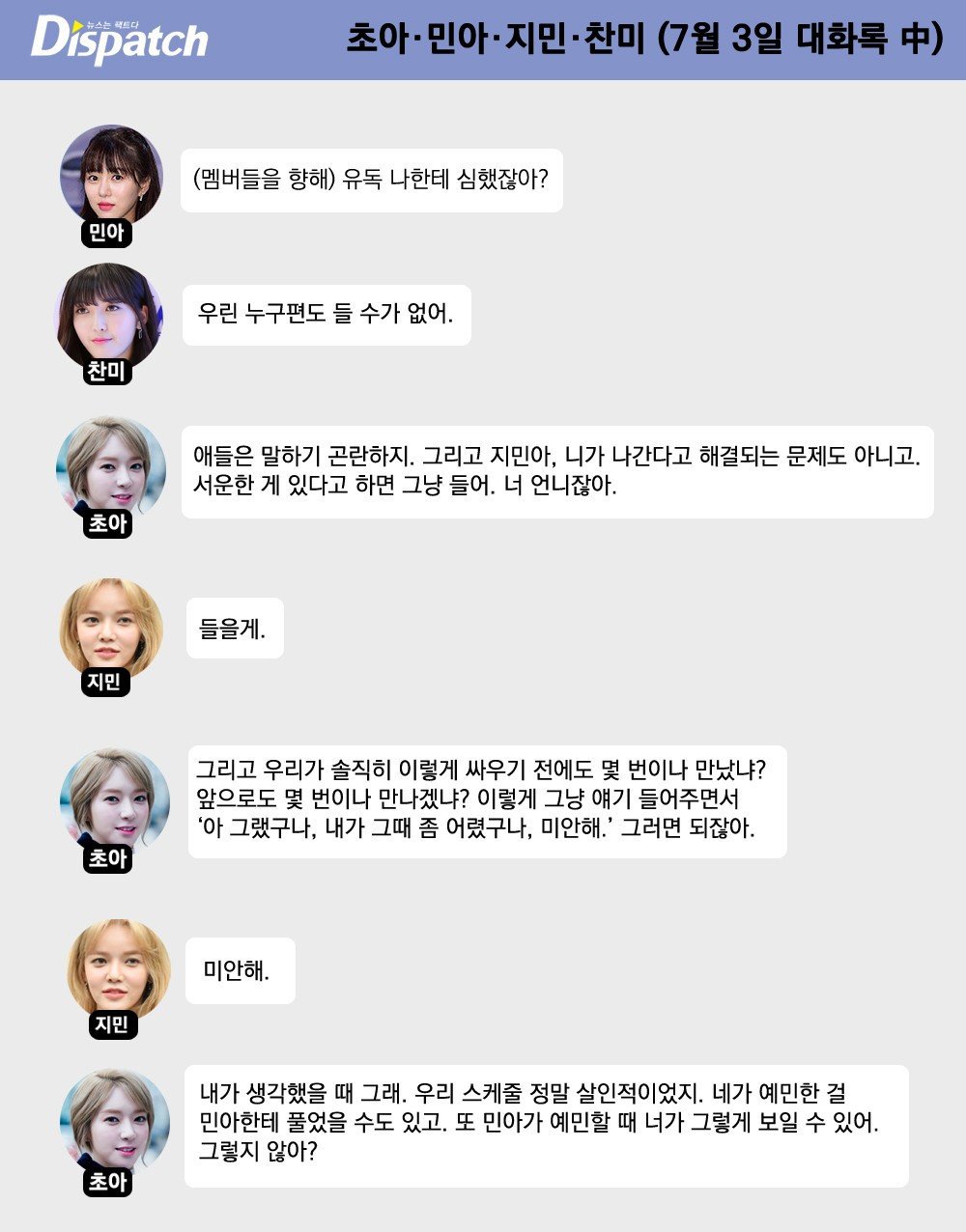 Mina: (to the members) She was especially mean to me?
Chanmi: We can't really side with anyone.
ChoA: Members are not in a position to say anything. And Jimin, you leaving the group won't solve anything. If she's upset about something, just listen to her. You're older than her.
Jimin: I'll listen.
ChoA: And, to be honest, how many times have we met before a fight like this? And how many more will we meet in the future? Just listen to her like now and say 'Oh, that's how you've felt, I was immature back then, I'm sorry.'
Jimin: I'm sorry.
ChoA: From my perspective, we had a really busy schedule back then. You could have lashed out on to her and Mina could have taken things more personally because she was also stressed. Don't you think?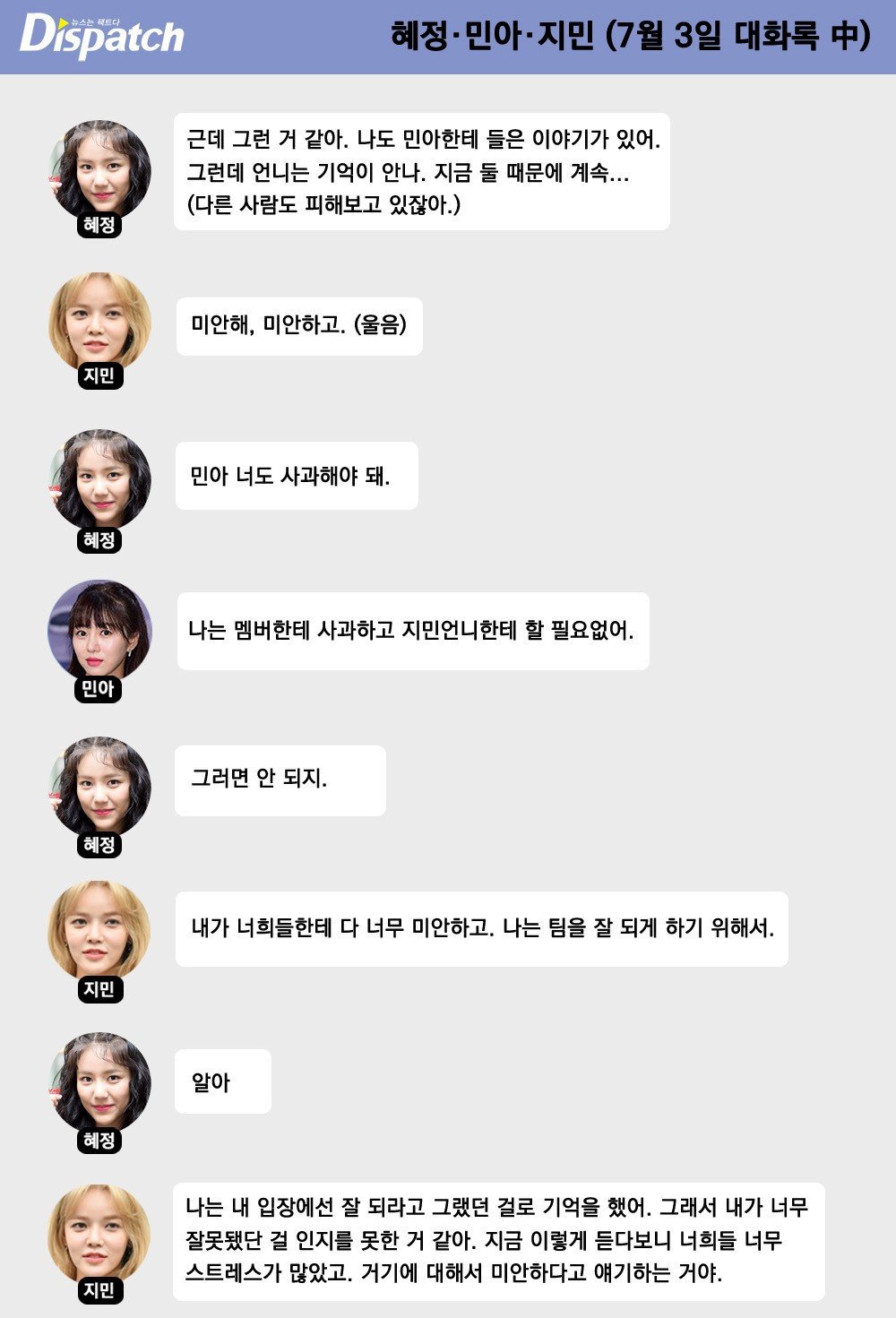 Hyejeong: Okay, I've heard things from Mina. But unnie can't remember anything. Now you two are...(implies the other members are suffering from them as well)
Jimin: Sorry, I'm sorry. (cries)
Hyejeong: Mina, you have to apologize too.
Mina: I'll say sorry to the members but I don't have to apologize to Jimin unnie.
Hyejeong: But you shouldn't do that.
Jimin: I'm so sorry to you all. I just wanted our team to do well.
Hyejeong: I know.
Jimin: I remembered as I just did things for you to be more successful. So I think I didn't even realize I was really wrong. Now that I listen to you, you guys were so stressed and I'm apologizing for that.
After another long conversation, ChoA finally managed to wrap up the feud and they all went back home. Jimin posted an apology on her Instagram and later left the group and the industry as Mina continued to expose her. While Jimin stopped responding to Mina, she continued texting Jimin from November 2020 to May 2021.
Jimin didn't reply as shown in the picture below, however, Mina continued to curse her out via text messages.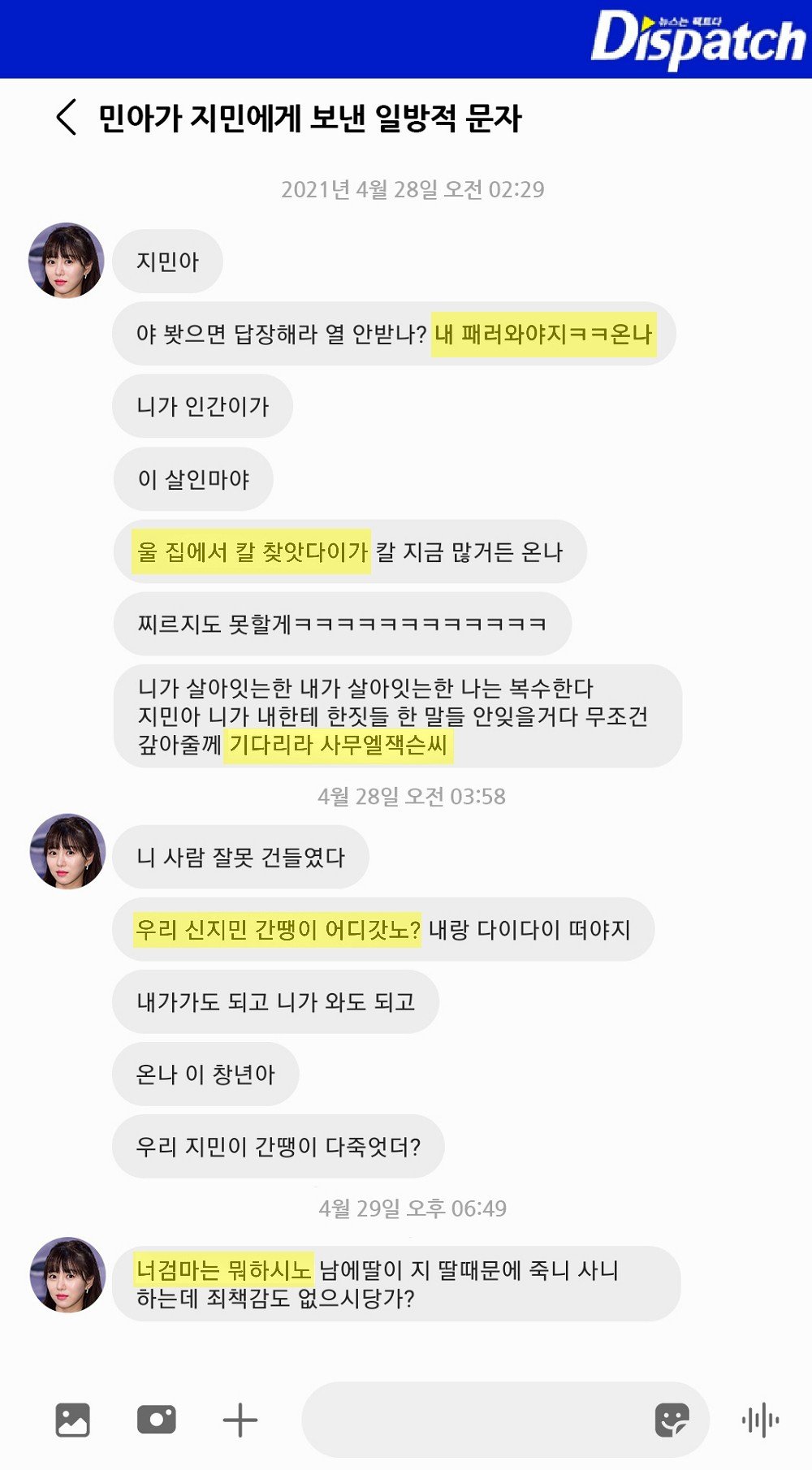 Dispatch then revealed Mina's text with the FNC staff members, saying to them, Mina may also have been the perpetrator. According to the revealed texts, Mina ordered managers to make an appointment with her dentist on her behalf. She also asked them to book a session with an esthetician for her mother on behalf of her.


What do you think?