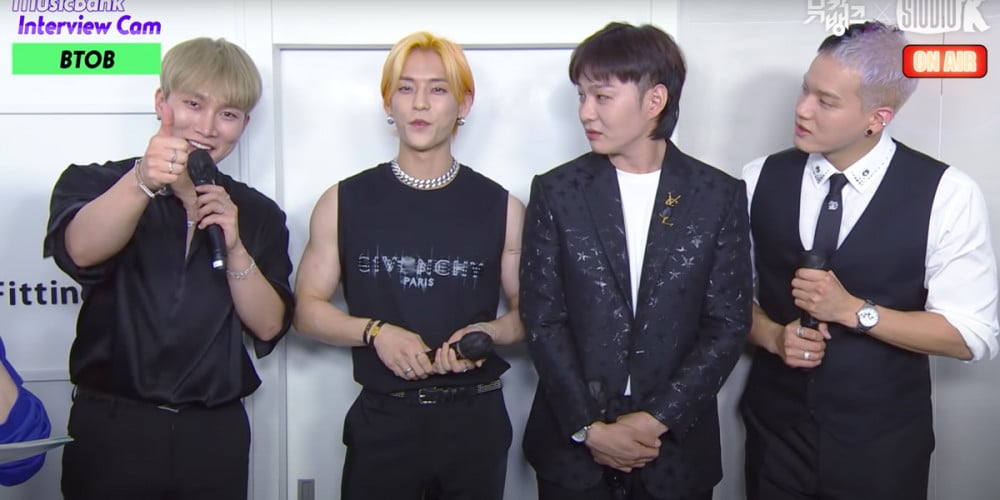 On September 3, BTOB 4U made a comeback with their latest title track "Outsider" on KBS2's 'Music Bank'.
In light of their long-awaited comeback, the BTOB 4Umembers also appeared in a backstage interview with the MCs of 'Music Bank', TXT's Soobin and Oh My Girl's Arin.
After teaching MCs Soobin, Arin, as well as viewers at home the point choreography move for their new track "Outsider", the BTOB members were asked to send out a message to their fellow members who are currently away for mandatory military service.
Changsub, who was designated as the responder to this question, said, "Sungjae, Ilhoon, there are two months left... You still have a long ways to go. The future is bleak for you. Well, have strength. I'll see you when you return. Fighting."
Hearing Changsub's response, the rest of the BTOB 4U members including Eunkwang, Minhyuk, and Peniel couldn't hide their flustered expressions. Leader Eunkwang quickly stepped in and corrected, "Sungjae and Hyunsik... Hyunsik, Sungjae, we love you!"
When Changsub realized that Eunkwang was correcting him, he could be seen mouthing to his members, "What did I just say?"
It seems that Changsub, who meant to send a message to his fellow members Sungjae and Hyunsik, made an unconscious mistake by calling out the name of the group's former member Ilhoon, who left BTOB shortly after becoming involved in an illegal drug use investigation.
Netizens reacted with comments like, "It was an honest mistake", "Wow I feel bad for him, he must have felt terrible after realizing what he said", "Everyone must have been so flustered... ", "Wow they way Minhyuk's eyes got so big...", "Heol, that was a bit of a mess...", "I think Eunkwang handled the situation well", and more.