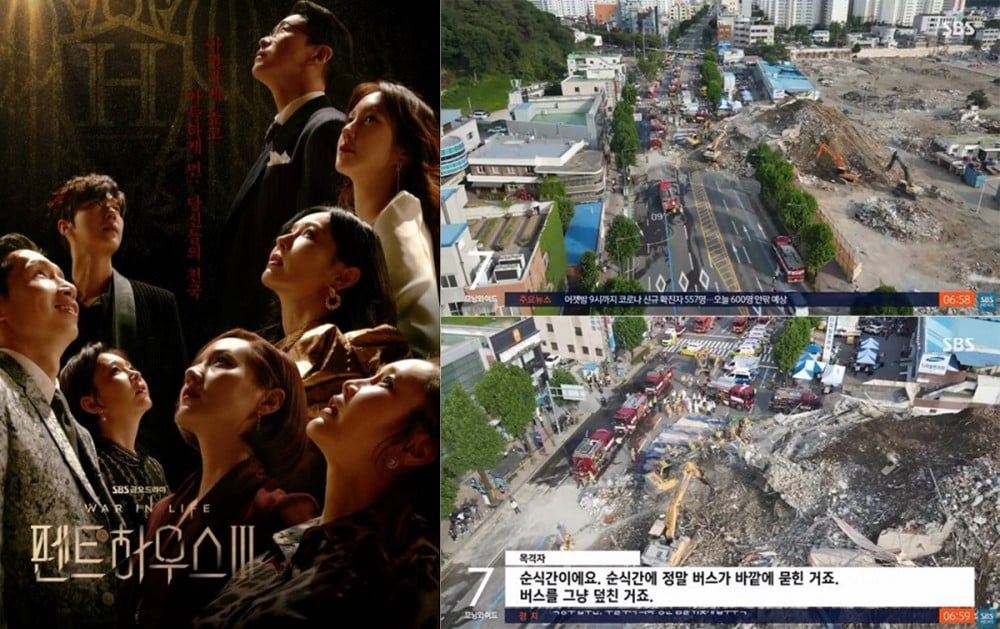 The production staff of SBS's 'Penthouse 3' has issued an official statement of apology for the controversial footage used in the September 3 episode.
Previously, viewers noticed that real footage of the tragic Gwangju building collapse accident from earlier this year, as well as footage from the 2017 Pohang earthquake, were used in unrelated scenes on this week's episode of 'Penthouse 3'. The footage was used to report the aftermath of the character Joo Dan Tae's bombing of Hera Palace.
Soon after the issue stirred up controversy via various online communities, SBS responded with the following statement on September 4.
"We are the production staff of 'Penthouse 3'.
We have confirmed that inappropriate footage from the Gwangju building collapse accident and the 2017 Pohang earthquake were used during the September 3 broadcast of 'Penthouse 3'.
We would like to bow our heads in apology to all victims of the Gwangju building collapse and the Pohang earthquake and their families, as well as to all viewers for this incident.
Once we confirmed the problematic footage, we have ordered all VOD services of this episode to be removed from various streaming platforms.
Furthermore, we will investigate why this footage was used and make sure that such an incident does not happen again.
Once again, we deeply apologize for causing sorrow and disappointment."