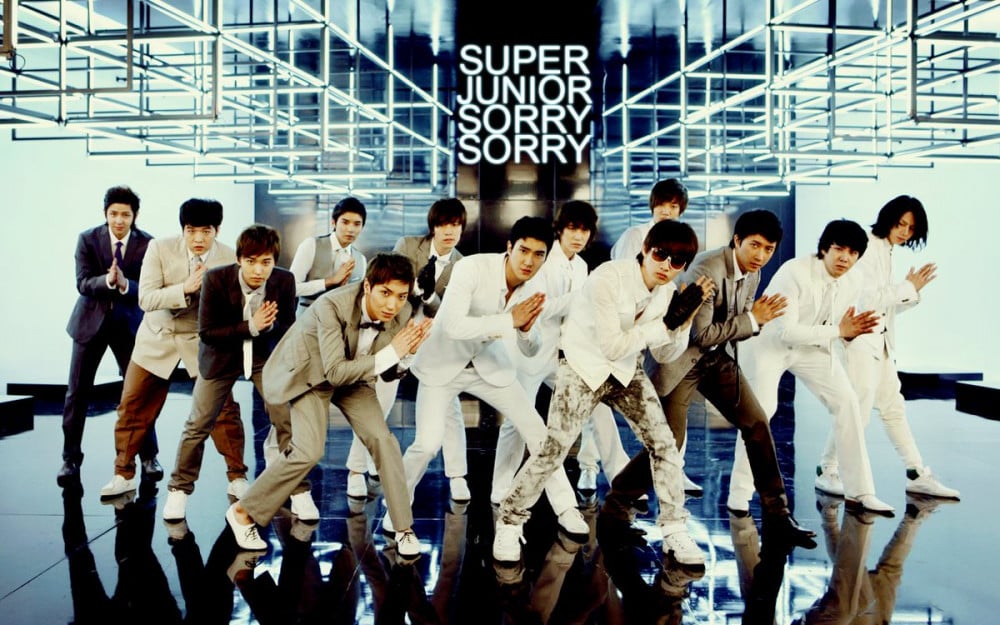 Welcome back to another week of our time machine, going back to 2009. 2009 is a pretty underrated year in K-POP, mainly because 2008 was just such a legendary year. That, however, did not mean that the k-pop scene in 2009 was bad at all. In fact, it was phenomenal. Beginning with amazing rookies and solo hits, we now take a look at the hottest boy group hits of the same year. Let's see who was in the spotlight twelve years ago! And, before the list is brought up -- to anyone who is asking about MBLAQ & BEAST, please refer to the rookie edition of the 2009 K-pop series.

SHINee - Ring Ding Dong
This song became a hit as soon as it was released with its crazily addicting melody. The group already hit it big with "Juliette" earlier in the year, but this autumn release really put SHINee at the top of the list. It was so sensational that this bop was listed on the playlist to NOT listen to while studying for the Korean SATs as it was addicting and distracting. That may sound negative, but it portrays how immensely popular the song was.
Super Junior - Sorry Sorry
In early 2009, Super Junior struck in and brought forth a "Sorry, Sorry" craze where practically the entire country was doing the Sorry, Sorry dance. It was such an easy dance that anyone could follow it without trouble. K-pop was hot for having easy-to-follow point choreographies, and it truly began a craze. People would dance Sorry, Sorry on talent shows; celebrities would parody the song on reality shows -- it truly caused a buzz (and still creates a buzz today).
SM hit it big in January with Girls' Generation's Gee, and their triumph did not stop as Super Junior were the chart masters. This album also helped Super Junior's exposure to other parts of Asia as well.

U-Kiss - Manmanhani
All of the second-generation K-pop fans have probably all heard the electro intro and the widely loved "U-Kiss and Brave Sound!" The dance was easy to follow, the melody was catchy, and it was just a great jam to listen to. This was also U-Kiss's breakthrough, as it was the first song that received wide attention. It was well-deserved after little recognition in the first year of their debut!
We also saw two of the original members recently on MMTG, where they performed this bop as part of the ComeNoonMyung special. The segment displayed that people are indeed very nostalgic for this great tune.

2PM - Heartbeat
"Can you feel my heartbeat?" Doesn't this verse make you so nostalgic? These beastly idols took over the winter of 2009. The challenging choreography of "Heartbeat" demonstrated that these men were not just any k-pop group; they were an extremely passionate performance group. Doing anything from pyramid formation to backflips, this group had it all. With success and recognition from earlier in the year with "Again & Again," the group was already well known, but many fans still remember "Heartbeat" as one of 2PM's anthems. It can not be excluded from the line-up.


SS501 - Love Like This
Fans definitely miss the OT5 of SS501, and 2009 was a great year for them. Kim Hyun Joong hit it big with "Boys over Flowers" while the remaining members sang some great original soundtracks for the same drama. In the latter half of the year, the five boys released their seventh mini-album, "Rebirth." Despite being released later in the year, it was 3rd best-selling album of 2009, and "Love Like This" was able to get wins on KBS Music Bank & SBS Inkigayo. Though we can't see them as a full five-member group, let's dive back into old memories with SS501.

Well, there you have it. We can evidently tell that 2009 was no joke, just by looking at the line-up. These groups were what truly defined second-generation k-pop, and there's just a vibe that is different from today -- not saying current-day k-pop is bad at all. Tune in next week for the final article of the series revealing legendary girl group hits of 2009. And yes, the queens will be mentioned in the near future.
What was your favorite boy group jam from 2009? Was there one that was not mentioned? Any reverse-run-worthy songs? Please let us know in the comments below!