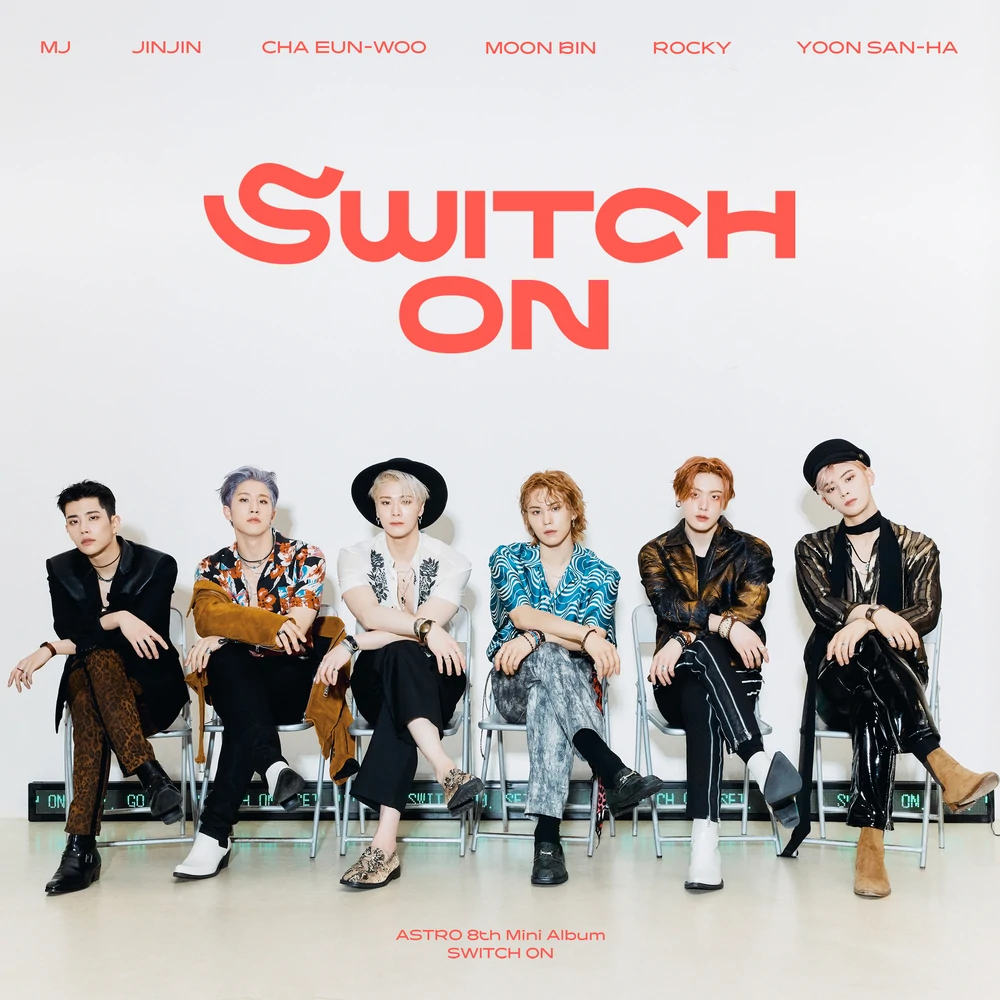 [This review reflects the opinions of the author and not necessarily those of allkpop.]
Track List:
1. After Midnight
2. Footprint
3. Waterfall
4. Sunset Sky
5. MY ZONE
6. Don't Worry
SWITCH ON marks the 8th mini-album release of the boy group, ASTRO. Opting to showcase 6 new tracks, SWITCH ON offers an upbeat and positive approach to summertime with "After Midnight." Rather than opting for the rock trend that seems to be hitting title tracks this season, ASTRO went with a funky bassline and fun song progression to create a catchy dance hit. "After Midnight" is simple in concept and easy to love.
"Footprint," however, is my favorite song from the release. B-sides from this season's releases have been phenomenal, so I'm not surprised that ASTRO's "Footprint" was so good. This song brings back the ultra-popular tropical house influence that took the genre by storm half a decade ago without feeling campy or overplayed. Particularly, the synthesized bridge that leads into the feel-good drop and chorus is excellently written.
"Waterfall" is much sweeter in nature, focusing on vocal performance and harmony. The song itself boasts an interesting progression that doesn't necessarily lead you down the path you're anticipating. "Waterfall" is a track that is meant to showcase the group's excellent vocal ability, but is it my favorite song? No. Is it a good performance? Absolutely. There's just something about the changes in tempo that don't sit perfectly.

"Sunset Sky" is acoustic and downtempo in comparison to the rest of the release thus far. Rather than opting for an acoustic ballad, this is much more of a sweet pop song. This track's focal point is the delicately written chorus melody that seems to fit the song perfectly. The rap is punctuated against the vocals expertly, and the song feels impactful in a way that "Waterfall" wasn't able to capture.


"MY ZONE" speeds the tempo back up with another EDM-inspired song. Rather than opting for the tropical house, "MY ZONE" includes some aspects of trap and drum and bass to a super bouncy instrumental on the chorus. I consider "MY ZONE" to be the group's 'club song' of the release.
"Don't Worry" is a nice song of reassurance at the end of SWITCH ON. Sweet vocals, words of reassurance, and a hopeful sentiment give this song its power. Again, the group has opted for another EDM-inspired instrumental to back their vocals. Chorus progression on this track is the first of the album that doesn't sit quite as well due to its fragmented feel, but it seems that the general trend of this release is that the songs will grow on the listener over time. All-in-all, SWITCH ON is a solid release from ASTRO.

MV REVIEW
Colorful and energetic, ASTRO's MV for "After Midnight" lives up to the upbeat nature of the song perfectly. "After Midnight" is positively exciting as a title, and its MV is just the right amount of high-contrast colors and dynamic choreography shots to complement it well. All of ASTRO looks positively dashing in their fitted white outfits, but also wow in stunning and vibrant trendy styles as well. Capturing the carefree essence of the season with their demeanors and performance, ASTRO's MV for "After Midnight" is like taking the first bite of watermelon on a hot day.
MV SCORE:
MV Relevance…..8
MV Production…..8
MV Concept……..8
MV Score: 8.0
ALBUM SCORE:
Album Production…...8
Album Concept……...8
Tracklisting…………...8
Album Score: 8.0
Overall: 8.0