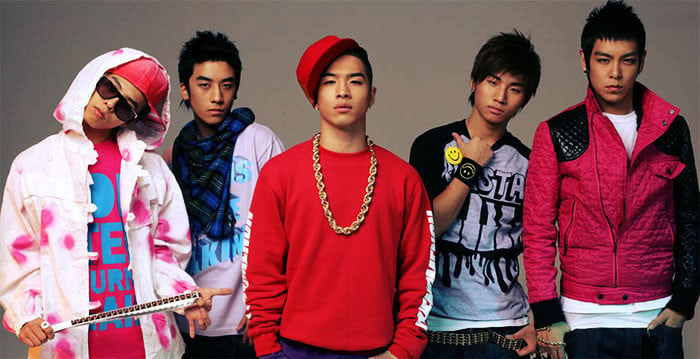 We are back with our last look at 2008 -- often stated as one of the best years of K-pop. We previously took a look at rookie artists, female solo artists, and mega-hits that prevailed in the music scene in 2008. Today, we take a look at our last segment -- other legendary bops that shined the year of 2008.
Let's take a look at which songs shined in 2008! And remember, make sure to check out the previous three segments to see if YOUR favorite 2008 song made the list.
1) SG Wannabe - La La La
The legendary MSG Wannabe's inspiration comes from these three fellas. The strong vocalists struck 2008 with a mid-tempo love song called La La La, which captivated the hearts AND ears of many.


2) Brown Eyed Girls - How Come?
When the "BRAVE SOUND" intro came out, everyone knew it was Brown Eyed Girls' "How Come." Unfortunately, they came back the same week Wonder Girls came back with Nobody, so they could not take home the #1 but still be widely loved.


3) Junjin - Wa
Shinhwa member's successful solo album proved that he could handle any type of genre!

4) Davichi - Love and War

Davichi's first dance song became a hit as both Lee Hae Ri and Kang Min Kyung were killing it with their vocal skills and their dance skills. Haha's featuring and the addicting melody also played a big role in the song's success.

5) Kim Bum Soo - Sadness Guide
Kim Bum Soo's "Sadness Guide" was also a hit in the spring of 2008. Even without a music show appearance, this bop managed to chart high, and it was widely loved by many music listeners.

6) Nell - Time To Walk Memories
Time To Walk Memories earned the group their first #1 since their debut in 2001. With strong vocal skills and an easy-to-listen melody, the song got Nell's name out there in the music industry.

7) Epik High feat. Younha - Umbrella
Despite not being the title track, Umbrella was extremely loved as it displayed sentimental rap paired with Younha's heartwarming singing. The song became so popular that Younha eventually released her own version of the song without the rap.
8) Gummy - I'm Sorry


Legendary vocalist Gummy was also active in 2008, as she released 2008. Her heavenly vocal skills were a perfect accompaniment to this groovy bop. We can't also forget to mention T.O.P's featuring that also played a role in its success.


9) KARA - Pretty Girl
KARA's Pretty Girl was the beginning of KARA's success, as their previous albums all did not work out. They were able to walk the path of success by releasing this "cute-sy" pretty girl concept that was accepted very well! Their butt shake dance was definitely the killing point.
10) Taeyang - Only Look at Me
Big Bang member Taeyang decided to join the solo album crew and became the first member in Big Bang to release a solo track. Of course, the song did very well in the charts -- it's Big Bang, and the song was pretty catchy too!
11) Rain - Rainism
Last, but not least -- we got Rain with the bad boy~ Rain came back in 2008 with a song track that could not define his self-love more: Rainism. With the sexy dance and Rain's sexy vocal skills, female fans all over South Korea were going head over heels with this one.
That concludes the 4-part 2008 segment. We could really tell that it was a great year for K-pop. Many people's music playlists still consist of these songs, and 2008 has definitely been a memorable year for K-pop. What was your favorite song that was produced in 2008? Is there another year in K-pop that was great for you? Let us know in the comments below!