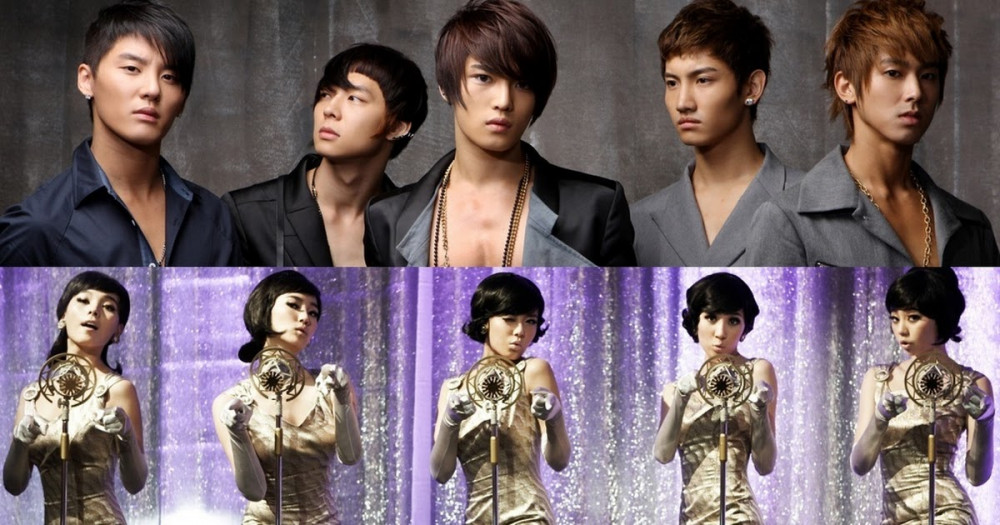 We're back with another look back at 2008 -- quite possibly the most legendary year in K-pop. We previously took a look at rookie artists and female solo artists that took over the stage.
Today, we take a look back at the mega-hits of K-pop that are most likely remembered by most K-pop fans. These songs were so iconic that this era is defined by some of these songs, and many fans remember these songs to heart. Let's see what the big fuss was about, and let us know if you agree -- are these songs iconic?

1) TVXQ - Mirotic


The powerful start and the seductive spell-like lyrics captivated the hearts of ideally every young female's heart in 2008. Many fans would wait to tune in to music performances LIVE -- the fans' passion and love were indescribable.
2) Big Bang - Haru Haru

On the other side of the boy band spectrum, Big Bang absolutely dominated the music scene with "Haru Haru." The sentimental melody paired with the sincere lyrics was the perfect song people were looking for in 2008. Big Bang was on a roll after their hit success the former year with "Lies" and "Last Farewell."
3) Big Bang - Sunset Glow
That same year, Big Bang releases their second studio album, with the title track being a remake of Legend Lee Moon Sae's "Sunset Glow." The hip-hop group adds their own little twist to the song, and it became the perfect winter gift for both young and older people, ultimately becoming a winter bop.
4) Jewelry - One More Time
After a three-year hiatus and many disbandment rumors, Jewelry came back with original members Seo In Young & Park Jung-Ah, and two new members: Kim Eun-Jung and Baby J. Contrary to low expectations, Jewelry's fifth studio album becomes an extreme success, for its addictive melody and the signature E.T dance. This song was so big that it held the record for most consecutive Music Bank #1 wins for seven weeks. (The record was broken in 2009 by Girls' Generation's Gee).
5) Wonder Girls - So Hot

After creating a sensational hit with "Tell Me," the retro Wonder Girls were back with "So Hot." The song blended in retro melodies, along with lyrics that describe a 21st-century princess complex. You could practically hear the melody "I'm So Hot" anywhere on a hot summer day back in 2008.
6) Wonder Girls - Nobody
When we thought it couldn't get any better, JYP surprises us once again with a mega-hit that also concludes the Tell-So-No trilogy. The modern take on 60-70s music, dance, and fashion was extraordinary. Everyone in South Korea was dancing to "I want Nobody Nobody but You!"
These are only some of the biggest hits that shook South Korea thirteen years ago. That concludes this week's look back in 2008. Next week, we'll take a look at other hits that fans and netizens still jam out to today. What's your favorite mega-hit song? Any other song that's worthy of being on this list? Let us know below!