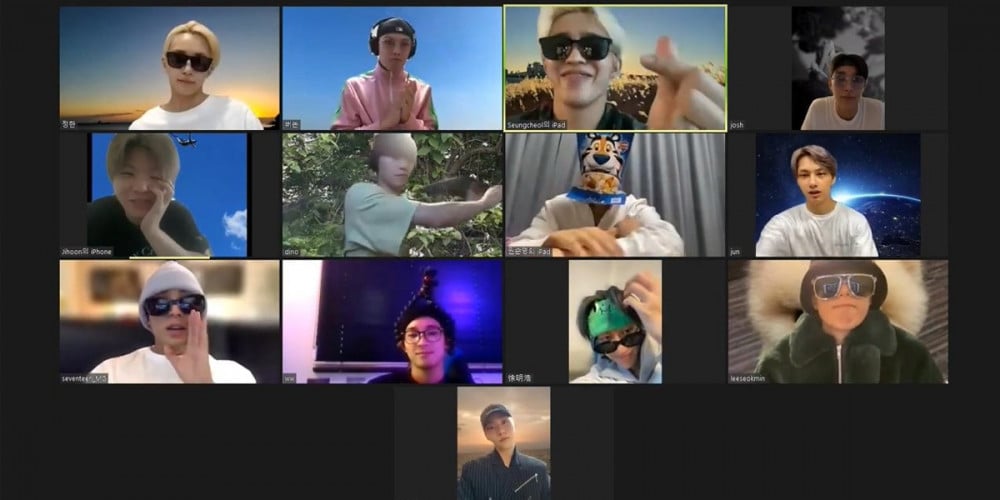 Back on June 25, Seventeen took home their first official #1 trophy for their comeback title track "Ready To Love" on KBS2's 'Music Bank'!
However, due to the fact that all of the Seventeen members are currently under quarantine until June 29, the group was not able to accept their #1 trophy in person on 'Music Bank'. As a result, Seventeen decided to deliver their #1 trophy acceptance speech separately, via Zoom call!
Obviously, Seventeen being Seventeen, they couldn't resist using the Zoom app's infamous "funky backgrounds". However, soon after beginning the Zoom call, the members all wanted to copy Seungkwan's background, a screen cap of Seventeen's "Ready To Love" being announced as the #1 winner this week!
The boys were able to successfully change their backgrounds (for the most part) to the 'Music Bank' screen, and began to sing a live encore version of "Ready To Love". Check out Seventeen's fun Zoom acceptance speech, below!
Netizens commented,
"Even on a Zoom call, the Seventeen members can't help but show their different personalities kekekeke."
"I was like, who's the one without a head LOL. Jun LOL."
"It's starting to feel like they wanted to quarantine themselves so they could do funny stuff like the kekekeke."
"Who knew there would come a day when I would watch K-Pop idols do an encore performance on Zoom..."
"How amazing would it be if your Zoom classes for school had handsome and cute boys like these..."
"Our boys make even quarantine meaningful for Carats TT."
"Hoshi put on the cereal box on his head forreal instead of using a filter or something LOL."
"You need to watch this at least 13 times to see each member's actions kekekeke."