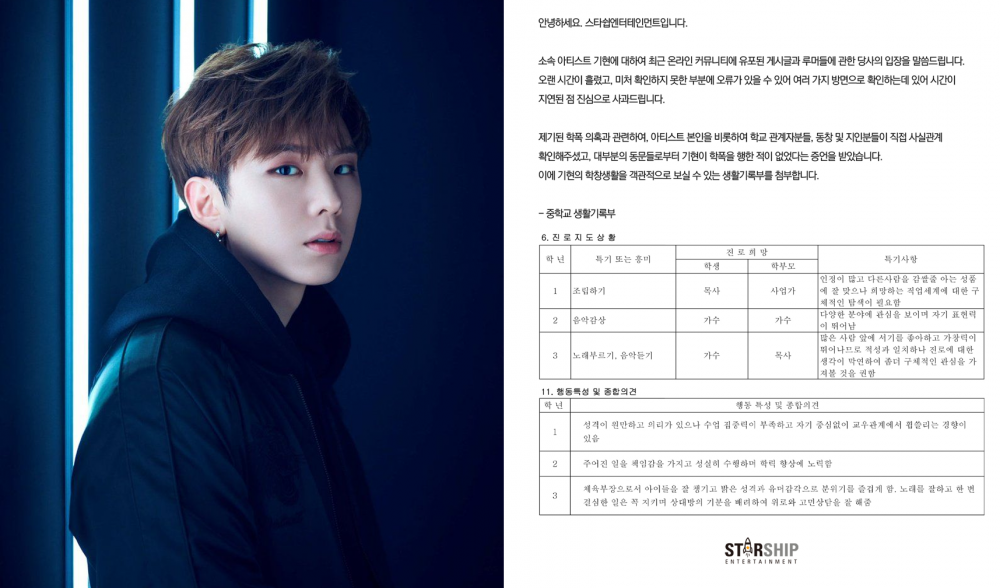 In light of the recent flooding of Korean celebrities' school bullying controversies, another allegation is causing a commotion in the K-pop industry.
Previously on February 22nd, a netizen created a post in an online community claiming to be a victim of school bullying by MONSTA X's Kihyun. The writer of the original post claimed to be a classmate of Kihyun from middle school. The alleged victim claimed, "I've kept this buried since it has been over ten years and I thought he's someone I won't get involved with anymore, but I've decided to muster up the courage to write this post since other victims of celebrities had the courage to speak the truth too."
The original writer of the post continued to claim that Kihyun was a delinquent who often bullied other students by taking money from them and hitting them. This netizen later posted various photos of Kihyun involved in underage drinking and smoking with other bullies from the school.

Soon as the claims were made, Starship Entertainment made an initial statement about the issue and stated, "We acknowledge the severeness of the case and we are contacting Kihyun's acquaintances and teachers to investigate the allegations. We beg your understanding for the delay in response as we need more time to investigate the issue and we are open to communications as long as the writer of the original post allows."

It has been three days since Starship Entertainment made this statement. Then on February 25th, the agency released their second statement in which they revealed Kihyun's school records.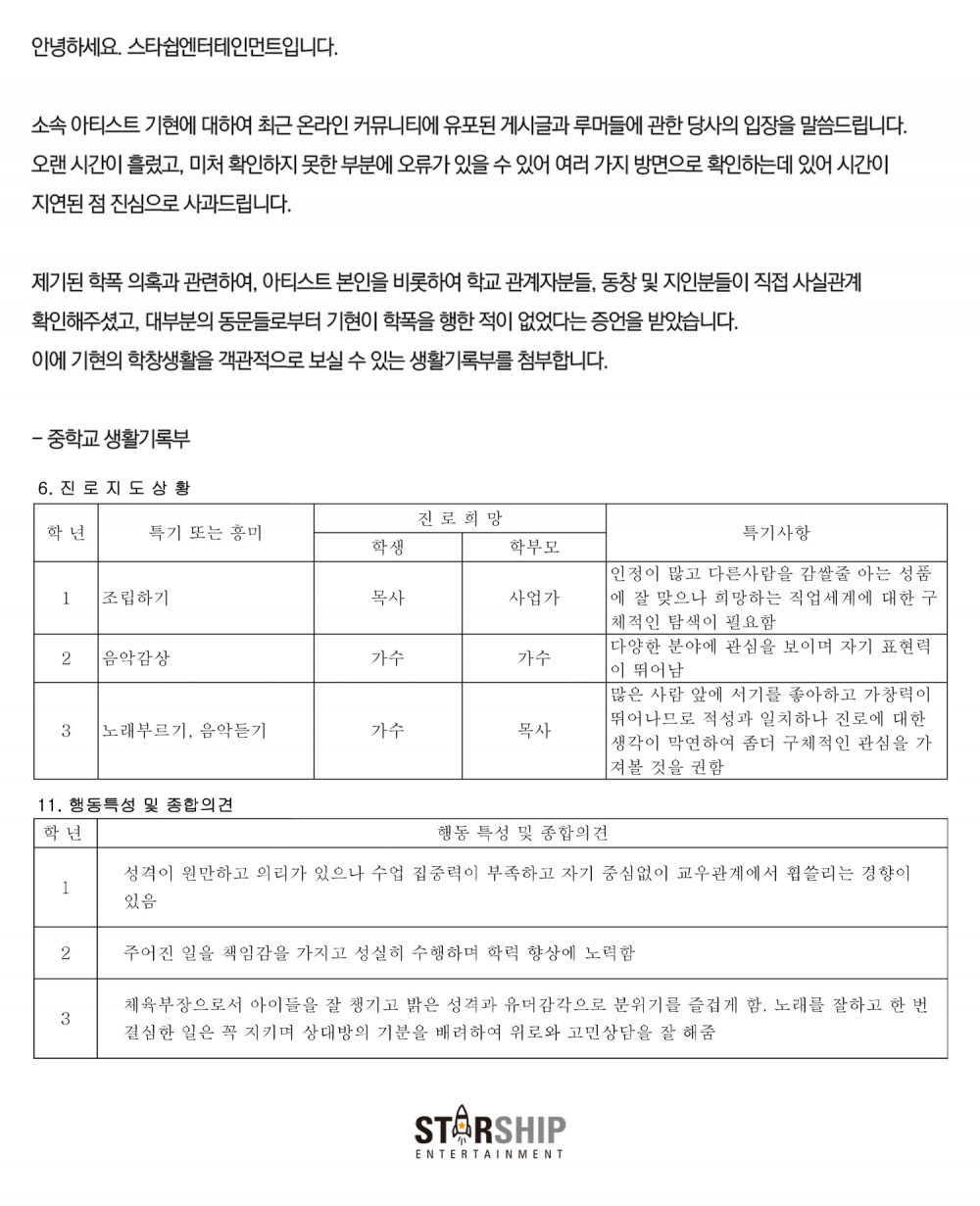 Starship Entertainment stated, "We would like to share our stance about the posts and rumors that were spread about our artist, Kihyun, in various online communities. It has been a long time since the incident, so there were possibilities for aspects that might not have been checked. Therefore, it took extended time in checking these things, so we apologize."
The agency continued to state, "Regarding the allegations about school bullying, we checked some facts with school officials, alumni, and a few acquaintances. Most of Kihyun's classmates stated that he did not commit any school violence. We have attached Kihyun's school records as a reference and evidence to our claims.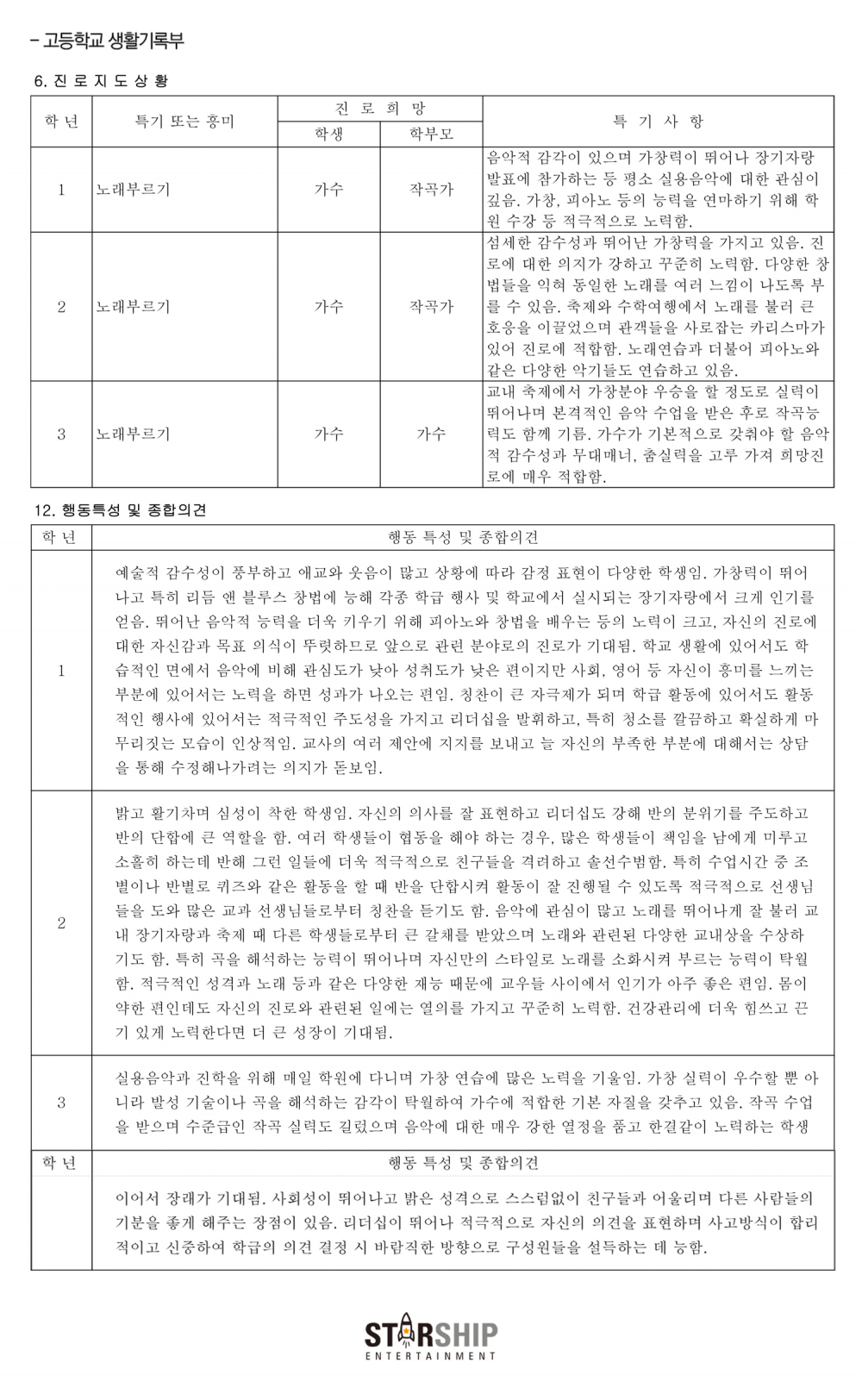 According to the school records, the teachers praised Kihyun for being a bright student who is artistic and creative. The teachers in middle school assessed, "Kihyun has an easygoing personality. He seems to have a difficult time focusing in class but still has a sense of responsibility and diligently finishes the task given to him." During high school, Kihyun's homeroom teachers wrote, "Kihyun has an abundant amount of artistic sensibility. He's a bright student who is diligent and kind. He's very good at expressing his feeling and has a strong sense of leadership."
In the career path counseling record during middle school, Kihyun wanted to be a pastor, singer, or businessman. During high school, Kihyun hoped to be a singer or songwriter.
After the agency released their statement, Kihyun also took it to the fan cafe to write a letter to his fans. He apologized to his fans for causing concerns and explained that he spent a lot of time thinking back on his past and his actions. He wrote, "what I remember about myself from middle school is that I was a student who liked singing and hanging out with my friends. Looking back, I was not a student who was faithful to his studies, and there were actions that I did commit that I shouldn't have done as a student. I still regret those actions even as an adult and I have no excuses for the criticisms I am receiving now."
Kihyun continued to write, "I want to take this time to sincerely apologize to anyone who was hurt by my immature actions when I was a student. I apologize and feel so apologetic to my fans to the point of death. I was not able to change my old self, but now I will self-reflect and reassess myself. Once again, I'm sorry."