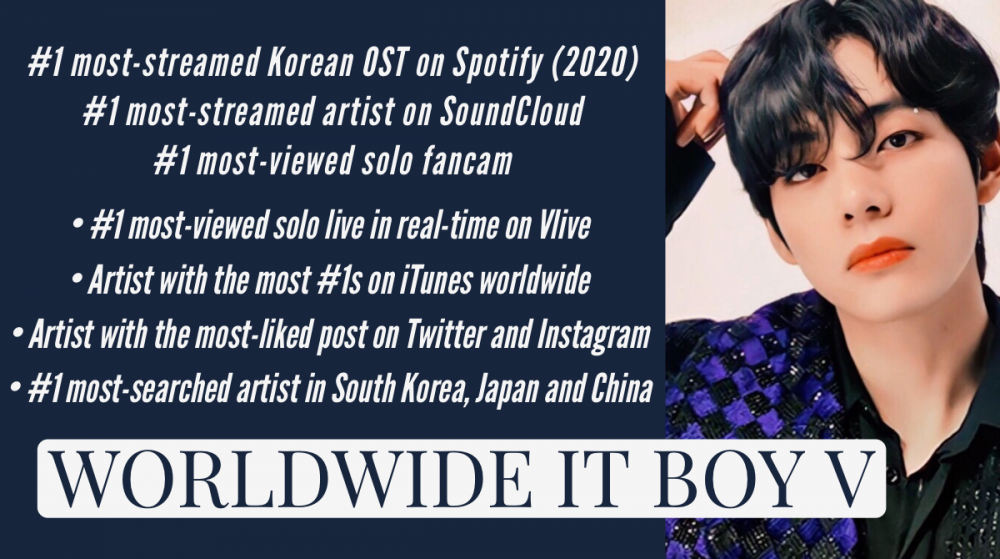 In every aspect of his career, V of the global pop group BTS shone the brightest in 2020. V set several first-ever records through his solo music and performances, emerging as the most successful artist on various platforms. In honor of his remarkable achievements, fans of the megastar are trending "WORLDWIDE IT BOY V" on Twitter.
Some of the major accolades that the fans are celebrating are V becoming the first-ever artist in history to top 117 countries on the worldwide iTunes chart with his self-composed solo soundtrack titled "Sweet Night." The song also bagged multiple "OST of the Year" awards and closed the year as the most-streamed Korean Soundtrack on Spotify.
Fans are also congratulating V for being the most-streamed Korean soloist on SoundCloud for two consecutive years. V also bagged the title as the only Korean soloist to rank three solo songs at #1 on the Global chart and two songs in the "fifty most-streamed tracks" on the platform. In addition, V's fancam also emerged as the most-watched solo performance by a K-pop artist for the second year in a row. He is also the only idol to rank three fancams on the top ten list of 2020.
Furthermore, fans have also nicknamed V as the "King of SNS" as he wrapped up 2020 as the most-loved artist on multiple social media platforms.
With 3.2 million likes, V's mirror selfies captioned as "Hi ARMY" is listed as the most-liked tweet, and his promotional teaser for "Dynamite" set a new record on Instagram, marking V as the first-male idol in history to garner six million likes on the platform. On Facebook, his combined hashtags surpassed over 14.2 million in 2020, while on TikTok, he amassed 36 billion combined views. Meanwhile, V also became the most-watched artist in real-time on Vlive as 12 million viewers tuned in to celebrate his birthday.
Aside from his first-ever records, V also became the most-searched male idol in South Korea, Japan, and China, proving his title as the "Prince of the Continent." His 200+ birthday projects, most notably, his advertisement on the Burj Khalifa and in outer space and the construction of a school in his name, were hot topics worldwide. Throughout the year, V was also honored by various media outlets and critics with several accolades, such as the "Artist of the Year" award by Bousnid. He received multiple titles for his stunning visuals as well.
There is no doubt that in 2020, V dominated the industry with his multi-talents and unrivaled impact. Fans have noted that if you type "worldwide" on the search bar of Twitter, the top result is "WORLDWIDE IT BOY V"; truly a fitting title for the star.
Check out some of the congratulatory tweets below: