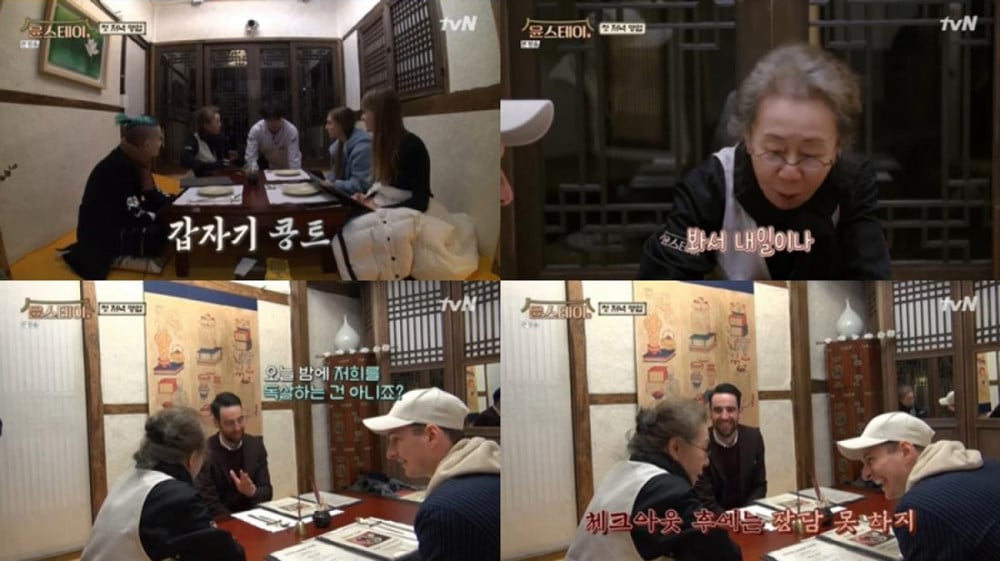 Veteran actress Youn Yeo Jung, currently greeting viewers as the owner of tvN's 'Youn's Stay', has completely surprised netizens with her abundant wit and charm!
For those of you unfamiliar with the program, tvN's 'Youn's Stay' is a spin-off of the popular series 'Youn's Kitchen'. On this series, the cast members of 'Youn's Stay' decided to open up a traditional, Korean guest home experience for foreign travelers who are stuck in Korea due to COVID19. On the January 15 broadcast of 'Youn's Stay', the cast members including owner Youn Yeo Jung, Lee Seo Jin, Jung Yoo Mi, Park Seo Joon, and Choi Woo Sik busily hosted the first night of the guest home experience, which consisted of a course meal served during dinner time to 4 different groups of all ages. The crew interacted with all of the foreign guests using English.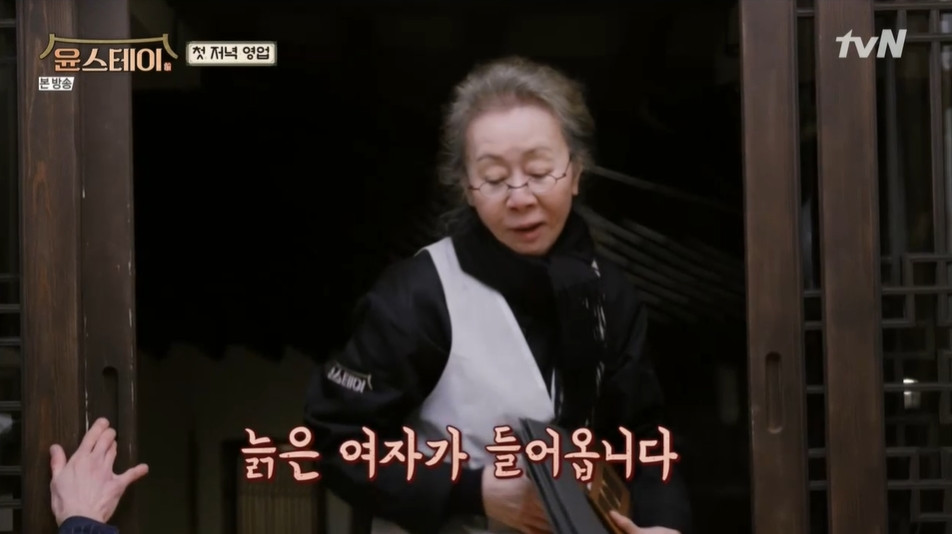 First, viewers of 'Youn's Stay' were surprised to see that actress Youn Yeo Jung, who actually lived in the United States for nearly 13 years after her marriage, demonstrated fluency in English equivalent to Lee Seo Jin (who lived in the U.S. and graduated from New York University) and Choi Woo Sik (who grew up in Canada). But not only that, Youn Yeo Jung surprised viewers a second time with her ability to easily joke with her foreign guests, making them laugh and fall for her sweet charms!
When visiting a room with four female students from Ukraine, Youn Yeo Jung made the ladies laugh by cutely complaining to them that Choi Woo Sik, who was supposed to be helping her, had gone missing. Then, she also visited the room of two male students from Australia and The Netherlands, where she skillfully explained to the men the appetizer of the day, 'bugak'. While giving details about the ingredients used in the day's 'bugak' including squid ink, the foreign guests asked, "Is squid ink edible?" Youn Yeo Jung laughed and responded that it was, and told the men not to worry. The guests then joked, "You won't be poisoning us tonight?"
The actress wittily remarked, "Not today. Maybe tomorrow? After check out, I cannot guarantee anything."


Meanwhile, actress Youn Yeo Jung also recently garnered attention from the international film scene for her performance in the American film 'Minari', written and directed by Lee Isaac Chung. Many film experts believe that 'Minari' will be a strong contender for the 'Oscar Awards'.