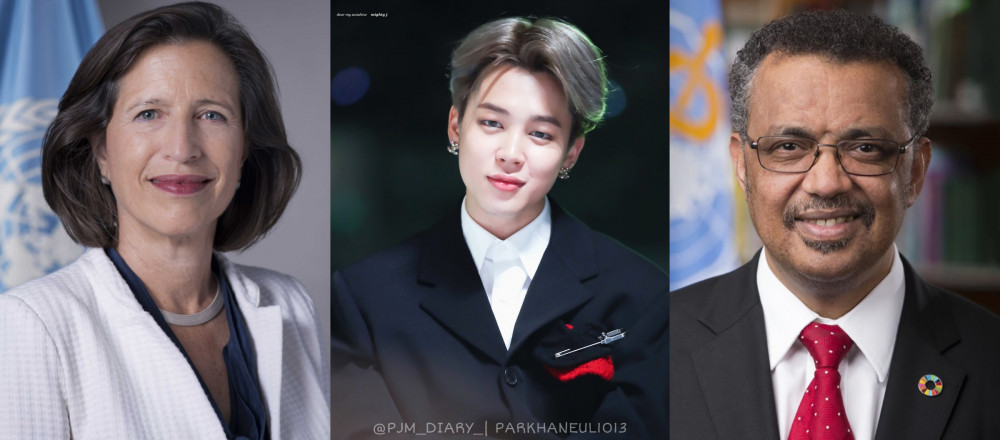 BTS Jimin once again caught the attention of influential acts when Melissa Fleming (UNHCR) and Dr Tedros Adhanom Ghebreyesus (WHO) expressed their gratitude for his thoughtful message for children around the world who are affected by COVID-19 pandemic.
Park Jimin, the lead vocalist and the main dancer in BTS is well known for his continuous songs' achievements, brand rankings as well as his impact and influences around the world. He is also known for his kind act through donation and comforting words.
Melissa Fleming, the Head of Global Communications and Chief Spokesperson for the United High Commissioner for Refugees (UNHCR) is known for leading global outreach campaigns, social media engagements and multimedia news service for refugees.
Dr Tedros Adhanom Ghebreyesus, the Director-General of the World Health Organization (WHO) is known for his contributions in global health initiative for AIDS, Tuberculosis, Malaria, Ebola and many more.
On October 20, during his birthday live broadcast, Jimin expressed his concern toward children who are affected by COVID-19. Unlike adults, children are forced to follow the rules without understanding why. He then proceed by saying, although its a difficult process, we should step up and help each other to overcome this pandemic.
Both Melissa Fleming and Dr Tedros Adhanom Ghebreyesus were seen to quote part of Jimin's message and expressed their gratitude toward Jimin on Twitter. Fans around the world were seen to expressed their gratitude and complimented Jimin for his kind act.
"If you're having a hard time, remember that there is a person here in Korea, in the city of Seoul who understands you" - true to his words, Jimin continue to leave a great impression for people around the world with his kind act.