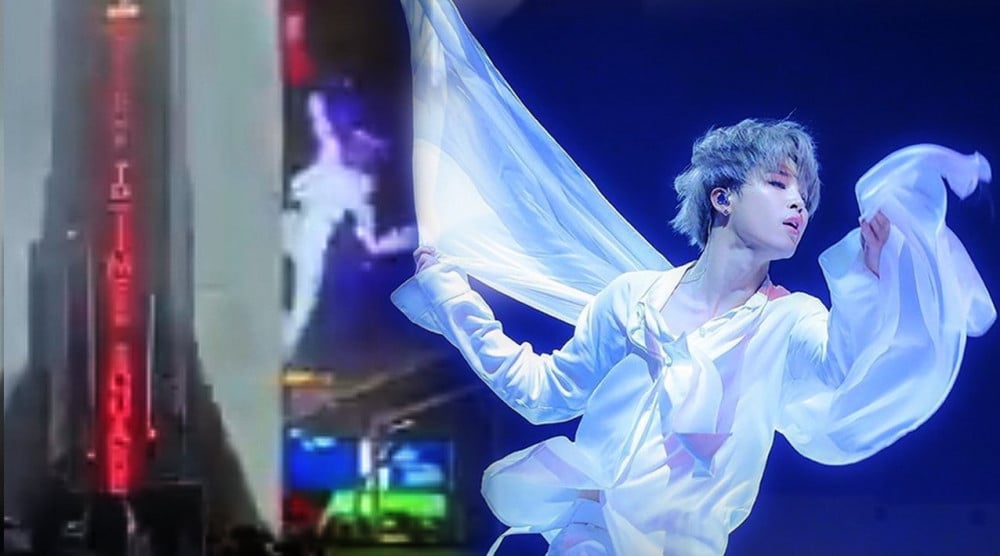 On October 13, Cedric Faiche, a French journalist and a BFMTV correspondent in New York, posted a beautiful short clip on his official Twitter with 53.5K followers. He captioned it in French, "Danser sur un écran sous la pluie à Times Square #NewYork (Dancing on a screen in the rain in Times Square.)


The short video beautifully shows a usually busy street in New York Times Square, which was then empty due to the rainy weather. It can be seen that there have been several flashy commercial billboards, but then there's one in particular that caught the journalist's attention. It is not surprising that he referred to the billboard ad celebrating BTS Jimin's 26th birthday. The ad shows Jimin and his iconic solo live stage during Melon Music Awards 2019. Jimin's graceful dance in the middle of the rain makes it really a lovely scenery not to be missed.
Watch Jimin's full solo dance performance of "I Need You" on MMA 2019.
Jimin's New York Times Square billboard is still part of the amazing birthday projects of Jimin's Chinese Fanbase Jimbar_China. On September 12, Jiminbar_China announced the 6th part of their birthday support project, which is entitled "Aurora in New York."Jimin became the world's first person to have up to 300 sq m. jointed 3 screens in New York Times Square.
Netizens reacted to the video and were thankful that such an enchanting scene was shared online.
Meanwhile, in other news, #Jimin has now reached more than 19 billion views on Tiktok, the world's largest short clip sharing site. Jimin remained to be the 2nd most viewed hashtag by an individual on the platform. To emphasize, Jimin has attained this, even without owning his own personal account on the platform.
Finally, Jimin's solo song "Filter" continues to be among the best-selling digital songs in the United States. It ranked 1st on Amazon's Best Sellers – Songs and Best Sellers – International categories, 23rd. Best Sellers – Movies and Shakers and 1st Best Seller Song of 2020 (So Far). It remained to be the highest-charting solo song from BTS's Map of the Soul:7 Album on Amazon.