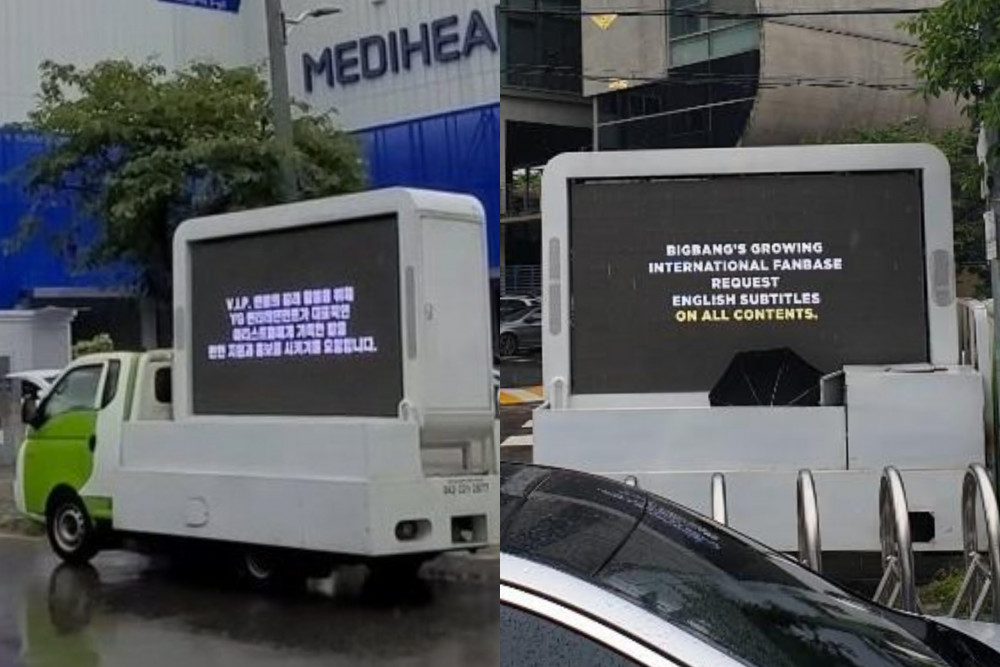 Fans of BIGBANG have launched an ad campaign protesting the lack of protection and support for the K-pop group, demanding that South Korean company YG Entertainment fulfill promises made to fans and the act.
Today (July 23), a truck started driving around the neighborhood of Seoul where YG Entertainment is located, playing both BIGBANG's music videos and listing demands from fan communities, as they demand simple things, as protection the group from malicious comments, making an official Instagram account, and protecting their Spotify page, at it's been used by random artists and random people can easily post their music in BIGBANG, T.O.P and Taeyang pages in Spotify.
The fans didn't demand any new music, in contrast, they know BIGBANG take their time in making music, and they just said: "we'll always wait for BIGBANG."
Here are the full demands:
1. VIPs humbly request YGE to take swift legal action against those that attack and defame BIGBANG online. This includes social media netizens, gossip sites, news, and blogs. This is fundamental to protect BIGBANGs image, reputation, and mental health.
2. Provide an easy to access system for fans to submit reports of defamation and malicious rumors to YGE directly.
3. BIGBANGs growing international fanbase requests English Subtitles on ALL content including previously released music videos and content such as Dae's House, etc.
4. Open BIGBANG Fanclub membership to international fans.
5. Provide BIGBANG with an official Instagram account. Update BIGBANGs Twitter handle to be more accessible.
6. For future activities, VIPS demand YGE provide their full support and promotion worthy of your representative artists. Provide ads on multiple SNS, music platforms, and billboards worldwide. Update official YG pages and BIGBANG Instagram and Twitter about CFs and collaborations the members are involved in.
7. Make all Group and Solo music available on Spotify. Organize Spotify profiles for the solo members to make all Korean and Japanese music available under a single name
8. Make the official albums and merch available on accessible e-commerce sites like Amazon.
YG Entertainment staff saw the demand and took videos of the truck, but yet to respond to fans. While Taeyang posted in his Instagram account with uplifting video and caption "Cheer Up Guys"