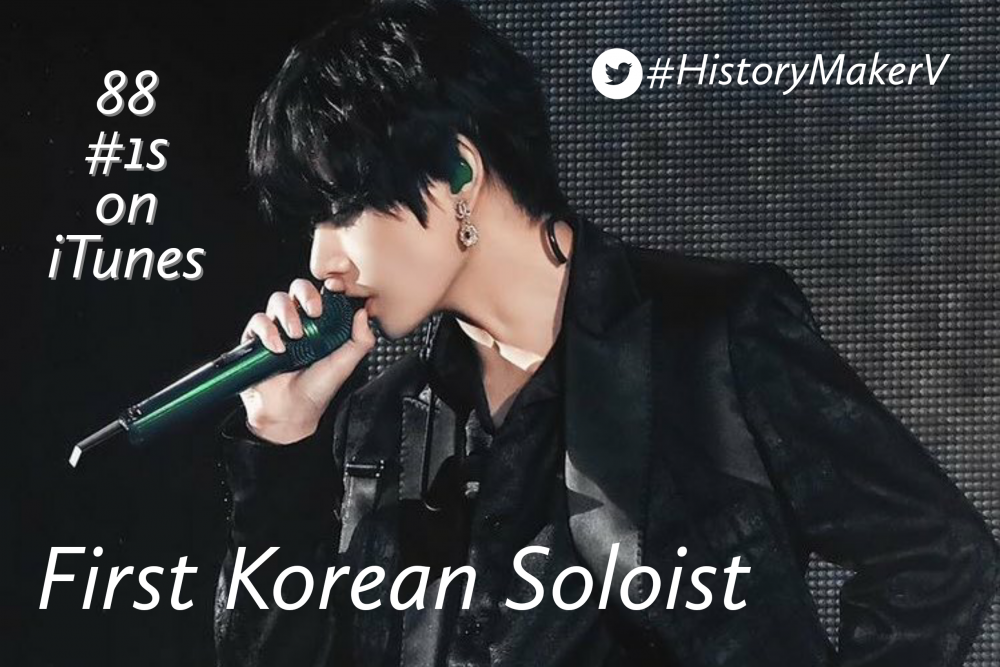 BTS V (Kim Taehyung) has now become the Korean Soloist (as well as Asian Soloist) in the history with most #1s on the 'iTunes Top Song chart' (in 88 countries) breaking Psy's 8-year old major record.
In 2012, Psy's 'Gangnam Style' swept the worldwide 'iTunes Top Song Chart' and ranked #1 in 86 countries. The record remained stable and unbreakable for eight long years.
This time, V snatched this spot with his self-composed OST 'Sweet Night' breaking Psy's massive 8 year old record in a span of just 2 months , announcing the new status as the 'Best K-pop Player' right now. In addition, it is more meaningful because V made this record with an OST without a music video starring him, without a global promotion or any kind of promotion from his agency.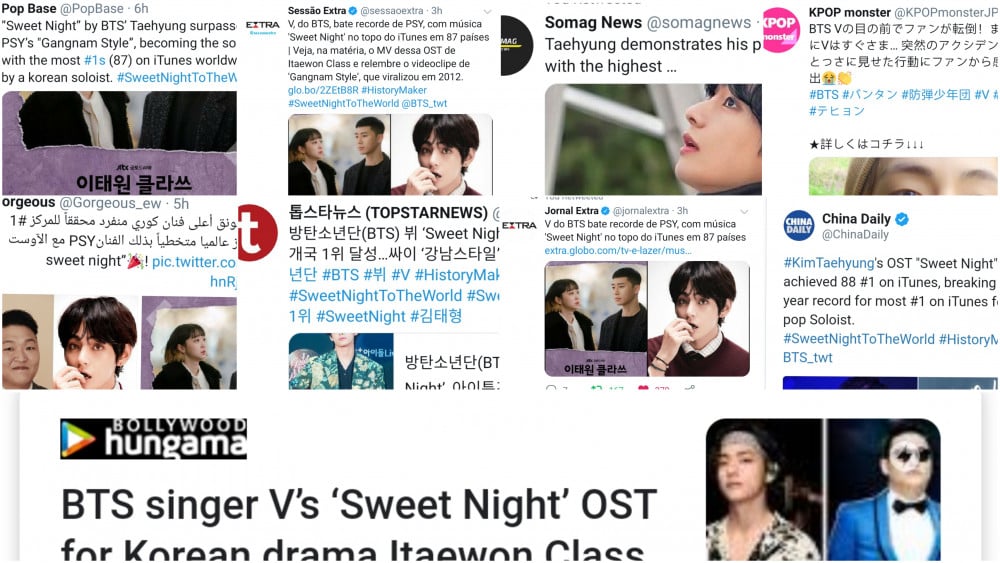 Right after the release of 'Sweet Night', V had joined Psy as the only Korean Soloists to be ranked #1 in U.S. and UK 'iTunes Top Song Chart' simultaneously; also other major music markets including France, Canada, Italy, and Australia.
'Sweet Night' also ranked 2nd in the 'US Billboard Chart Digital Song Sales', 10th in the UK's official chart 'Single Sale Chart 100' and 'Official Big Top 40 Chart', #1 in World's 'iTunes Top Song Chart' and also #1 inEurope's 'iTunes Top Song Chart'.
Particularly, in addition to the top ranking of 'Lebanon' recently, V ranked first in all Arab countries where iTunes can be counted, such as United Arab Emirates, Qatar, Saudi Arabia, Oman, Egypt, Jordan, Bahrain, Israel etc making it an "All-kill" in Arab.
Korean fans as well as Global fans are now celebrating V's new record with "#HistroyMakerV" hashtag, which has been trending at top spot in in Korea and #2 in real-time Twitter trend worldwide.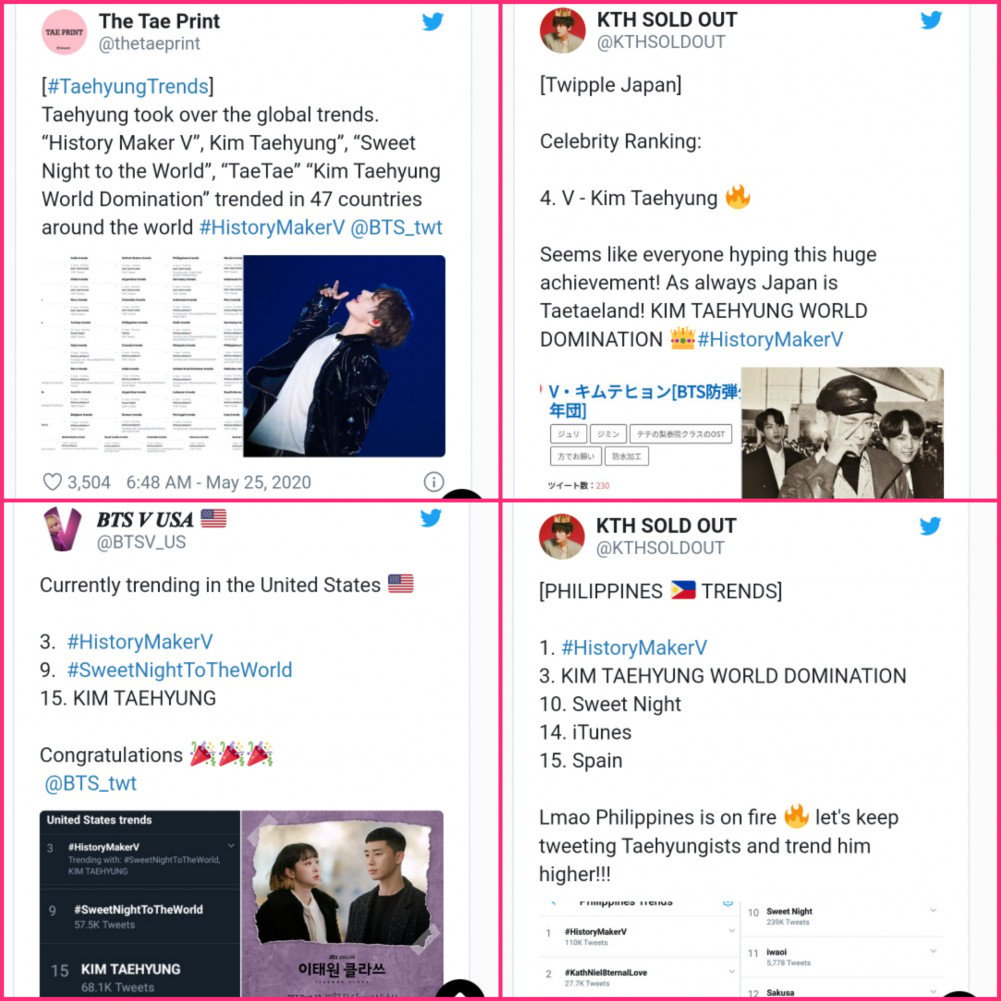 While the celebration was still going on, V posted on Twitter and fans went crazy and took the opportunity to congratulate V in comments.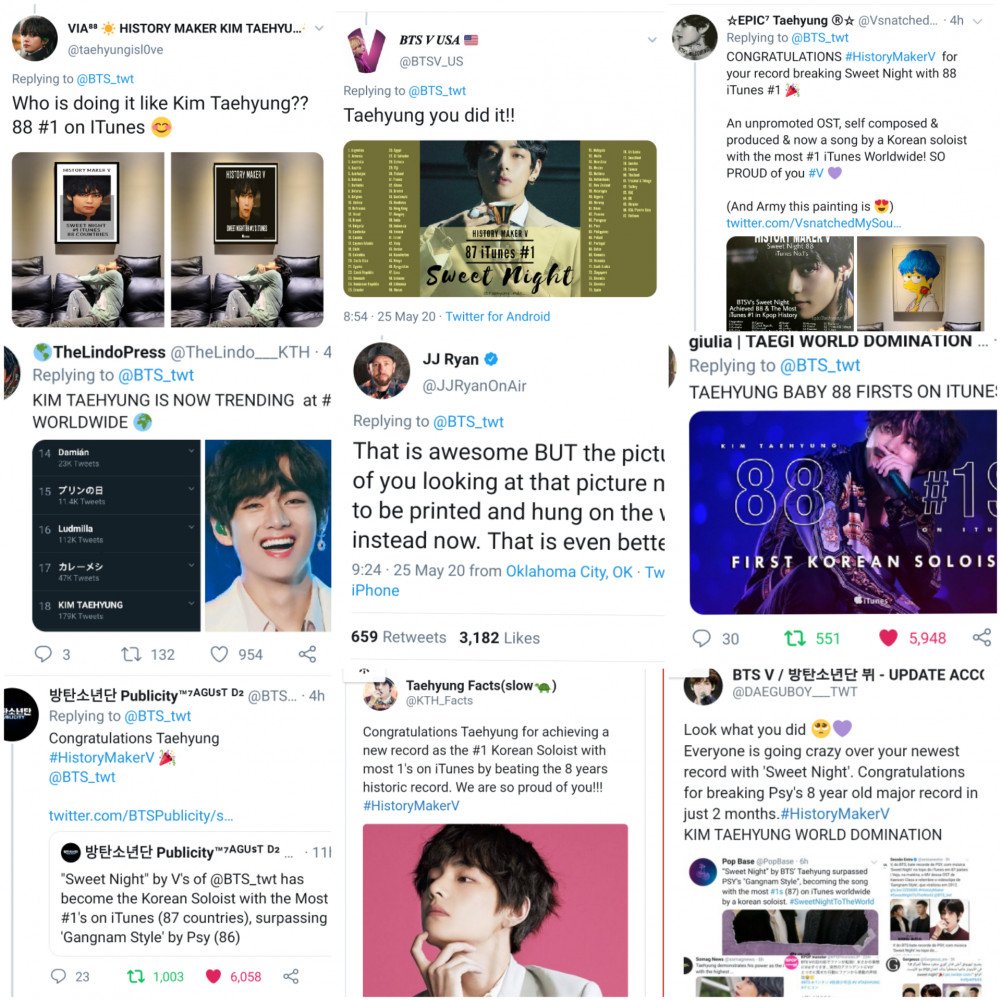 Also, the DOSSY Couple Pajama Set that V was wearing in his post is now sold out completely both for men and women within 5 mins.
Congratulations V !!