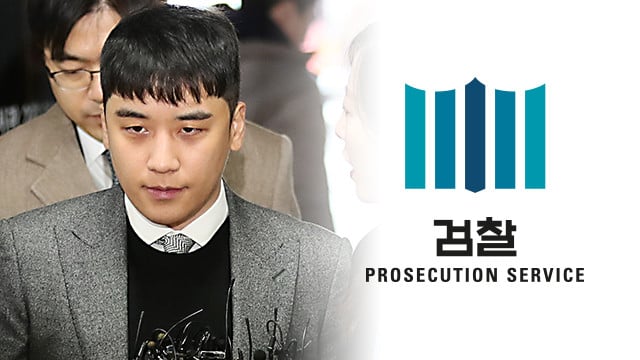 Image Source: KBS news
News Report:
According to recent news reports (KBS, MBC, JoongAng Ilbo, Chosun Ilbo), on January 30ththe Seoul Central Prosecutor's Office indicted Seungri among 11 people involved in the Burning Sun investigations.
According to the prosecution, Seungri was indicted on violations of the law on prostitution, foreign currency exchange law, and habitual gambling.

According to JoongAng Ilbo, details of the accusations against Seungri include mediating prostitution several times for Taiwanese, Japanese and Hong Kong groups during the period of December 2015 - January 2016 (KBS reports the period as Sept 2015 - Jan 2016 instead). He was also accused of habitual gambling in Las Vegas for three years, beginning in December 2013. Finally, the prosecution conducted additional investigations and found out that Seungri did not report in advance when he borrowed money for gambling in the United States (thus violating the Foreign Currency Exchange Act).
Other indictments that were announced on Jan 30th included:
- Choi Jong Hoon, for attempted bribery of a police officer after being caught in a drunk driving crackdown. (This is processed separately from his previous case of sexual assault during the molka and kakaotalk chatroom investigations, for which he received a 5-year prison sentence)
- Jung Joon Young, for alleged prostitution (separate from the sexual assault case during the molka investigation, for which he received a jail sentence of 6 years)
- Kim Sang Kyo, the person who made the first report which blew open the Burning Sun case (who had allegedly been assaulted by the staff at Burning Sun)
- Yoo In Suk, former CEO of Yuri Holdings, who was accused of engaging in embezzlement and prostitution at the Burning Sun club.

The prosecution indicted Seungri and Choi Jong Hoon without detention, meaning that they would not be required to stay in prison while the trial is ongoing. For Jung Joon Young and 4 others, they requested a summary court judgement (decision by the court without the need to have a full trial).

For Yang Hyun Suk's case of habitual gambling, the Seoul Central Prosecutor's Office announced they would be transferring the case to the Seoul Western Prosecutor's Office to continue investigation, as Yang's home falls under their jurisdiction.



Additional info and Analysis of Author:
For people who may be unclear about the workings of the justice system, an indictment means that the prosecution (government lawyers) have finished investigation and are now going to take the suspect to a trial in court. (See the Korean Ministry of Justice's Criminal Justice Portal for more details on how the legal system works).

According to the Criminal Act in Korea, the following laws are applicable to the charges that Seungri are indicted for:

Article 242 (Arranging for Prostitution): "A person who induces, entices, or procures a person to engage in sexual intercourse for gain shall be punished by imprisonment for not more than three years or by a fine not exceeding 15 million won."
Article 246 (Gambling and Habitual Gambling):

(1) A person who commits the offense of gambling shall be punished by a fine not exceeding ten million won: Provided, That gambling for a mere pastime shall be exonerated from the punishment.
(2) A person who habitually commits the crime of paragraph (1) shall be punished by imprisonment for not more than three years, or by a fine not exceeding 20 million won.
(I have yet to discover the correct law that would apply to violations of the foreign exchange)
It is unclear whether Seungri has also been indicted on charges of embezzlement. JoongAng Ilbo made a mention that Seungri was accused of it, but no other news agency has reported that embezzlement was part of the prosecution's indictment. If he was indicted for it, Articles 355 and 356 of the Criminal Act would apply to embezzlement.