It's no secret that Armys and world were put under a spell by BTS V's extremely enchanting visuals with surprisingly unique, deep and soothing voice. Now he has everyone spellbound by being the only Korean (dual nationality not included) getting enlisted in the "List of baritones in non-classical music" with the likes of David Bowie, Kurt Cobain, Elves Presley, Frank Sinatra etc. In the industry dominated by tenors or a soprano, BTS V aka Kim Taehyung is no stranger to breaking stereotypes to succeed.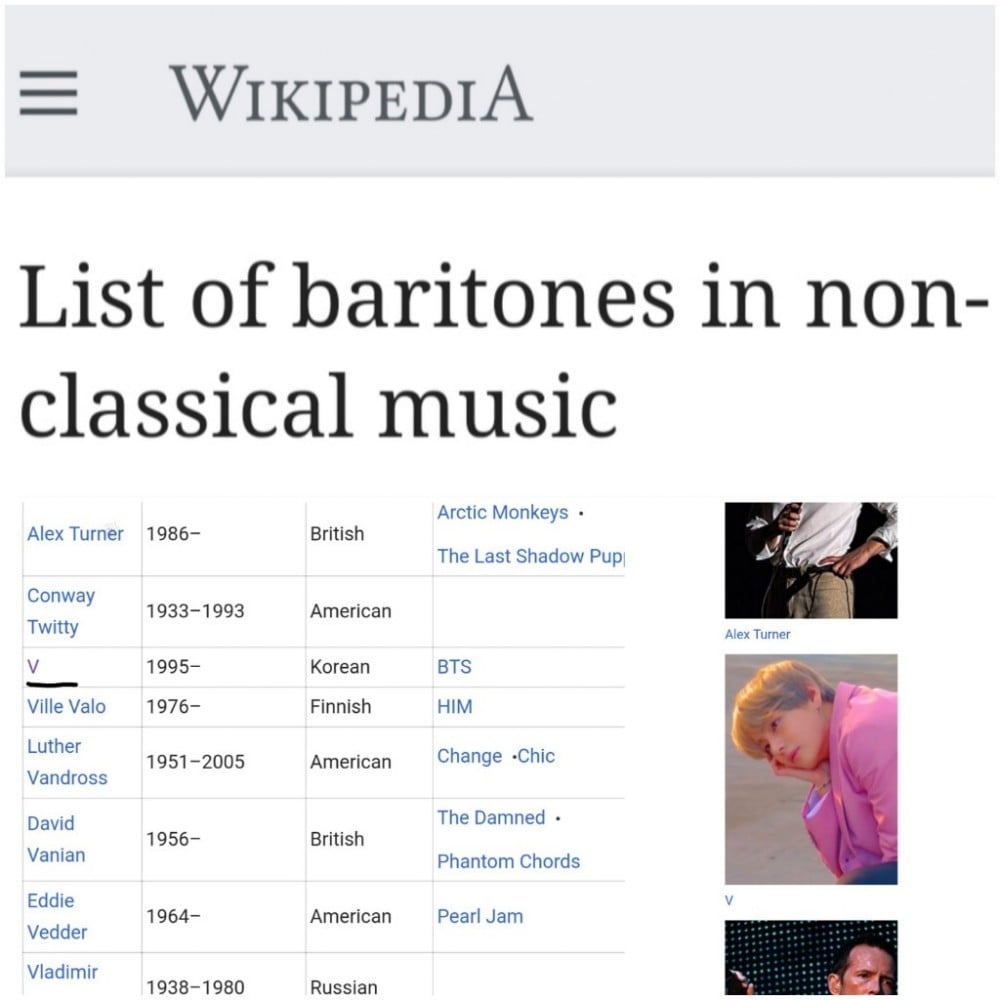 In The American Hustle Life, Iris Stevenson (known for "Sister Act") praised V (accredited as a South Korean singer, songwriter, record producer, director and actor) when he was just a rookie, learning the basics, by saying:
"You have a wonderful voice. Keep him. It's is soulful, people feel something when you sing; Yeah so keep going"
His voice is often labelled as "as deep as ocean" by the netizens.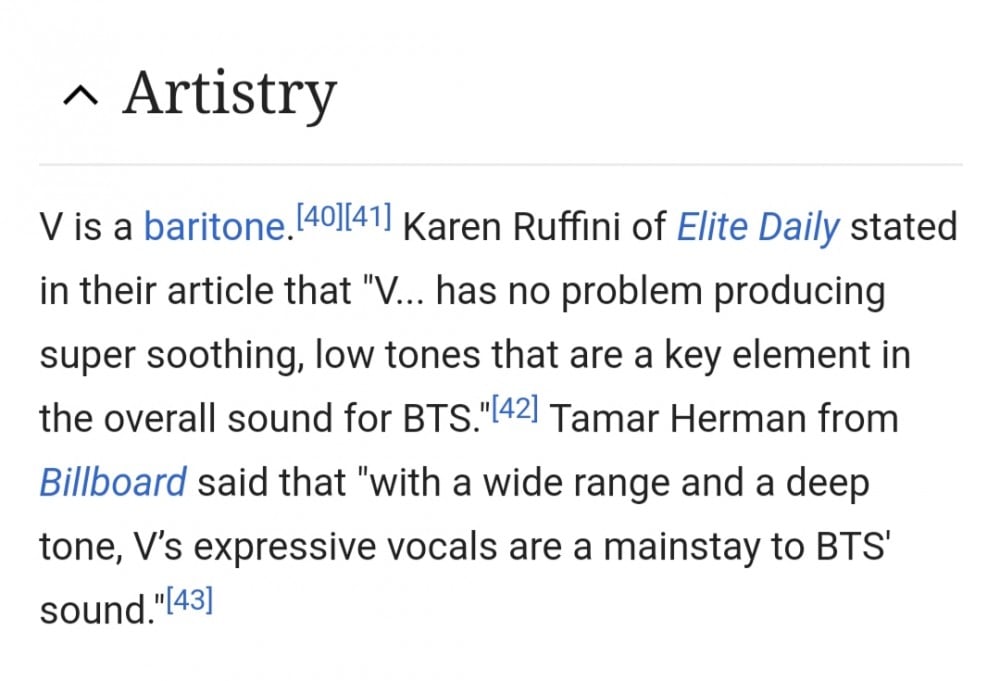 BTS, like every other KPOP group, favors tenor or a soprano, it's no surprise to see main vocalists to be a tenor, irrespective of quality of voice and technique. V's voice stands out being the only lyric baritone vocalist with other three tenors and three baritones (Rap line) in the group as per real vocal experts. Although BTS songs are mostly written for a lower tenor range, which doesn't suit baritone voice type, V's wide vocal range enables him to sing alongside the tenors without too much stress on his vocal cords.
"V's song 'Singularity' is an R&B song with a neo soul base. RM participated in writing the lyrics, and the song features his unique baritone voice.
V appears alone as the lead role for 'LOVE YOURSELF 轉 'Tear'' intro" as per KBS world.
Taehyung easily hitting high note showing his immense vocal range:
For a Baritone in KPOP, V has widest vocal range (as per real vocal analysts) of Eb2 ~ D6 (3 octaves, 5 notes and 1 semitone), which means he has potential of hitting high octaves with ease.
The baritone voice is typically written in the range from the second G below middle C to the G above middle C (G2-G4) although it can be extended at either end. However, the baritone voice is determined not only by its vocal range, but also by its timbre, which tends to be darker than that of the typical tenor voice.
V's real baritone flavor:
V recently released Winter Bear which is wholly directed, produced, written and sung by him:
BTS V is considered as one of the strongest vocalist in BTS with the Strong sense of breath support and well at remaining relaxed within his comfort range with the ability to transition into his falsetto with relative ease and ability to remain relaxed up to C4 and D4. He is also considered as one of the most stable live performer in BTS.
Enjoy this soulful performance where V blended his baritone with tenor.
Fans all over the world are excited to see BTS V, who coined the term "I purple you", reaching his whole potential in future by urging Big Hit to help their favorite boys with a proper vocal training. Armys are waiting for more gems from V.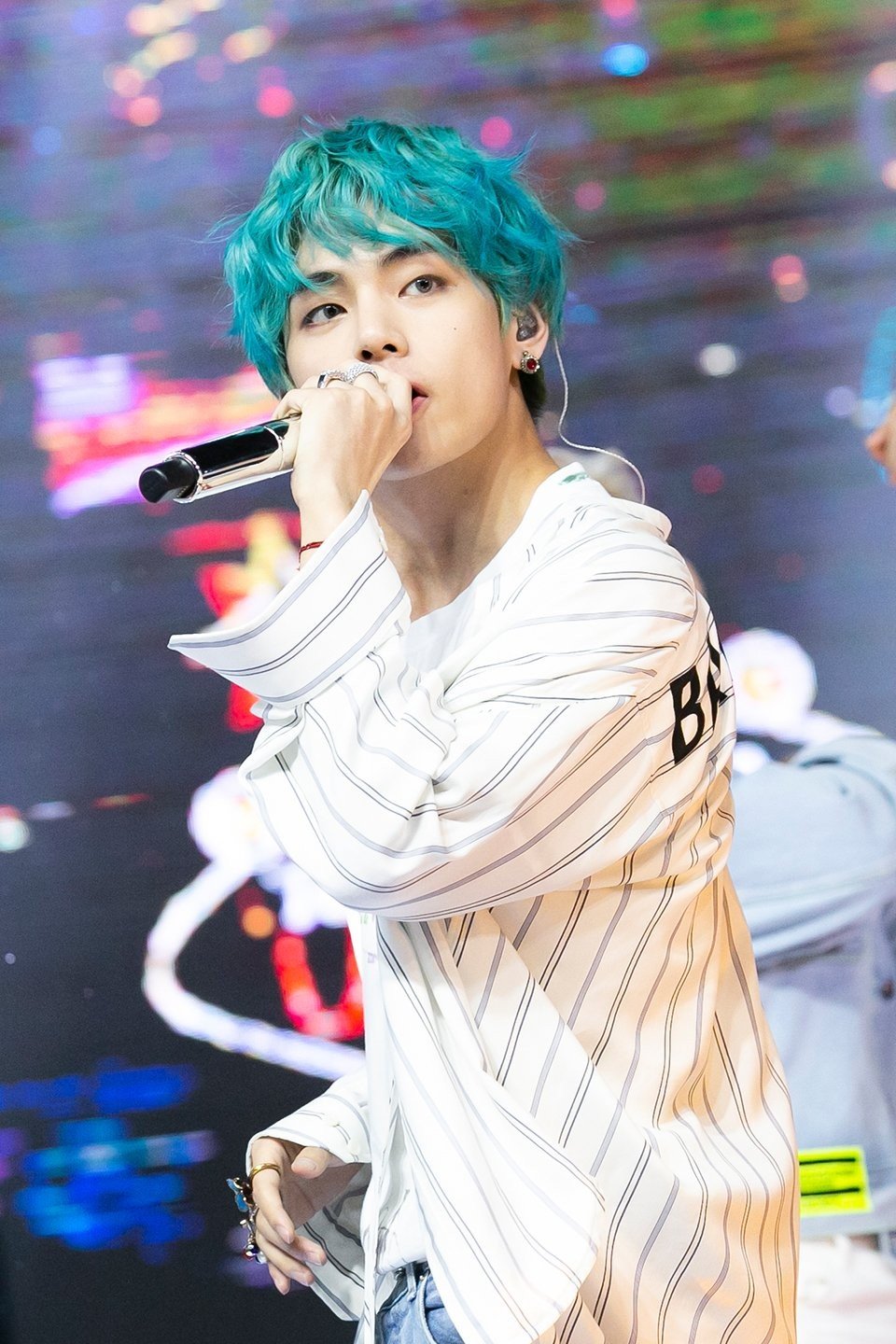 Credits:
1. Pinksterboer, Hugo, The Singing Voice: The Complete Guide, Music Dispatch, 2008, p. 55.
2. https://kpopvocalanalysis.net/2016/08/04/bts-vocal-analysis-v/
3. https://aminoapps.com/c/k-pop/page/blog/all-about-vs- voice/LmI8_uwnVznEwXndQE2EQQLxqX8dXM
4. http://kbsworld.kbs.co.kr/news/news_view.php?no=18414&sec=kpop&lang=eng&page=8&search_tag=K-POP&writer=
5. https://en.wikipedia.org/wiki/List_of_baritones_in_non-classical_music