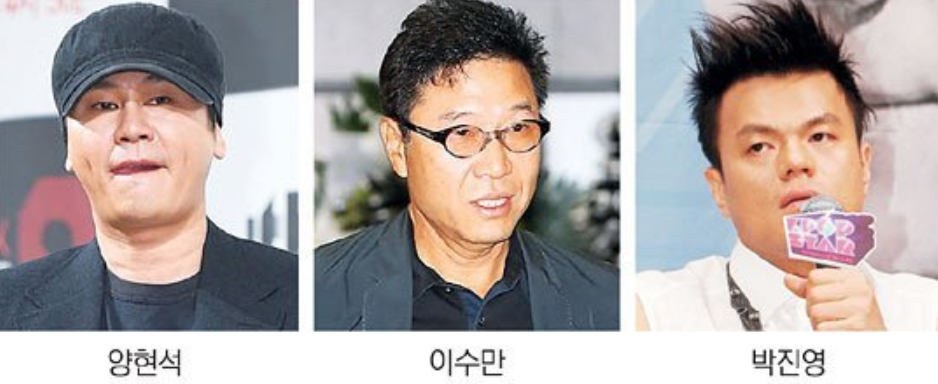 YG:

Yang Hyun Suk's alleged prostitution mediation scandal.
Loss of 500 billion won in total market cap

SM:

Controversy over discredited capital outflow
EXO members military enlistment

JYP:

Crisis in the wake of GOT7 Mark's scandal
TWICE's member Mina and Dahyun health problems

The entertainment industry is at risk due to a crisis triggered by YG Entertainment's scandal.
The YG scandal that includes former Big Bang member Seungri and YG CEO and executive producer Yang Hyun Suk is casting a dark cloud over the entire local entertainment industry.
MBC 'Straight' that aired at 10:05 pm KST Tuesday once again raised suspicions of Yang's sex services as they revealed testimonies of Madame Jung, who's a key figure in the case. The police secured testimony from Jung who alleged that Yang Hyun Suk directed her to mobilize 10 prostitutes for an arranged trip to Europe and testified that Yang Hyun Suk's previous statements "that he didn't know why she mobilized the women" are false. If these testimonies are proven to be correct, it could bring another storm to the entertainment industry.
SM is known to be considering various reduction measures including issuing dividends and self reflection in connection with alleged suspicious activities surrounding a private company owned by its company founder and general producer, Lee Soo-man. However, prospects for the 2nd half of the year are uncertain as the company has lost trust from its shareholders, 2 members [D.O & Xiumin] from main group EXO are enlisting in military and their rookie group NCT has yet to expand its profile sufficiently.
JYP that had seemed relatively stable is also showing signs of instability as the company suffers from rumors involving GOT7 group member Mark involved in Jung Joon Young's [hidden camera] scandal. TWICE members are also suffering from fatigue as members Mina and Dahyun are missing schedules due to health problems.
Shares of the 3 companies have been falling repeatedly and the market on Tuesday was a disaster. YG's shares continue to plummet and have lost market share of over 500 billion won. SM's shares that stood at 47,000 won have now slumped to 38,500 won. JYP also saw its shares fall more than 30% from 32,500 won in April.
The problem is that there is no foreseeable end to this crisis. Many in the industry are concerned that if the YG-related investigations continue and the 'Big 3' companies continue this downturn and decline in future earnings, the outlook for the entertainment industry is bleak and is cause for huge concern.

[+942, -28] Can't even stand YG anymore
[+729, -34] JYP did an all in on their all Japanese girl group and their stocks have been on the decline for half a year now. They're at their limits with Got7 and Twice as their stocks continue to plummet ㅠㅠ
[+47, -3] Honestly, only the stupid fangirls of these agencies are the ones worried for them ㅋ As if anyone cares that a big corporation like any of them are at risk right now
[+36, -10] Don't know about SM and JYP but YG is probably hitting their biggest crisis right now. I bet they'll be completely bankrupt in a few months.
[+27, -6] The 'top 3' has no meaning anymore
[+27, -9] I get that JYP's kind of problematic right now because they have a lot of Japanese members but it's unfair to associate YG in the same title as them
[+25, -15] Let's focus the hate on YG, leave SM and JYP alone...
[+20, -4] If you looked into any of the three agencies, you wouldn't find anything clean, I bet. JYP is so bad at producing male idol groups.
[+19, -4] Kim Yong Ho, an industry department head, talked about this on YouTube. He talked about how Hallyu brought in a wave of Japanese investments that helped solidify our entertainment companies before turning over to Chinese investments, but they're all becoming slaves to Chinese money now, including SM... He predicted that they're going to crumble under the pressure of Chinese investments, the most representative example being Fantagio...
[+17, -2] Park Jin Young just wasn't meant for anything international, it seems
[+16, -0] These companies can fail all they want, they're probably all rich enough to not worry anyway.