4 T-ara's members including Qri, Eunjung, Jiyeon, and Hyomin celebrated their 10th anniversary of debut through live broadcast on Naver V App.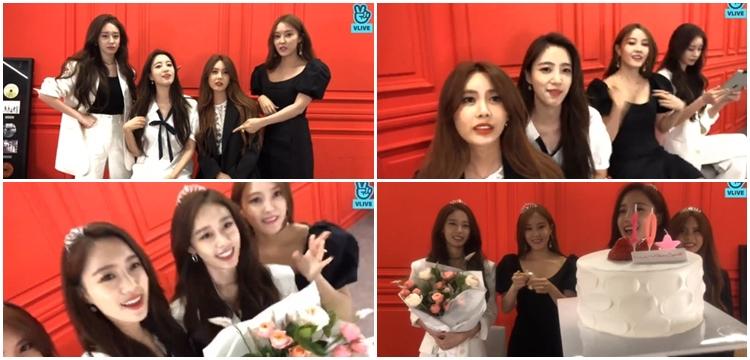 The program "T-ara 10th Anniversary" was broadcast via Naver V App on the afternoon of July 29 on the occasion of T-ara's 10th debut anniversary.
​
T-ara debuted on July 29, 2009, so today (July 29), the group celebrated their 10th anniversary of debut. All 4 members including Qri, Eunjung, Jiyeon, and Hyomin who attended the broadcast on V App shared, " Today is a very special day for us. Time has passed so fast. We still have not felt that this is true." At the same time, they sang the birthday song together.
​
Then, the members shared their thoughts. Jiyeon stated, "Actually I haven't really felt that this is the 10-year anniversary. Looking back, I see that many things have happened. Thanks to the fans, we are able to stand here and send our greetings to everyone like right now. I feel so touched to hear the song "Lie" in the past. I love the fans a lot."
​
Eunjung expressed her wish, "I still have not felt that the group made a debuted 10 years ago. Thanks to the fans for celebrating the 10th anniversary with us. T-ara is a group that has a long history while also having many stories to tell. I hope that the whole group will continue to celebrate 20th anniversary, 30th anniversary of debut."
​
Hyomin confided, "I want to say thanks and love to the fans who have been together with us for the past 10 years." Qri also expressed her affection for fans when sharing, "I am very happy to be able to carry out the 10th-anniversary broadcast."
​
T-ara's choreography teacher Bae Yoon Jung also unexpectedly appeared while the group was broadcasting live. Bae Yoon Jung sent a congratulation in her own distinctive way, "Releasing albums is a way to repay fans. Let's prepare new songs then meet me to practice choreography."
​
My Daily = Reporter Lee Seung Gil winnings@mydaily.co.kr
Photo = Captured from the broadcast of V App
Everything Idol, Everyday Exclusive V TODAY OPEN!