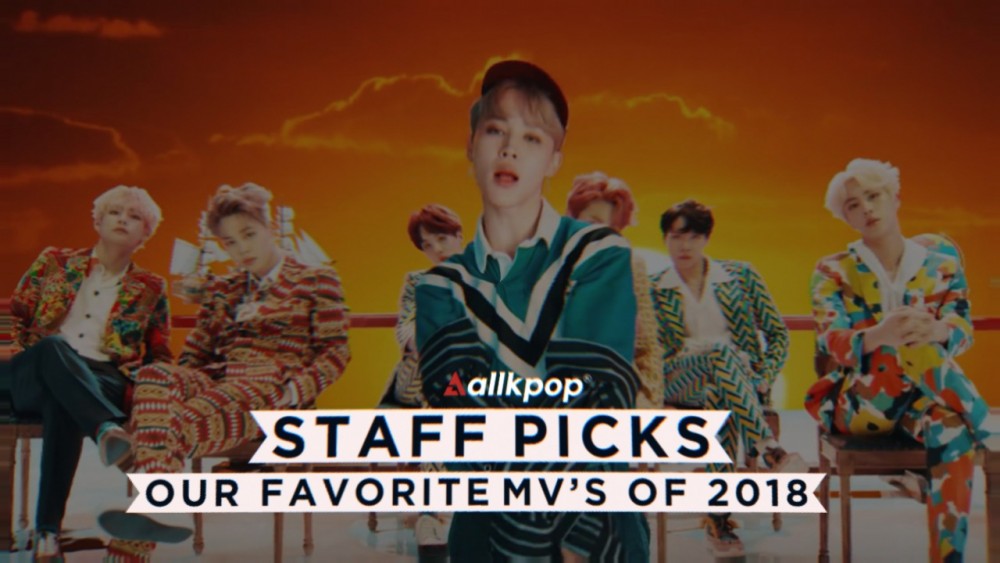 There were hundreds and hundreds of new MV releases in 2018 but which ones did the staff at allkpop love the most? Here are our favorites!
KayRosa's Pick:

BTS "IDOL"
First of all, I would like to state that this decision is not based on the group's overall achievements or on the number of views. Although the production quality may have had an impact on their success, the MV for "IDOL", in my opinion, is one of the most unique and quintessential videos in K-Pop history regardless of BTS' popularity. This vividly loud and vibrant MV represents all things Korea, mixing the old with the new and adding Pan-Asian elements to dynamically tie in a variety of musical genres. The MV also reflects the current social trends in South Korea, such as the popular Snow camera filters, Instagram Story filters, contemporary art, 3D graphics, and other elements that millions of non-Korean users are also familiar with. Juxtaposing these elements are traditional motifs and imagery outside of the dominant culture, such as shamanistic costumes, ritualistic tassels, temple plazas, savanna ecology, and landscapes, along with Korean traditional imagery such as the five cardinal colors, white tiger, rabbit, full moon, and hanbok style garments. There are also personalized elements such as the drawings by BTS members themselves and the Korean word for "love". Even as they grow into giants (which is literally depicted in the video), the MV reminds viewers that BTS has not and will not forget their Eastern roots and identity any less than they will ever forget their duality as artists and idols. From silhouette illustrations of plum blossoms to the Eastern sunrise backdrop, the traditional mix with trendy pop culture designs presents them as not-too-serious and down-to-earth boys who are simply having fun even during the pinnacle of their success. Filled with bold attempts, the "IDOL" MV fiercely contrasts other MVs of BTS and introduces a new era of K-Pop by not only representing Korea but also Asia and other subcultures and aesthetics.

jennywill's Pick:

LABOUM "Turn It On"
I'll admit it: I don't know why I like this MV so much. It's kind of a Warm Bodies-type cliche zombie MV where the girls turn the zombie boy (U-KISS' Jun) back into a real human being, except more ridiculous in the methods they use. But for some reason, the contrast between the bright-white scenes upstairs and the dark, grungy scenes in the basement with the zombie boy make a beautiful contrast for a fun MV to enjoy. There are silly parts where LABOUM makes you forget that there's apparently an apocalypse outside, and the ending of the MV definitely leaves you wanting more.

danisurst's Pick:
SF9 "Now or Never"
While I have always had a soft spot for SF9 singles, I was completely blown away when the music video for "Now Or Never" dropped, and am still surprised that it did not get more award show love this year. Not only was the song itself extremely well executed, but the choreography, handled by K-pop choreography KING(!) Keone Madrid, is incredibly addictive to watch, especially Chanmi's Michael Jackson-inspired dance solo. I love the performance-heavy direction SF9 concepts are going in, and if they continue in this trajectory, the group is going to have an explosive amount of success in the future.

beansss' Pick:

ATEEZ "Pirate King"
The scenery of the Sahara Desert, the red landscape, and rock faces of Morocco are utterly breathtaking throughout this MV. Admittedly, I became a fan of ATEEZ a bit before their debut so I went into this MV already a fan... Which means I don't know if the combination of the incredible scenery plus their killer choreography will have the same effect on someone who isn't a fan but... on a side note, I also remember a behind-the-scenes story from the members, about their first encounter with the Sahara Desert night sky. How the entire world was pitch black, and the stars felt like they were literally within hand's reach... Just imagining it makes me smile.

LorraineYe's Pick:

Tiffany "Teach You"
Truth be told, if I could pick two favorite songs of 2018, this would have been the other one. "Teach You" is my favorite song of Tiffany's post-Girls' Generation. I love styling and feel of each individual scene of the music video and the song itself is a pop masterpiece! The song, written by Tiffany alongside label mate Satica and produced by AO Beats and Mike Derenzo, was a refreshingly new showcase of talent both in musical sound and melody writing. It's hard not to fall in love with Tiffany when she's interrogating her cheating boyfriend, and well... setting him on fire. Can't wait to see what Tiffany and her team have ready for 2019!

eric_r_wirsing's Pick:
TWICE "Yes or Yes"
So I voted for this CGI-fest. Some MVs just stand out from the crowd, and this one was no exception. The video is an exercise in enhancement, with clones of members (a trick they do quite often), to stripping members into exotic locations, and even some exotic locations were CGI. There were some impressive effects such as the girls on floating coins (singing though they were immortalized that way), the coins then bending in Dali-esque fashion. They even show up on Tarot cards. It simply had eye-catching special fx, and didn't let up for a minute.

LeJulie's Pick:
MAMAMOO "Starry Night"
MAMAMOO has definitely grown in popularity, skills, and recognition over the short years since their debut. "Starry Night" is a song full of aesthetics, deep and complex emotions, and incredibly beautiful cinematography. The camera work is incredibly amazing with powerful scenery that really encompasses the beauty of MAMAMOO and their lyrics. The MV really brings you along with each member through various mysterious and mesmerizing terrains.
yckim124's Pick:
Urban Zakapa "You're The Reason"

Music videos nowadays are all about the vibrant graphics with things popping up here and there. Just when I was getting kind of sick of the CGs, I watched "You're The Reason" MV. I love how this goes back to the classic drama-like K-pop MV with romance. Although it made me think, 'Why are they running around the office after work? Go home!' it was adorable overall. And yeah, I'll admit. Cha Eun Woo is what made me love this MV even more. And there's a sequel! The MV for "As I Wished" is set in the same office but from a different point of view. It's really like a mini-drama.

artistseunghee13's Pick:

Katie Kim's "Remember"
Katie Kim's "Remember," is one of the most artistic music videos in the K-pop scene to be released this year. Every single frame is a masterpiece, the lighting, the shadows, the composition, the after effects, everything is simply ideal. The video especially amps up starting from the 1:37-minute mark, where a group of people join Katie and the video takes a turn towards an art performance or a dystopian fashion shoot. It's definitely a music video everyone should at least see once.
exocomebaek's Pick:
EXID's "I Love You"
This would be my favorite MV of the year as it shows the cute dynamics of EXID, especially now that Solji is back. The song is catchy and the choreography is amazing as well.
Paul's Pick:
JUSTHIS & Paloalto - "4 The Youth"
This MV features beautiful time-lapse scenes of Seoul on a motorized slider. No shots of the artists just of the Seoul landscape. A simple but wonderful music video.
hannahleex's Pick:
Eric Nam - "Honestly"
So many idols released iconic music videos this year, so it was extremely hard for me to choose a favorite. One of the most underrated, yet well-produced music videos, in my opinion, is Eric Nam's "Honestly." The music video screams summer with its fun vibes. The locations for each scene in the music video are stunning and fit perfectly with the overall mood of the song. I love the lighting and the ambiance, and of course, Eric Nam's stunning visuals in every scene! Watching the music video makes you want to take a trip to Mexico, where Eric Nam filmed the beautiful, romantic shots of San Miguel Allende.
elliefilet's Pick:
Kim Dong Ryul - "Fairy Tale"
Kim Dong Ryul's "Fairy Tale" music video is visually striking right off the bat. The art style is both simple and complex, and it's not something I come across often. Each scene looks like it could be an art piece or from an animated movie.