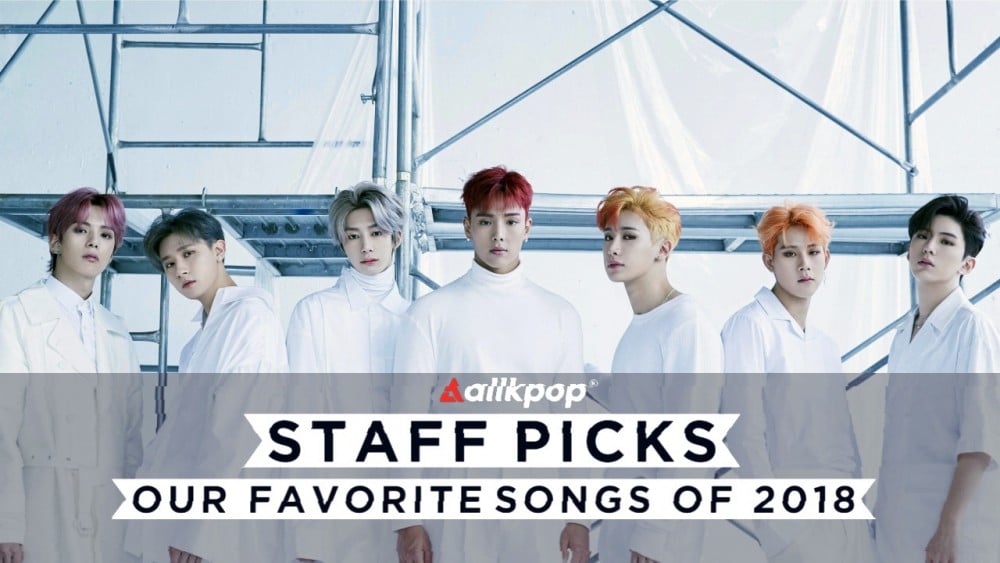 2018 was another year filled with amazing K-Pop releases. Out of the countless new songs that came our way this year, here are the favorites that allkpop staff loved the most!
KayRosa's Pick

GOT7 "Lullaby"
Since the release of "Look," GOT7 has been on a roll with their jumpy house-EDM genre. In addition to a fun twist of funk and future bass, "Lullaby" makes a perfect dance track with contrasted lyrics about falling into deep sleep. This ironic dance bop brought GOT7 their first 2-weeks-in-a-row #1 streak on music shows, solidifying their identity as a stylish and long-lasting boy group. The song is smooth and upbeat at the same time, with the verses and the chorus section setting themselves apart with differing downbeats. The inclusion of expressive key changes, R&B slowdowns, and switching between major and minor chords all make you want to dance and crawl up in bed at the same time. The different language versions of the track also present separate, poetic renditions of the same story, instead of using a word-by-word literal translation of the original Korean lyrics. Truly international!

jennywill's Pick

MONSTA X "Shoot Out"
MONSTA X has had a very successful 2018, including their first-ever mainstream music show win with this very song. "Shoot Out" is addicting, it's got an amazing choreography (as usual) and comes packed with more of MONSTA X's power than ever. MONSTA X songs aren't afraid to start strong from the get-go with Jooheon and I.M's powerful rap, and Kihyun's powerful vocals are showcased to their fullest as usual. And it comes in a full-English version, too!
LeJulie's Pick:
j-hope "Daydream"

j-hope's solo album has been long overdue. With incredibly powerful lyricism expressing his struggles between being an international superstar and his true self, j-hope really went above expectations with this song. His catchy lyrics, fun beats, and overall energy, you really can see and feel all of j-hope's love, passion, and happiness through this song.

LorraineYe's Pick:

Pentagon "Shine"

Despite the hardships this group has faced with multiple members leaving the group, they still managed to go absolutely viral with this song. Not only did this song climb charts worldwide, it even was listed as one of the Top 100 Songs of 2018 by Billboard! "Shine" is my favorite this year because it's been a long time since I've heard such a fresh and infectious melody in K-Pop. Pentagon brings me back to a nostalgic, yet happy era of K-Pop while maintaining a modern twist. "Shine" is suited for the group and is my must-listen track of the year.

beansss' Pick:

SHINee "Good Evening"
I believe that this song was written as a beautiful and cryptic way of saying, "We miss you". Like these lyrics, "Moonlight rises and fills up the sky; I'm on my way to get you before it's too late..."

eric_r_wirsing's Pick:

Nation's Hot Issue "Rumor"
I never expected this song to be so good. Showing up on the Produce 48 OST, this tune was an unexpected hit. The layering and the time changes were awesome, as was the payoff in the chorus. It reminded me of why I got into K-Pop in the first place. Not every song on there was a bop, but this one was.

daniurst's Pick:

K/DA (Madison Beer, (G)I-DLE, Jaira Burns) "POP/STARS"

Considering this song was only created to promote 'League of Legends' and was never something the artists involved in the song brought onto shows like 'Music Bank' or 'Inkigayo', it is incredibly impressive how popular the single was able to get. At one point, if treated like an actual K-pop girl group, they even broke the record for the highest amount of YouTube views for a debut K-pop video within 24 hours. With an aggressive beat and hard-hitting lyrics, "POP/STARS" is the definition of 'girl crush' energy K-pop, and it was really exciting to see a song combining both western and Korean artists that did not seem to compromise their own unique colors. I cannot be the only one hoping that Miyeon, Soyeon, Madison, and Jaira are able to continue collaborating on more K/DA music someday.

yckim124's Pick:
Sam Kim "It's You"

"It's You" healed the sickness I had from all those autotunes and EDM sounds commonly heard in recent music. I love the acoustic melody topped with Zico's soft rap. Out of all, my favorite part is the conversational segment where Zico provides advice for Sam. His lyrics are so poetic and real. This song is just the best and I can have it on repeat forever.
artistseunghee13's Pick:
MAMAMOO's "Starry Night"
My favorite song of 2018 has got to be MAMAMOO's "Starry Night." As a long fan of MAMAMOO, it was amazing to see this group try a new sound and completely succeed in captivating their audiences. It's also the perfect song to blast in the car anytime.
exocomebaek's Pick:
EXO's "Smile On My Face"
This is my favorite song of the year as it carries a lot of meaning since it talks about how even though sometimes things are hard in a relationship, one can still handle it with a smile on their face, even though it is to end a relationship. This song is very touching and meaningful.
Paul's Pick:
YunB's "Yellow Cab"
My selection hasn't changed from the first half. YunB is originally from New York but went to Korea to pursue his dreams and his music is fire. "Yellow Cab" was my favorite song of 2018 and the MV is excellent as well. Both the lyrics and MV itself depict the beautiful scenes of NYC as you leave for home right before dawn in a yellow cab after a fun night in the city.


hannahleex's Pick:
iKON's "Love Scenario"
This may be a no-brainer, but iKON's "Love Scenario" is definitely my favorite song of the year. B.I.'s excellent music production skills truly shine through this song. The catchy melody along with the unique vocals of each member complement each other to create a chart-topping song. This song really helped iKON to break through in the K-Pop industry. "Love Scenario" currently holds the record for the most weeks at number one on the Gaon Digital Chart, and recently won the "Song of the Year" award at the 2018 Melon Music Awards. The iKON members have worked so hard, and it certainly has paid off. "Love Scenario" is simply a song that I will never get sick of!
elliefilet's Pick:
iKON's "Killing Me"
iKON's "Killing Me" is interesting to listen to, and it definitely sounds like an experiment in genre mixtures. For me, the song's tone reminded me of old-school K-pop, while the beat and electronica elements were definitely modern and upbeat. I appreciated its unique appeal.