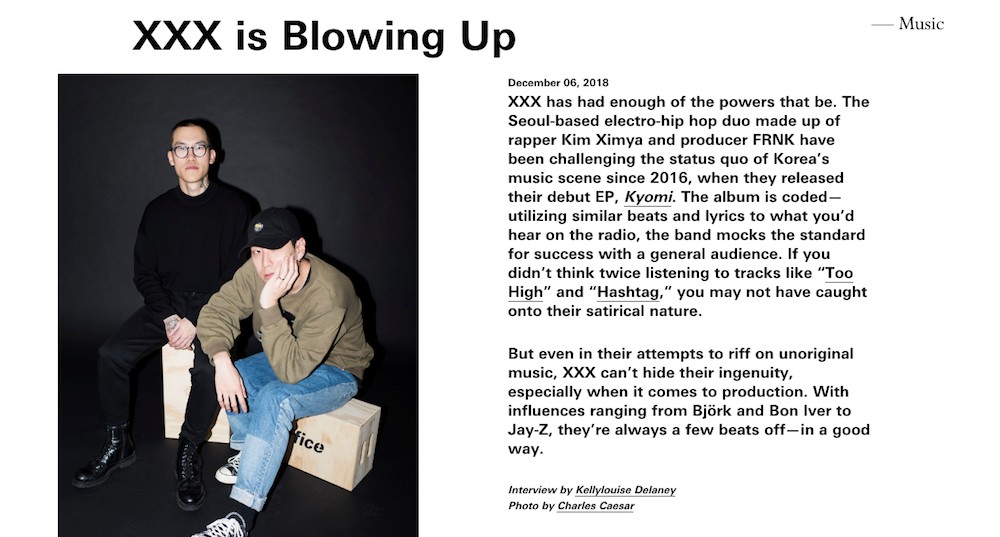 Korean hip-hop duo XXX recently sat down for an interview with NYC-based magazine 'office', and the duo is one of the first Korean musical acts to be featured in the more remote, hipster art & fashion magazine.
XXX recently released their 1st full album 'Language' back on November 28. According to 'office' magazine, which starts off with the headline, "XXX is Blowing Up", the duo is described, "Combining dubstep drops with electro beats, far-reaching classical samples and Ximya's hard-hitting raps, XXX achieves a completely new sound of their own."
In their following interview with 'office', the XXX members described to their interviewer how "the only way to blow up on the music scene in South Korea, Ximya tells 'office', is by competing on the TV show 'Show Me The Money', where rap crews are judged by an audience and other rappers for a cash prize", and "Ximya and FRNK, of course, opted to skip the show". Interested to read XXX's point of view on their music, the Korean rap scene, and more? Head over to 'office' for the full article, here.
Previously, XXX garnered attention from American media such as 'New York Times', 'Billboard', 'Complex', and more for their pre-release single, "Sujak". Having debuted in 2016 with their first EP 'KYOMI', XXX is made up of rapper Kim Ximya and producer FRNK. The duo plans on releasing 'Second Language' as the second part of a pair to 'Language', soon.