Lee Mi Joo
and
Kwon Hyun Bin
had a good laugh over a lie detector test on '
Dunia
'.
On the September 2nd installment, three of the cast members -- Kwon Hyun Bin, Mijoo (Lovelyz), and Lee Geun -- were called into a mock interrogation room. To assess their 'hidden memories' after returning from the alternate world of Dunia, the program coordinator used a lie detector on Kwon Hyun Bin to get some 'truth' out of the journey.
For all the questions, Kwon Hyun Bin had to answer with either a 'Yes' or a 'No'. The first question was: "Honestly, I was the best-looking man in Dunia". When Kwon Hyun Bin answered 'No', the lie detector promptly punished him for lying!
The second questions was: "There was a woman that I was fond of in Dunia." To tease Kwon Hyun Bin, Mijoo immediately stood up and tried to approach him. However, even before Mijoo could even reach him, Kwon Hyun Bin responded in denial and said that there was "nobody".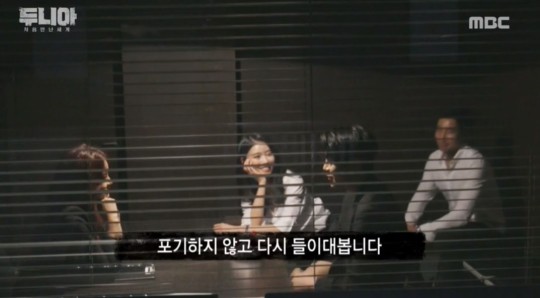 Mijoo pouted and sat back down, but later came up to Kwon Hyun Bin anyway.
Leaning on the desk, Mijoo kept tapping his arm to grab his attention, but Kwon Hyun Bin kept his gaze straight ahead. However, when he pressed on the lie detector, his answer came out to be a lie!
When Mijoo jokingly said, "Aw, why didn't you tell me?", the coordinator asked him, "Was she your friend or someone older?". Although Kwon Hyun Bin kept denying that he wasn't interested in anyone, Mijoo from the back once again jested. She said, "If she was a girl your age, then we definitely have the answer", suggesting that that girl would then be Luda.
Watch the full clip above! Do you think that the lie detector was telling the truth?