On July 31, SF9 held their showcase at Shinsegae Mesa Hall to celebrate the release of their 5th mini album, 'Sensuous' and allkpop was in attendance.
They kicked off the showcase by performing their title track, "Now or Never," which showed off the members' sexier and more mature sides. Like the title of the album, 'Sensuous,' the choreography for "Now or Never" oozed with sexiness and chic.
Because it was their first time attempting a sexier and more sensual concept, the members shared the hardships they faced while preparing for their comeback.
Inseong, who described himself as the brains and red hair of the group, explained that he continuously watched videos for inspiration and practiced expressions. Chani, the maknae and dance machine of the group, and Hwiyoung, who is in charge of cuteness and aegyo, also searched for inspiration during their preparation.
"This was our first time doing a sexy concept. Chani and I wanted to get more inspiration from the feeling that you can get from listening to music rather than watching videos," said Hwiyoung. "We listened to a lot of Sik-K's songs. He is good at creating a soft and subtle, yet sexy atmosphere."
As the maknae of the group at 18 years old, Chani cutely admitted that it was harder for him to adapt to the sexy concept of this comeback. When asked how satisfied he was about their new album, he explained that he was 99.9% satisfied. The missing 0.1%, he explained, was due to the fact that he felt that he was too young to execute the sensual concept like the other older members.
"I really love the choreographies and songs for this comeback. The melodies are all great, the atmosphere is great, and all of the members are so charismatic," said Chani. "But I'm only 19 years old (18 years old in the US), so I feel like I wasn't able to execute the feelings as well. Even though I practiced, I don't think I was able to reach the same level of sexiness as the older members."
Despite the hardships he faced, he showed off excellent facial expressions and on-point moves.
Speaking of choreography, Rowoon added that the choreography was one of the hardest parts during SF9's comeback preparation.
"One of the hardest parts of our preparation was the choreography," said Rowoon. "Our choreography is on the more challenging side. We received our choreography from a choreographer from overseas and the moves were challenging to learn."
Because the choreography required precise lines, Jaeyoon added that each member focused a lot on exercising to stay in shape and create sharper body lines. During this time, a lot of the members sought help from Taeyang, who is famous among the members for his pretty lines when he dances.
Because of the difficult choreography, Hwiyoung shared a story about his crazy experience while filming the music video for "Now or Never." While filming the scene where the members all dance, his pants ripped a total of three times!
"I danced, then sewed my pants, then danced, then sewed my pants a total of three times," said Hwiyoung. "After that, I didn't stop in the middle of the choreography because I didn't want the staff members to have a hard time. I remember just trying to hide the rip while dancing."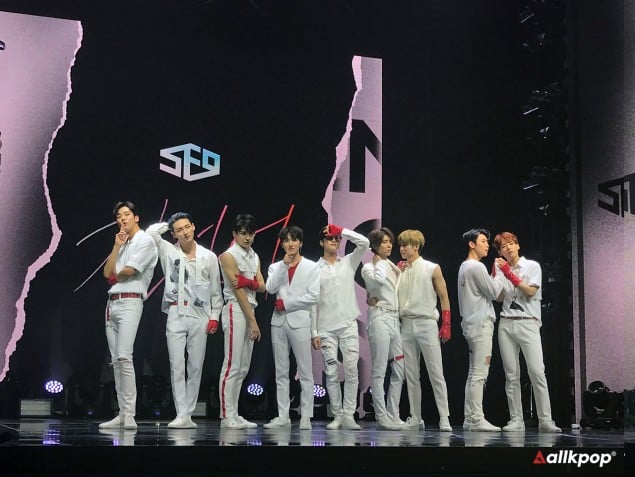 Amidst all of their preparation, the members shared that there was a lot of teamwork involved in getting ready for their new mini album.
"Before our comeback, we filmed a reality show," said Taeyang. "All of the members cooked together and played games. We got to know each other a lot better. Now, when we're adjusting choreography, we know each other's thoughts by just looking at each other's eyes. I'm really happy about that aspect."
Rowoon added a slightly more comical addition to the theme of teamwork as he shared an anecdote from the music video filming.
"There are some members that wear very colorful underwear," Rowoon said. "Because our outfits were all white, we decided to all wear white underwear. When we were changing, it was sort of like, 'Oh? You too?' I think you could even call this teamwork and bonding."
To wrap up the showcase, the members were asked their goals for their new mini album. Rowoon explained that he frequently sends his members his aspirations for the future.
"We didn't have phones, but we recently got phones. Now, we have a group chat for all of our members," said Rowoon. "I like to send my members some of my goals to motivate everyone to work even harder. Our main goal is to be nominated for first place on a music show. The second goal is for our fan meeting taking place next month to be completely sold out."
Make sure to continue supporting SF9 and their new mini-album, 'Sensuous!'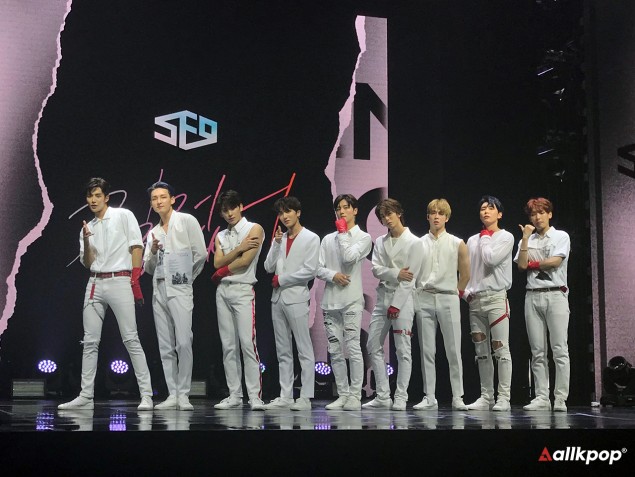 Photography: Seokyung Noh