Netizens voted on the idol groups who had perfect vocal and dance abilities live on stage.
ExictingDC had a poll from May 27th to June 2nd for the idols with the best live including dance and vocals, and Wanna One was voted #1 out of 12,693 votes. Wanna One had 27.3% (3,459) votes. BTS came at #2 with 21.5% (2,733) votes, and then TWICE rounded out the 3rd place with 13.5% (1,711) votes.

The other groups ranked were, in order, Big Bang, NU'EST W, MAMAMOO, SHINee, G-Friend, TVXQ, Red Velvet, Black Pink, BTOB, Highlight, EXO, B1A4, INFINITE, A Pink, Seventeen, VIXX, EXID, NCT, GOT7, Super Junior, and f(x).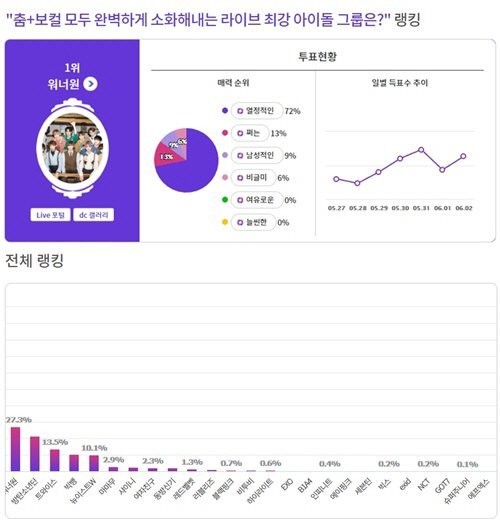 Do you agree with the rankings?