Based on recent footage of actor Song Joong Ki's arrival at Incheon International Airport, various South Korean media outlets have more or less confirmed that the identity of the actor's girlfriend is Katy Louise Saunders, a former British actress.
Previously on December 9, media outlet Newsen released footage of Song Joong Ki arriving with a crew at Incheon International Airport, shortly after wrapping up overseas promotions for his drama 'Reborn Rich' in Singapore.
In the footage, Song Joong Ki is accompanied by a woman wearing white clothes and a white mask, plus several managers and staff. The actor can be seen conversing with the woman from time to time while exiting the airport, fully aware of the cameras surrounding him.
Furthermore, after arriving in Korea together on December 9, it's said that Song Joong Ki and Katy Louise Saunders also attended the wedding of the professional golfer Lim Sung Jae at Lotte Hotel World in Seoul on December 17.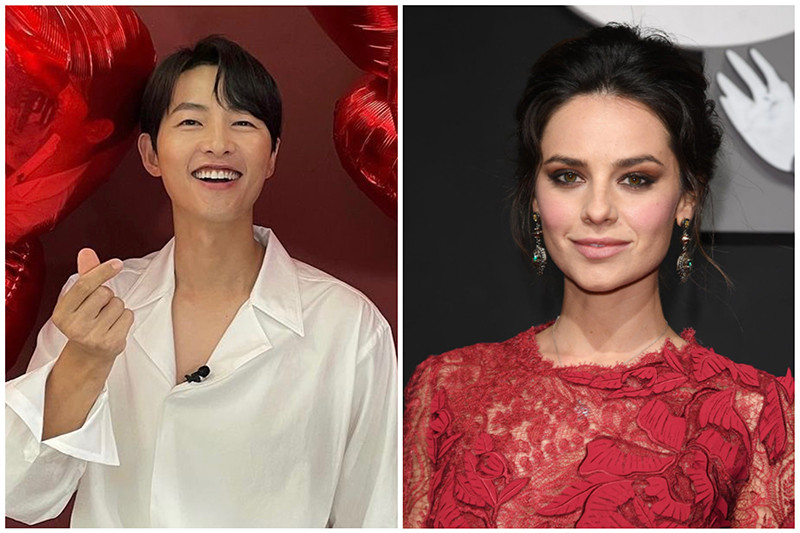 Meanwhile, Song Joong Ki's past comments from his attendance at the 'APAN Star Awards' in September of this year have also become a hot topic in light of the star's dating news. After receiving the 'Daesang' award at the event, Song Joong Ki stated, "My loves Katy, Nalla, Maya, Antes. All of our friends who blessed us. I want to say, I sincerely love you."
Last year, Song Joong Ki played the role of Vincenzo Cassano in his hit drama 'Vincenzo'. According to the character's profile, Vincenzo Cassano graduated from Bocconi University in Italy, which is in fact Katy Louise Saunders's alma mater. According to some media outlets, Song Jong Ki and Katy Louise Saunders got to know each other when Song Joong Ki took Italian lessons from the former actress, preparing for his role in 'Vincenzo'.
Meanwhile, Katy Louise Saunders, born in 1984 in London, debuted as an actress in the Italian film 'A Scandalous Journey' in 2002. It's believed that she has since left the entertainment industry.