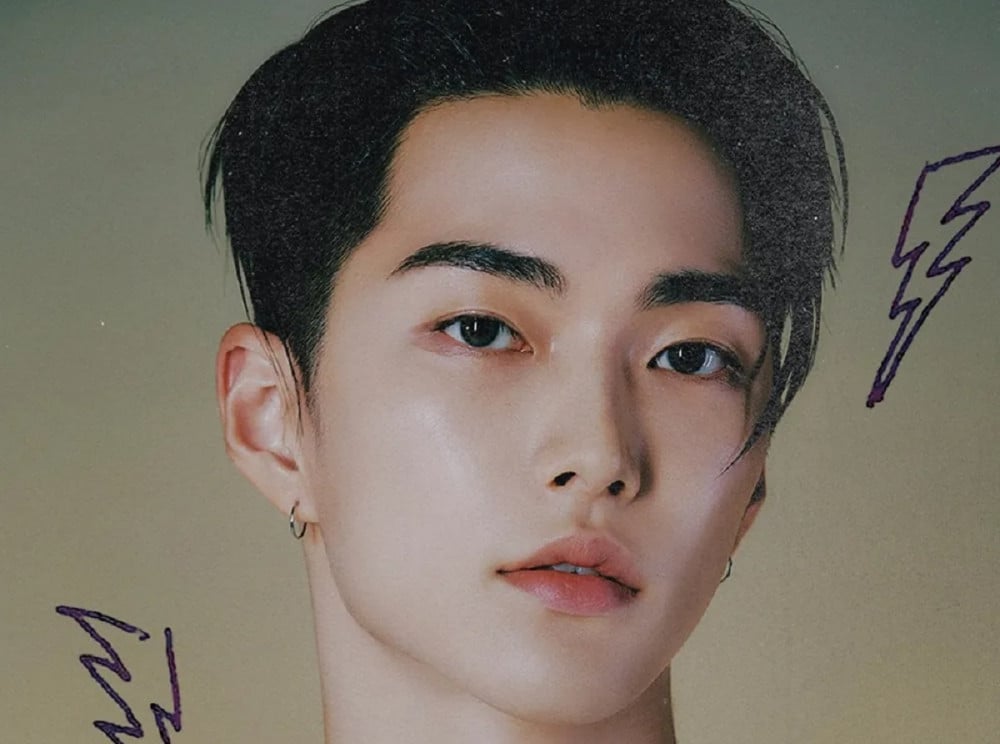 An alleged 'former friend' of RIIZE's Seunghan has revealed more stories concerning the idol's pre-debut behavior.

On an online forum, a netizen shared a series of screenshots from Instagram Stories, purportedly posted by a non-celebrity user who claims to have known Seunghan since his pre-debut days. These posts suggest that Seunghan not only asserted his authority over fellow idol trainees at SM Entertainment and his previous agency but also engaged in frequent bouts of bad-mouthing during Instagram Live sessions.
The full post reads:
"I was a friend of Hong Seunghan. We became friends through mutual friends and hung out together. When he told us he was an idol trainee, I was simply fascinated. Among other things, he was famous for having a foul mouth. I wondered if idols were all like that, being somewhat of a player.
When he was a trainee, he would smoke or drink on the street and do Instagram Lives. Some people asked him if it was okay to show his face when he wasn't supposed to. He would reply that since it was a private account, the company wouldn't know.
Even when people around him were worried about him, he bragged about seeing female trainees and trying to exercise authority over them and talked behind the people he was debuting with as if it were no big deal. I don't know who recorded the Instagram Live that was uploaded or who spread them, so I don't know exactly what was said in the video.
He often said things like 'you're cute' to others but it was mostly to those he considered lower in rank than himself. So many people who were once close to Hong Seunghan have cut ties with him for playing his little game of hierarchy. He would say, 'Oh, I'm just joining a group that's already debuted, so if there's a problem, I can just tell the company that it's not me.'
I don't really understand what I'm saying as I'm writing all this, but he really did say that. These are some of the things I remember when we used to hang out:
- He talked about interacting with female trainees from other companies on Instagram accounts that he secretly followed. (He said that, within SM Entertainment, he pretended not to be interested in female trainees in order to avoid getting caught.)
- While practicing, he said he almost got into trouble when a fellow trainee 'A' remarked that he smelled of cigarettes. (He mentioned the trainee's name, but I don't remember exactly. He said they were preparing to debut together.)
- He once told the fellow trainee 'A' that he would introduce her to a female trainee from another agency he was in contact with, but when 'A' wasn't interested and tried to laugh it off, Seunghan accused the trainee of acting like some kind of 'teacher' by himself.
He talked a lot about the other trainees preparing to debut together. I've only listed things I remember clearly, and I don't want to make up stories about things I don't remember. Hong Seunghan is not an INFP, by the way. I don't know why he's adopted such a concept, but I found it disgusting when the friends who caught ties with him sent me GIFs saying he was an INFP. If you're going to create a public image, at least make it a believable one.
I also cut ties with him because I didn't like what he was doing. If I write this, will I be sued? I don't know. There are no lies here, and everything is the truth, so it's probably a matter of factual defamation against him. I'm just posting it because I'm afraid of what might happen if the company will just let him promote despite everything. I'm sharing this for Hong Seunghan's fans. He's not just some great guy to be liked as an idol. I hope you also get to cut ties with Hong Seunghan like the rest of us and be happy lol"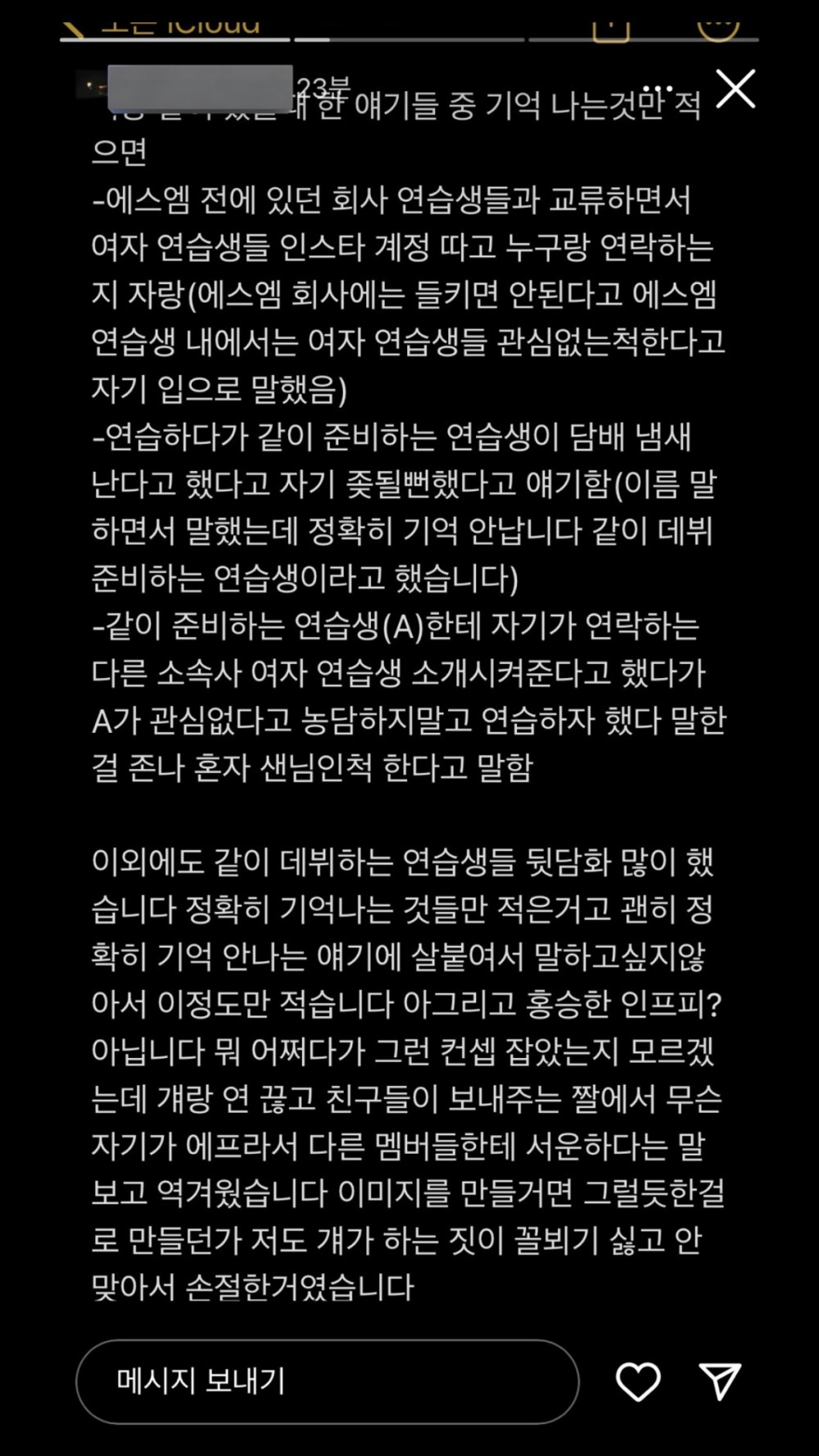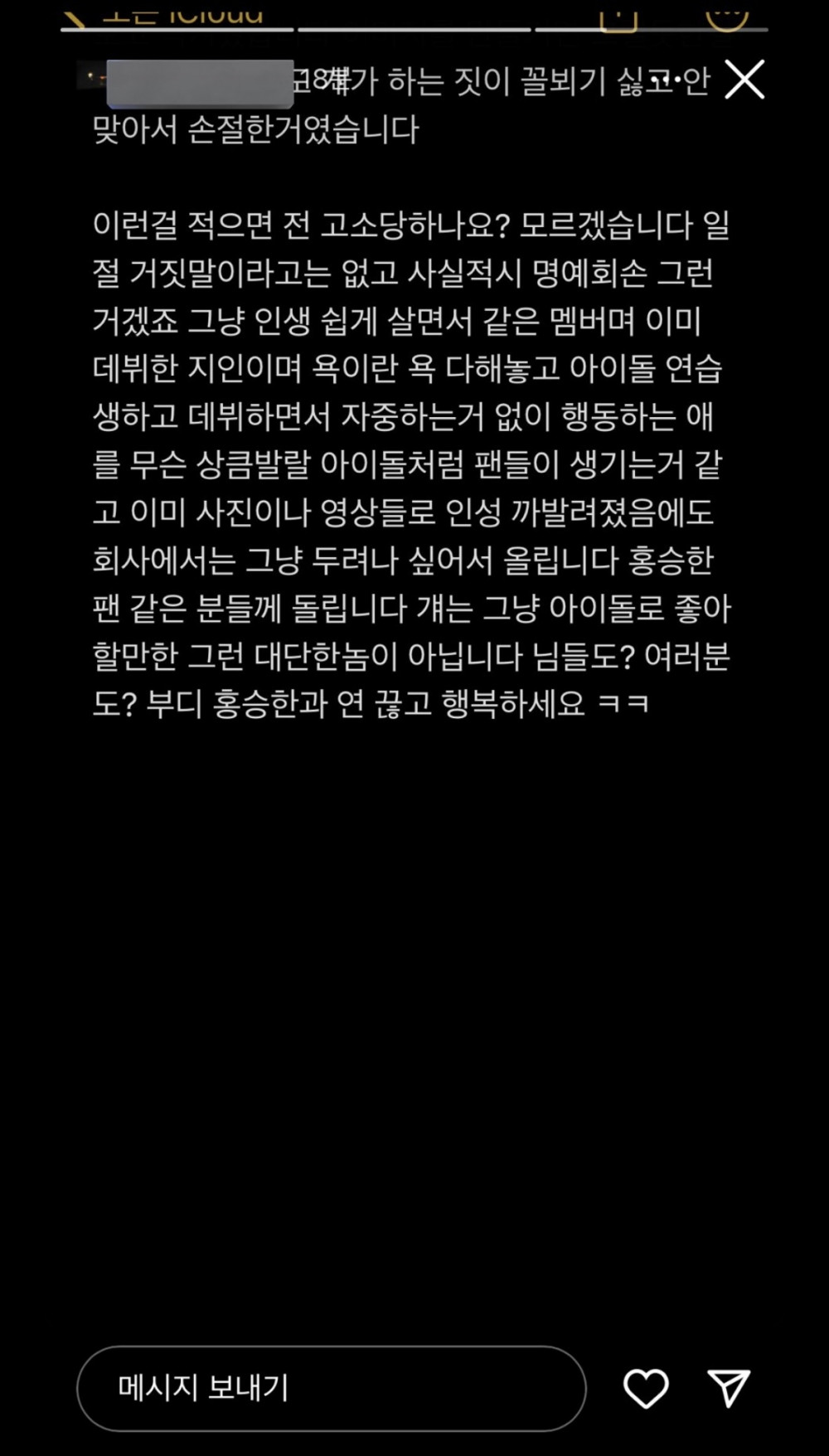 On the forum, the person who uploaded the post also left a message expressing their lament about how they had "waited for [their] bias's debut for 2 years and had been trying to let go of everything because of it, yet cannot take it any longer" due to the negative rumors potentially damaging RIIZE's reputation.
In the comments section, netizens left reactions such as:

"I have never felt more convinced that a rumor like this is the truth and not a lie lolololol"
"I just think that the best way to go for SM is to have him leave the group. That would make more room for them to support the other remaining members. I think even the company would be a victim here given these testaments, and in any case, I think there is an issue if they will try to close an eye. His public image is already going down the drain, so who in the world would dearly go against his leaving the group?"
"I just feel so sorry for the other members..."
"I am a BRIIZE and wow this is daebak lol I tried to embrace him after we were told he cried on stage post-selca incident but this is a no-no"
"Is there any reason to provide him with a shield?"
"We should still wait until these are proven/disproven...we don't even know if this friend is real or not"
"I don't think the netizens should decide whether a member needs to leave the group or not. There will obviously be Seunghan's fans still around"
"LE SSERAFIM succeeded even more after a member left, so...I'm just wondering what would be the best solution for RIIZE"


What are your thoughts?