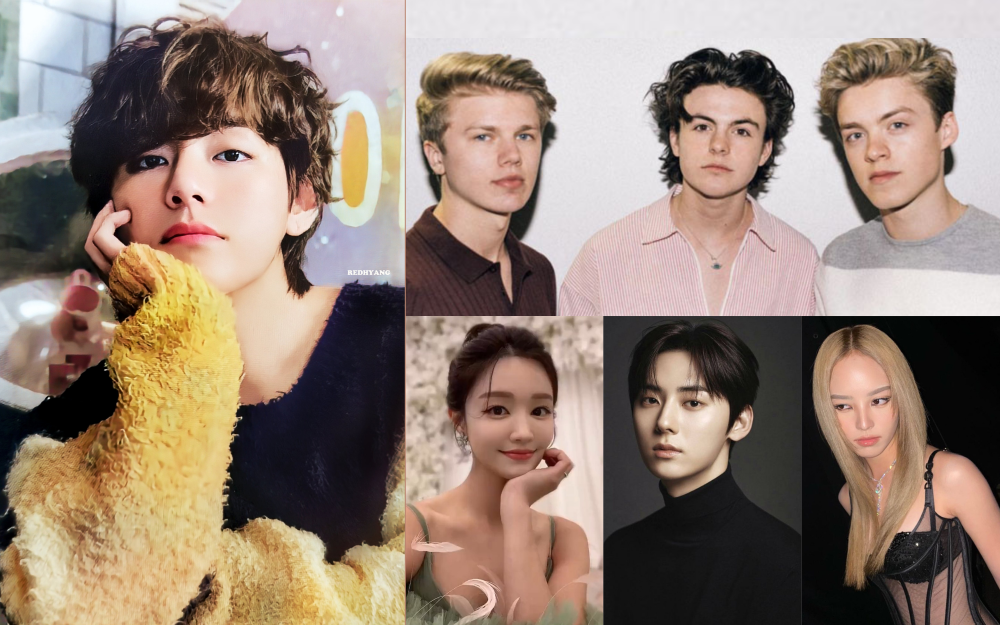 BTS member Kim Taehyung, aka V, proves once again that he is not just adored for his stunning visuals and kind personality, but also for his amazing talents.

Taehyung's OST "Christmas Tree" for the K-drama series "Our Beloved Summer" turned one year old on December 24, 2022, and the song continues to remain relevant today.


Rolling Stone India described "Christmas Tree" beautifully when they listed it as one of the "7 K-pop Songs to Get You into the Festive Mood."
"Christmas Tree is the sonic equivalent of an affectionate embrace from your soulmate and has V crooning and breathing romance into the track with his indelible vocal performance." - Rolling Stone India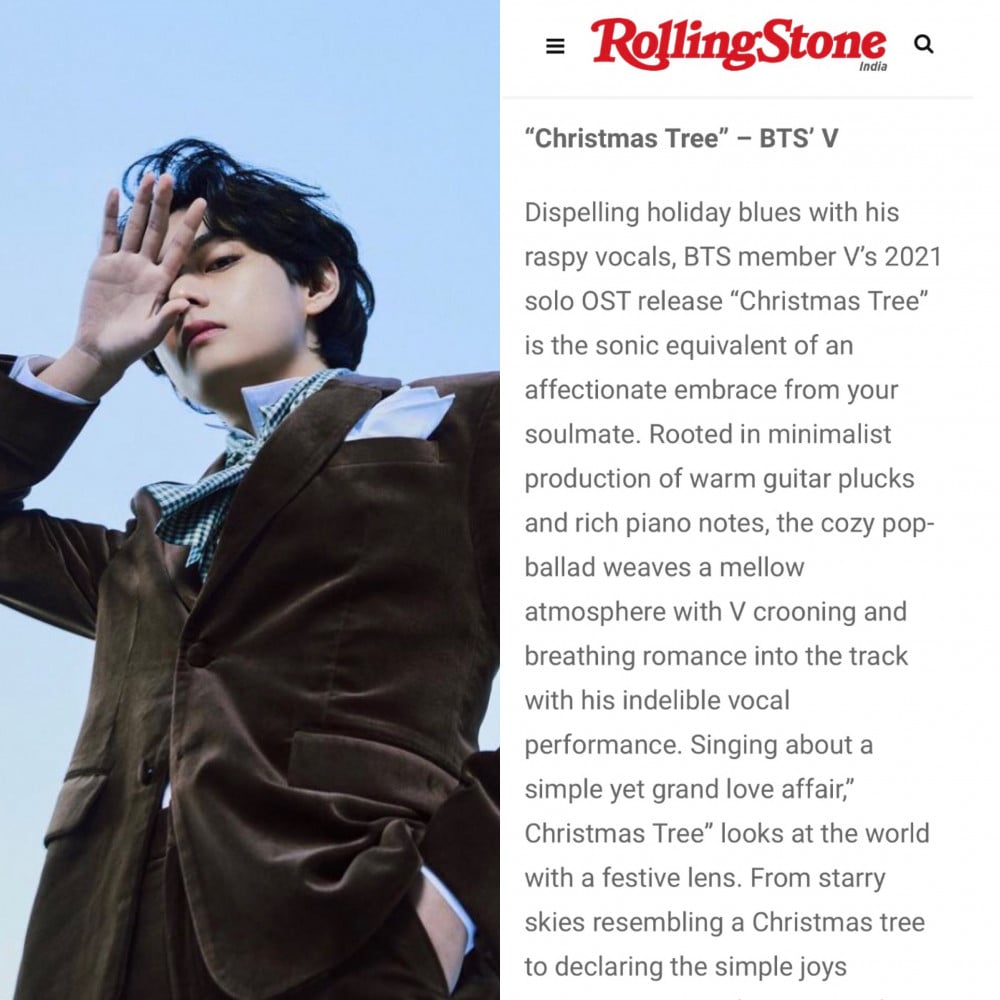 A number of celebrities delighted fans by sharing their own renditions of "Christmas Tree" during the recent holidays.

British pop trio New Hope Club, consisting of members Reece Bibby, Blake Richardson, and George Smith, covered "Christmas Tree" and posted the video on their official social media accounts.
Fans were delighted to see the cover as Taehyung met one of the members Blake Richardson during his attendance at CELINE's Fashion Show in June 2022, where the two guys bonded.
Singer-songwriter Kwon Jung-Yeol, most popularly known as 10cm, covered "Christmas Tree" twice in December. The first cover he did during his self-titled Winter Concert "10CM."

For the second time that week, 10cm covered "Christmas Tree" during the '2022 SBS Gayo Daejeon' last December 24.
Thai BL actors Tutor Koraphat and Yim Pharinyakorn sang a cover of "Christmas Tree" at their first fan meeting in Seoul last December.

Aside from all the amazing covers, fans were also pleased to see the song continually being recommended and shared by celebrities.

Minhyun, the former lead vocalist of NU'EST, picked "Christmas Tree" as his favorite song in "Weverse artists' holiday playlist."


"This song makes me feel warm whenever I listen to it in winter. The perfect blend of the comfortable mood of the music and V's warm vocals lets my body and mind just melt away." - Minhyun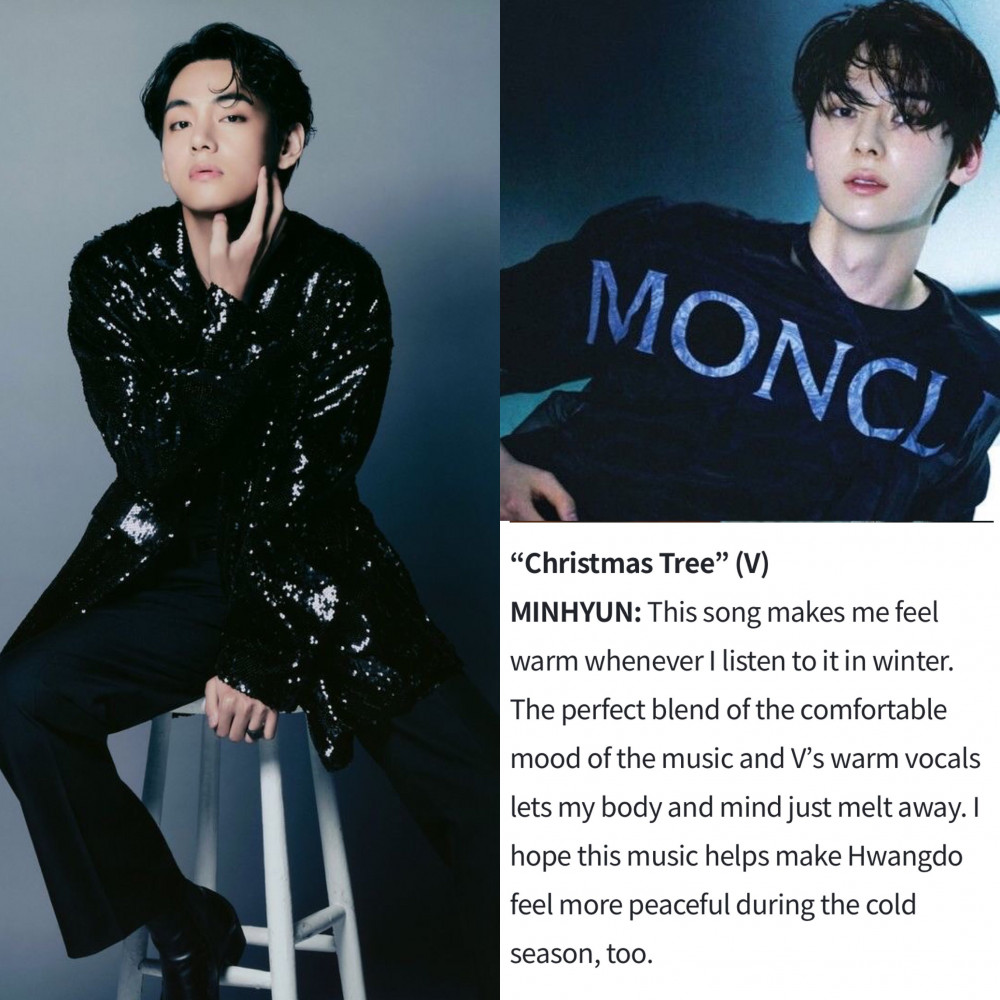 Ryu Junmin, member of the boy group ATBO, recommended "Christmas Tree" on Weverse to a fan who asked for a winter song.
"I listen to V sunbaenim's Christmas Tree a lot these days." - Ryu Junmi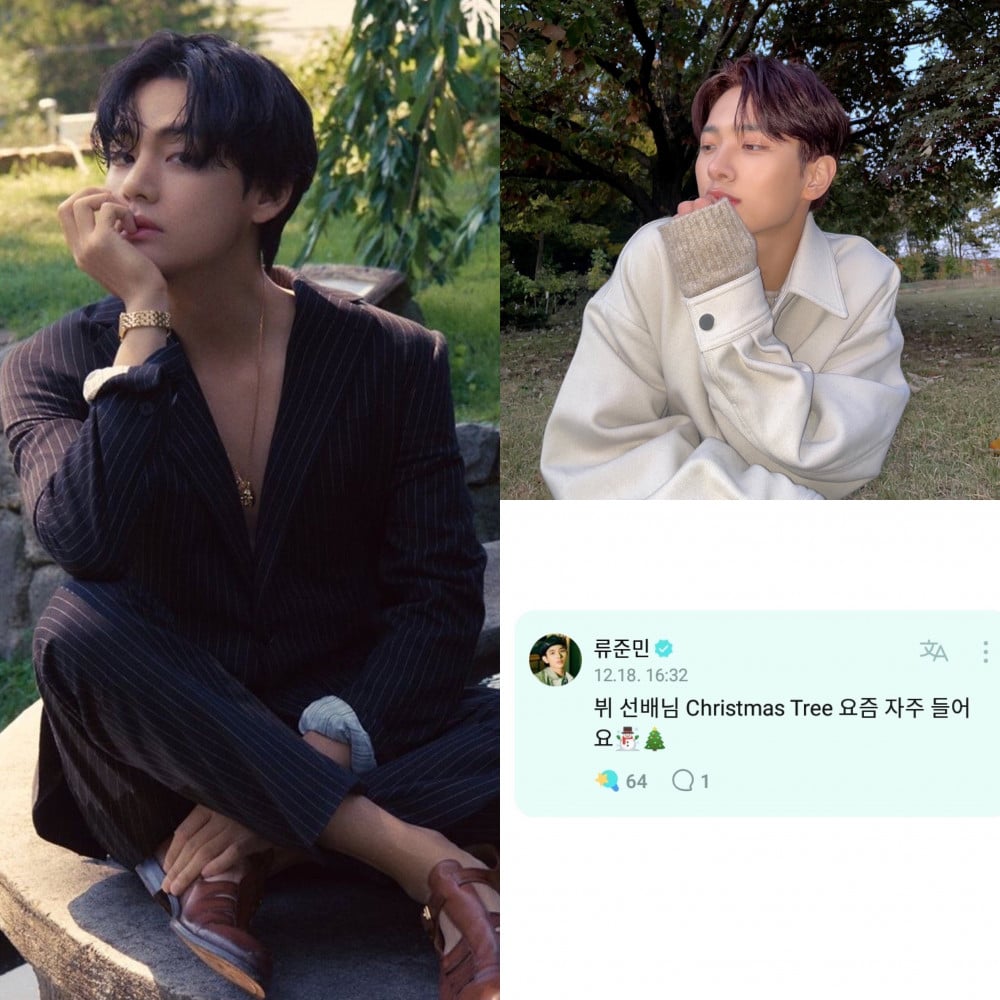 Yoon Ho Yeon, announcer at SBS Biz, South Korea's Business News channel, shared a reel of a montage of her pre-wedding shoot using "Christmas Tree."


Thai actress and model Nuttanicha Dungwattanawanich shared "Christmas Tree" in one of her reels on Instagram. Although the ballad OST isn't exactly the ideal choice for a workout video, it was nice to see her show love for the song.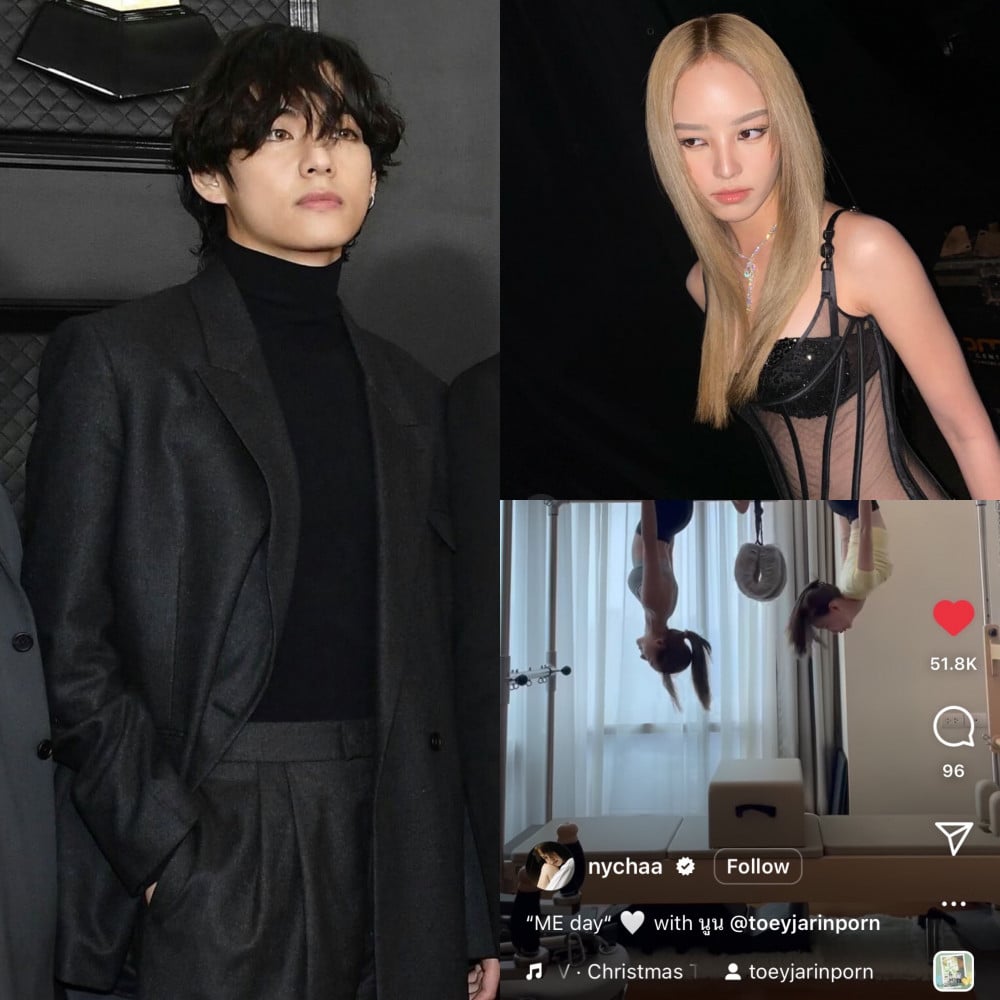 Thai actor Natachai Boonprasert, nicknamed Dunk, who stars in the Thai series "Star and Sky," shared a video of himself listening to "Christmas Tree" on Instagram.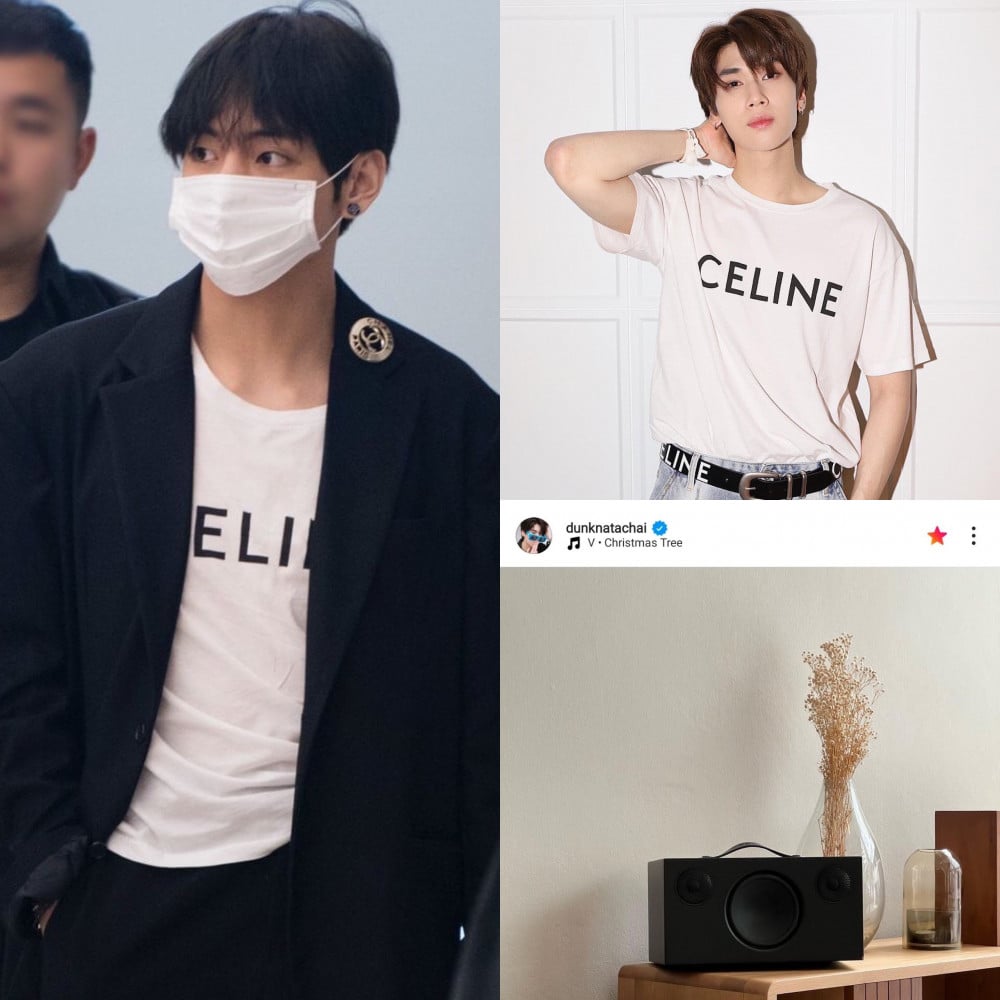 Taehyung has been the most popular BTS member among Thai celebrities for years, so seeing him continue to be admired by them comes as no surprise to most fans.

As 2023 begins and speculations of new songs and album keep circulating, fans are eager to see what Taehyung has in store for them this year.