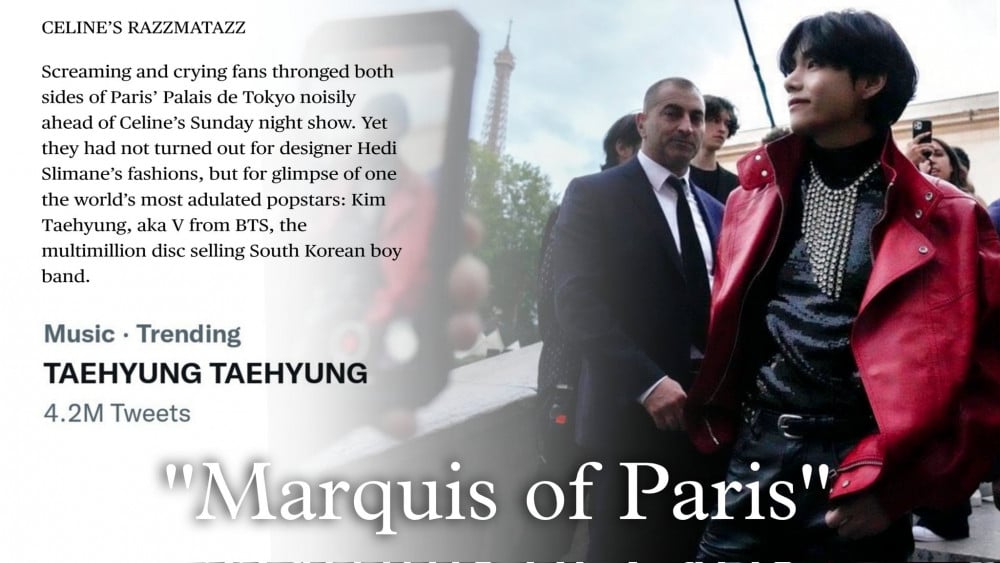 Taehyung, aka V of BTS, attended his first-ever fashion show as a special guest for Celine, and the fashion world understandably witnessed the impact of having Taehyung in their corner with loud cheers being heard at "Palais de Tokyo" by "never-seen-before" crowds that showed up as if it was a concert to see their idol.




A total of two hashtags and five keywords trended worldwide in anticipation of Taehyung's attendance at the Paris fashion week for Celine for up to even 7 hours, with 4 of them occupying the four spots out of the top 5 worldwide trends.
Owing to the lack of crowd management experience by the event organizer, Taehyung was lead in and out quickly through the back entrance to avoid possible mobbing and injuries to fans and the idol, even though his fans put out most disciplined and organized behavior.

Celine's art director reiterated how Taehyung undeniably has chronic "Main character syndrome" as he even turned one day from Paris fashion week into "Tae day" on his fashion world debut.





In addition to being "The most searched Asian celebrity" on Google, Taehyung became the most searched idol in the world during the event.
Morin Oluwole, Global head of luxury Facebook and Instagram, said, "Crazy Celine show to close out Fashion Week, Never seen like a crowd like that before."





"Bloomberg," a popular US business media outlet, reported, "yet they had not turned out for designer Hedi Slimane's fashions, but for glimpse of one the world's most adulated popstars: Kim Taehyung, aka V from BTS, the multimillion disc selling South Korean boyband."


Many other major fashion personalities expressed their awe at how the event turned out because of his presence.




This was just Taehyung appearing as a special guest that stirred such waves in the fashion world; now, everyone can't help but are left wanting more of what Taehyung's association with brands will lead to.