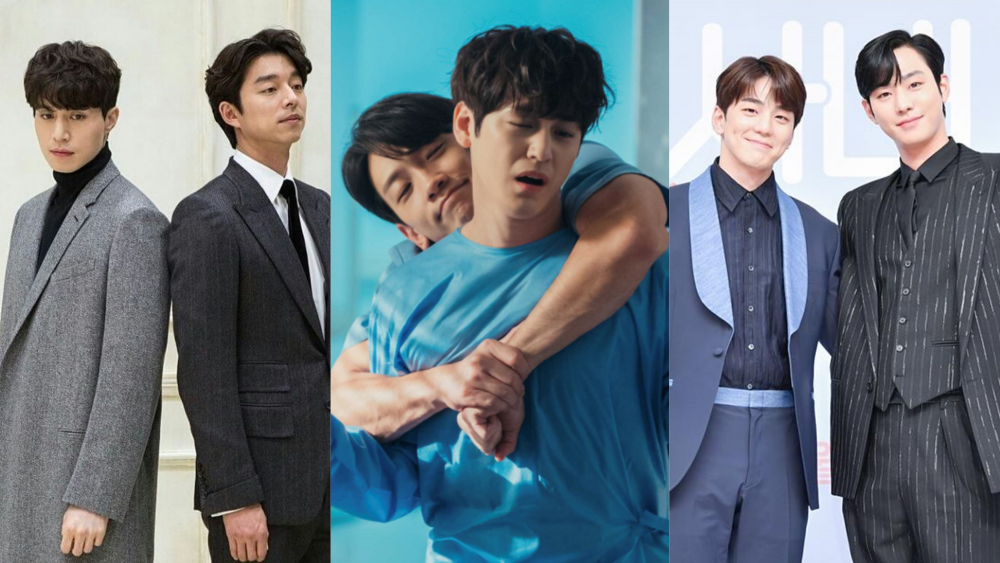 We often only talk about the two main male-female leads but never the two male leads. Most of the time, the two male leads would have the best chemistry, so here's a list of some of K-drama's best male leads with the best chemistry.
Park Jihoon & Choi Hyun Wook in Weak Hero Class 1
From being a top student who doesn't care about anything other than studying to spending most of his time with his new-found best friend, Jihoon and Hyunwook showed very brotherly chemistry. It kind of feels like they weren't really acting because, according to their interview with Sunmi's Showterview, they started off being very awkward and somewhat 'scared' of each other and later started to have drinks with each other often. This popular K-drama would not have worked so well without these two.

Gong Yoo & Lee Dong Wook in Goblin
All of the cast had such great chemistry with each other, but Gong Yoo and Lee Dong Wook's chemistry as bickering goblin and grim reaper was just undeniably great! They were like brothers who would argue about the littlest things but would give their everything to help each other out.
Ahn Hyo Seop & Kim Min Gue in Business Proposal
This was definitely one of 2022's most popular K-dramas yet. Ahn Hyo Seop as CEO and Kim Min Gue as his secretary did start out as eye candy, but after learning their heartwarming backstory made their chemistry even better.

Kim Soo Hyun & Oh Jung Se in It's Okay To Not Be Okay
This brotherly relationship had me crying the most while watching the K-drama over anything else. Kim Soo Hyun, who was willing to do anything for his autistic older brother, played by Oh Jung Se, was very touching to watch. Underneath all those sacrifices, Kim Soo Hyun sometimes just feels like, as a younger brother, he needed his older brother to protect him as well.

Song Joong Ki & Jin Goo in Descendants of the Sun
We all raved about the two main leads and how cute and sweet they were, but Song Joong Ki also had really great chemistry with Jin Goo. Their dynamics in both funny and action scenes were beyond excellent.

Lee Joon Gi & Kim Ji Hoon in Flower of Evil
Two men with the same identity, one framing the other for something he did not do; I believe these two are one of the best protagonist-antagonist in K-dramaland!
Shin Ha Kyun & Yeo Jin Goo in Beyond Evil
Shin Ha Kyun and Yeo Jin Goo's performances as police and detective, respectively, in this psychological thriller is just beyond... tremendous and will bring you tears. The two fearless men will go to extreme lengths just to get the serial killer.

Kim Beom & Lee Dong Wook in Tale of the Nine-Tailed
Another pair of great brothers. It was a great comeback drama for Kim Beom, after four years. Miscommunication and misunderstood, Lee Dong Wook's little brother, Kim Beom, just needed some affection and attention. They showed such heartwarming brotherhood in this one.
Rain & Kim Beom in Ghost Doctor
It's probably a Kim Beom thing that he just has the charm to have the best chemistry with all of his co-stars. The dramatic and comedic dynamic he had with Rain in this one was just so fun to watch.
Jinyoung and Jisung in The Devil Judge
Not only were these two insanely hot that they shouldn't be legal for stealing so many hearts, but they also perfectly gave the right amount of tension and satisfaction in this legal drama.

Honorable Mention:
Jo Jung Seok, Kim Dae Myung, Jung Kyung Ho, and Yoo Yeon Seok in Hospital Playlist
We've only been mentioning the chemistry between two male leads, but this group of friends definitely had overflowing chemistry — be it them as best friends, as doctors, or as a band.