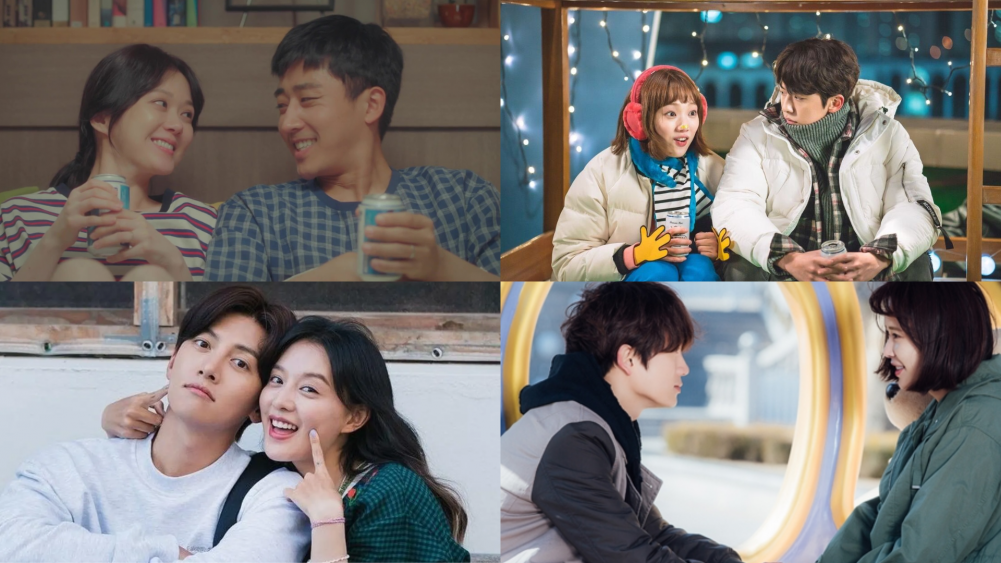 During this season, families, friends, and loved ones get together to recuperate by loving, laughing, and, for specific people, taking the guilty pleasure of binge-watching K-Dramas. After a year of hard work and relentlessly pushing through your goals, you've earned some much-needed rest and relaxation.
For the cold nights of December and the heartwarming vibe accompanied by festivities, here's a list of K-Dramas to watch during the holidays. So scoop up your snacks, goodies, and special holiday beverages and curl in a warm blanket while watching these eight heartwarming dramas to warm your heart during the Christmas season.
"Go Back Couple"
A family-friendly K-Drama starring Jang Na Ra and Son Ho Jun would help everyone appreciate the value of their loved ones. "Go Back Couple" would be an excellent way to reflect on nurturing your relationships, particularly during the Christmas season. You'll feel it pulling at your sympathies, and you'll definitely weep either once or twice, celebrate with them during the happiest moments, and feel frustrated alongside them.
The drama centers on Choi Ban Do and Ma Jin Joo, a 38-year-old couple with a young son, who struggle through their everyday living, leaving them equally worn out and miserable. Ban Do and Jin Joo reach a tipping point in their marriage owing to a miscommunication, and when they awaken, they are 20-year-old college students. They choose to appreciate it like an opportunity and take different actions than they did their first time since they are unsure of their reason for being there or even how long they would spend there. Their choices would determine how they live both now and in the future and it will inevitably have an effect on their families and friends.
"Weightlifting Fairy Kim Bok Joo"
This K-Drama, which stars Nam Joo Hyuk and Lee Sung Kyung, is about the budding relationship between a girl who lifts weights and a boy who swims. All throughout the drama series, watching the couple fall for one another will make you smile. Not to mention the friendship between other characters, in addition to the romantic relationship of the central protagonists, the spark, as well as the way they gaze at one another, are so real and meaningful.

It is a coming-of-age sports drama that was prompted by the life of an Olympic gold medalist in weightlifting Jang Mi Ran. The story centers on Kim Bok Joo, a young woman pursuing her weightlifting career on an athletic university campus, who harbors a crush on Jung Jae Yi, the elder brother of her friend Jung Joon Hyung. Joon Hyung initially jokes about it and supports her, even providing a helping hand regarding it, yet he eventually finds himself falling for her. It also revolves around a group of student-athletes who are pursuing their respective aspirations, finding true love along the road, and maturing along the way.
"Lovestruck in the City"

The K-Drama "Lovestruck in the City" explored the genuine lives of young people struggling to live in the bustling metropolis. Six diverse people's lives are depicted in the series through interviews which are purportedly airing on a platform. Six people's romantic relationships are described while ultimately establishing a link between each of them. The warm stories, alongside several scenes that show and infer that it has happened during the holidays with all the Christmas lights in the background.
The storyline mainly revolves around a genuine and enthusiastic 32-year-old architect named Park Jae Won (Ji Chang Wook) who remembers whom he refers to as the woman as a camera thief who also stole his heart before vanishing and can't forget her. Lee Eun O (Kim Ji Won), a 29-year-old independent marketer, leads a regular life but also has an alter ego named Yoon Seon A. She encounters Park Jae Won on Yangyang Beach while using a false name and finds herself eventually falling in love with him.
"Kill Me, Heal Me"

The Korean drama "Kill Me, Heal Me" will undoubtedly win your sympathy and make you feel bonded to the protagonists. The narrative of a wealthy family's son who develops dissociative identity disorder due to unresolved childhood trauma and asks his private psychiatrist to kill off seven distinct personalities in order to cure him will undoubtedly touch your heart, especially as you follow him on his path to recovery as time goes on.
The story revolves around third-generation chaebol Cha Do Hyun (Ji Sung) suffered from dissociative identity disorder after experiencing multiple potentially fatal traumatic experiences. Along with the aid of Oh Ri Jin (Hwang Jung Eum), a stunning and brilliant first-year psychiatric resident who assists him covertly, he strives to take charge of his life and discover the mystery of his life. The narrative centers on Do Hyun's efforts to recuperate from his traumas and seize control over his condition before any of his seven personas do so.
"Healer"

"Healer" has a seasonal and cheerful vibe thanks to the massive fuzzy scarves and warm wool caps, stylish trench coats, and loads of beautifully melting snow. However, aside the holiday feels, this series has a lot going on as it follows the notorious "Healer" portrayed by Ji Chang Wook, a messenger who will undertake anything except murder for the appropriate amount, who gradually solves a mystery involving a woman he is ordered to protect named Young Shin which is portrayed by Park Min Young. The two main characters appear to be moving through their respective narratives side by side while occasionally interjecting into one another's situations, ultimately coming together to delightful effect.
"Goblin"

This drama's visual style can be like a tribute to the winter months, with most of its memorable scenes taking place in a snowy landscape or beneath a sheet of flowing mist. Not to mention how one of its most prominent soundtracks literally refers to the snow, titled "I Will Go To You Like The First Snow," sung by Ailee.

The story reveals how Kim Shin (portrayed by Gong Yoo), a Goryeo military general turned goblin, unintentionally shares a residence with a grim reaper (portrayed by Lee Dong Wook) and persists in his hundreds of years quest for his destined bride, who will marry him and remove his curse by setting his soul free. Kim Go Eun portrays Ji Eun Tak, a courageous and tough high school student who has the capability of seeing spirits and lives with a cruel stepmother and stepsister is the destined goblin's bride. Apart from a few amusing scenarios and exchanges, there are a ton of excellent performances, suspenseful sequences, and heartbreaking parts that make this a terrific binge during the holidays.
"While You Were Sleeping"
"While You Were Sleeping" is a K-drama that many fell in love with, not to mention how this is not too stressful, which would be fantastic for binge-watching. Even as it can have a touch of being a tearjerker with several heartbreaking scenes, the show is ideal to be binge-watched during the holidays as the breathtaking scenery can be seen across multiple scenes, alongside having several crucial sequences underneath the snow.

Three young adults who have obtained the skills to foresee the future from their visions are the subject of the legal drama-fantasy series, which is centered on the life of field reporter Nam Hong Joo (Bae Suzy), newbie prosecutor Jung Jae Chan (Lee Jong Suk), and police officer Han Woo Tak (Jung Hae In). Such visions depict both criminal activities that Jae Chan must look into and tragic situations that one or all of them may face. These unsettling visions cause them to work together to defeat their sworn enemy, the dishonest attorney Lee Yoo Beom (Lee Sang Yeob), and prevent their terrible dreams from becoming real.
"That Winter, The Wind Blows"
Who will forget the legendary winter drama, "That Winter, The Wind Blows"? With all the winter and snow in the background, not to mention how it is literally present in the title, the nostalgic drama is a must-watch during the holidays.

The story centers on Oh Soo (portrayed by Jo In Sung), who basically tries to con a blind woman named Oh Young (portrayed by Song Hye Kyo) by posing as her deceased brother. He continues to be infatuated with her throughout the situation. It's not your typical melodrama; the story could be a little messy due to the aforementioned circumstances, and it doesn't get any smoother as it goes along, but it really is chaotic, dramatic, as well as the performance are fascinating, and the awkwardness of the two characters' connection makes for compelling watching.
Here were some of the many heartwarming K-Dramas that you can binge-watch and enjoy this coming holiday season! Which among these dramas would you recommend to others, and which other K-Dramas are your go-to dramas during the holidays?