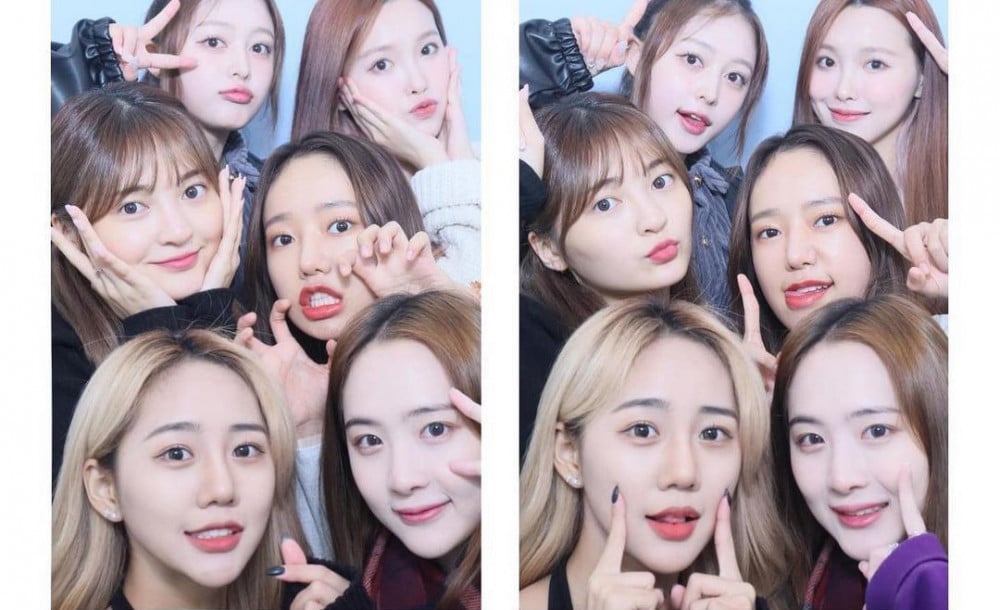 The members of bugAboo have dedicated heartfelt letters to their fans, Rainboo, for their love and support in the last year.
Earlier on December 8, ATEAM Entertainment announced bugAboo's official disbandment, just a little over a year after the group's debut.
Now, all six members of bugAboo including Eunchae, Yoona, Rainie, Cyan, Choyeon, and Zin have taken to Instagram to dedicate personal messages to their fans.
Read each of the members' letters below.
Eunchae wrote: "Hello, this is Eunchae. First and foremost, I want to say sorry to so many Rainboos who loved us and supported us, and to all of those around me. After a long hiatus, we appeared only to deliver sudden news of disbandment, which must have been surprising and upsetting. I'm sorry for delivering such news. bugAboo came into being on 2021.10.25, when the world was suffering from the COVID-19 pandemic. As with anything, the beginning was not easy. But because I met Rainboos who loved me every day, always, unconditionally, I had nothing to fear. Even though I always said that I wanted to provide you all with energy, you were my energy and my driving force. The fact that I was able to meet my members, who shed sweat and tears alongside me and whom I love sincerely; the fact that I met Rainboos who loved me without ever wanting anything in return; and my dreams that drove me to work hard and not give up for 14 years; each of these are precious moments I can't forget. So to think that I have to let these moments go now, it makes me a little sad. Thank you for loving Eunchae, a girl who was lacking but who was filled with dreams, and for loving bugAboo. And thank you for making so many precious memories with me. My life as bugAboo's Eunchae may be over, but I will do my best to greet you again in any form I can, as Son Eunchae."
Yoona wrote, "Hello. First and foremost, thank you so much Rainboo for loving me and bugAboo all this time. It was only through your love and encouragements that I was able to come this fear. And I always want to say sorry for the fact that I will no longer be able to respond to your love and expectations. Also, I was able to stand on stage as bugAboo's Yoona thanks to the presence of my members who were by my side. From the moment I began my life as a trainee, to the moment I debuted, and now, I felt so many emotions, more than I might ever experience again in my life, and I grew so much because of those experiences. I believe that these experiences will help me in the future in many ways. I won't ever forget the love that Rainboo sent me. Thank you so much for being by my side. It's not easy to walk down a new path, but I will try to do my very best. So I hope that Rainboo will also lead happy and healthy lives day to day. From now on, I will be the on cheering you on! I love you Rainboo."
Rainie wrote: "Hello, this is Rainie. First, I want to say something important. You may have been very surprised by the sudden news. I want to say I'm sorry for that. October 25, 2021, the day when the 6 members met on stage for the first time, was the happiest day of my life. Every moment that I spent as the main vocal of bugAboo was full of joy, and I was so thankful. Thank you to the Rainboos who cheered us on since out debut, and I want to work harder and show you a good image again, always. Whenever we met, Rainboos always gave me strength and made me cry with your handwritten letters. You made me so happy, and these will remain the best memories of my life. And to my bugAboo members. From our trainee days until our debut, we spent several years together crying, laughing, and enduring. You worked really hard. Thank you for always helping me. Where ever we may end up, we will always be six. Please don't ever forget the memories that belong to us six, and us alone. Eunchae unnie, Yoona, Cyan, Choyeon, Zin, I love you. It was a short time, but there are memories from that time that are unforgettable. It's not the end, it's a new beginning. From now on, I will promote as Chu Ching Yu. Please continue to love and support me. Thank you."