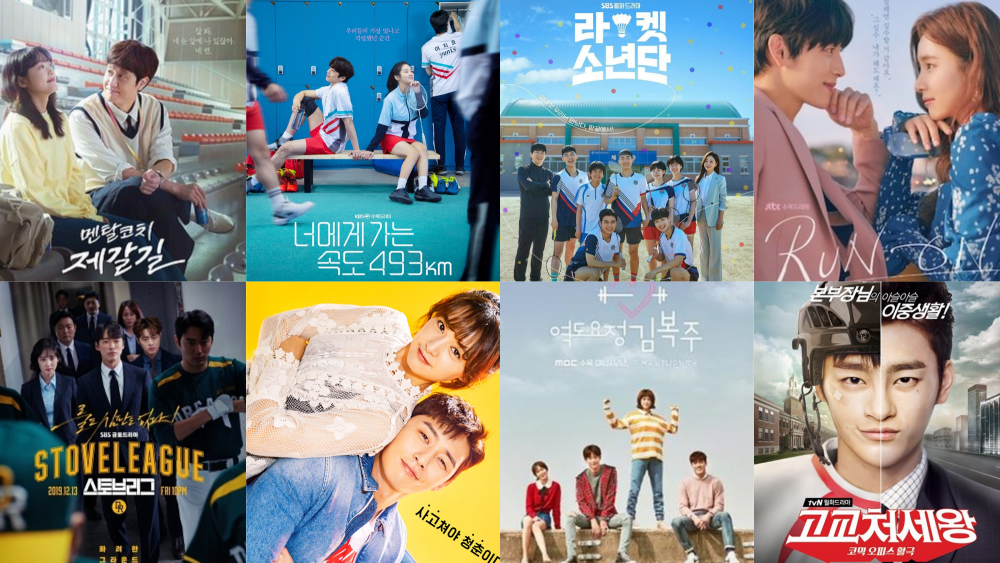 Almost six months later and I'm still hung up over Heedo, Yijin, and Yurim from the drama Twenty-Five Twenty-One. Please tell me I'm not the only one. Well, to take our mind off it, here are some of the best sports-related K-dramas you should watch.


Mental Coach Jegal (2022)


This ongoing drama is about Jegal Gil (Jung Woo), a former member of the South Korean national Taekwondo team, who got caught up in a scandal, kicked off the team, and was permanently banned from returning as an athlete. However, refusing to turn back on the sports world, he became a mental coach - the kind of sports psychologist specializing in helping athletes who have fallen into poor form or "slumps." One day, Jegal was approached by his old best friend to help his sister Cha Gaeul (Lee Yoo Mi), an extremely talented short-track speed skater who dreams of glory at the Winter Olympic Games in getting out of her slump. Will Jegal be able to help Gaeul achieve her dream and bring home a gold medal for South Korea?


Love All Play (2022)
This drama was also the talk of the town when it aired earlier this year. A drama about two badminton players in a mixed doubles group from a badminton business team. Park Tae Yang (Park Ju Hyun) was a promising badminton athlete, but due to an incident, she had to leave the sport but returned three years later. Park Tae Joon (Chae Jong Hyeop), who got into badminton because of his family, lost his passion as he began to see the sport as work. However, it was reignited thanks to Tae Yang.

Racket Boys (2021)
A story of a boys' middle school badminton team in Haenam as they hone their skills and grow, both as people and as players. Yoon Hyung Jong (Kim Sang Kyung), who used to be an outstanding badminton player, jumps at the chance to become the coach of a middle school team on the verge of disbandment, with only three players left. The team struggles at first, but as more players join the team, they gradually improve and start to enter competitions, soaring to new heights.
Run On (2020)
This drama is a delightful love story between Ki Seon Gyeom (Im Si Wan) and Oh Mi Joo (Shin Se Kyung). Seon Gyeom was a famous former sprinter for the national team but had to quit due to a case and became a sports agent. Meanwhile, Mi Joo writes subtitle translations for movies, and it is her dream to see her name as a translator during the end credits. The two meeting despite being from different tracks, felt as if they were destined to meet.
Hot Stove League (2019)


This drama follows Se Young (Park Eun Bin), who is the youngest head of the management team of Dreams, a cellar-dwelling baseball team. She's highly recognized for her perseverance and intense passion for the team. One day, Seung Su (Min Nam Koong) is appointed as a general manager. Although he's been working in the sports field, the teams he led to the championship were unpopular. Some of them were even disbanded after winning the league due to the financial difficulties of their parent companies.
Fight For My Way (2017)
This K-drama was well-known for its aegyo scene, but it really was a great drama. Ko Dong Man (Park Seo Joon) used to be a top athlete in taekwondo and has always dreamed of being bigger. However, his dream of becoming a national athlete is shredded into pieces when he helplessly loses against authority and money and has to work as something he doesn't want to do. On the other hand, his best friend Choi Ae Ra (Kim Ji Won) aspires to be a news anchor but works at a department store. Eager to make their dreams come true, the two friends fight for their way to make their dreams come true.
Weightlifting Fairy, Kim Bok Joo (2016)
Who still remembers how cute Nam Joo Hyuk was in this one? Before he was Baek Yi Jin, he was Jung Joon Hyung, Kim Bok Joo's (Lee Sung Kyung) childhood friend. This coming-of-age drama is about a group of college athletes who are fighting for their dreams, experiencing and finding love in the process, and growing every step of the way. Bok Joo, who only focused on chasing her dream of weightlifting on an athlete college campus, develops a crush on Joon Hyung's brother. Joon Hyun, who initially teased Bok Joo crushing on his brother, realized that he was slowly falling in love with his childhood friend.
High School King of Savvy (2014)
Before becoming a shaman, Seo In Guk was a rising varsity hockey player, busy living a double life. His character, Lee Min Suk, had a brother who looked exactly like him despite the nine years age gap. So, when he's not a student and athlete, he pretends to be his older brother at a new job while the brother goes into hiding.