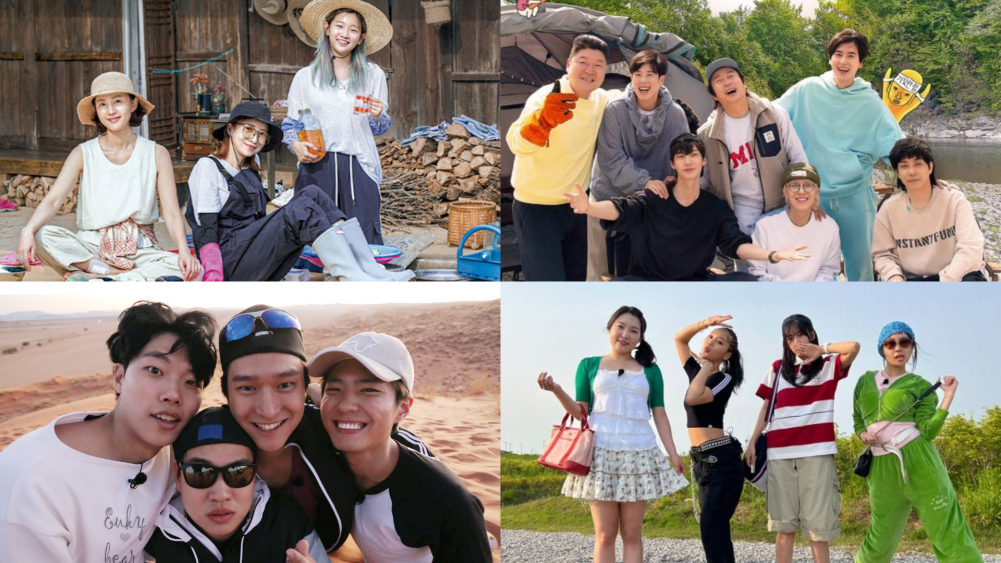 Na Young Seok, one of the top, if not the most popular Korean variety show producers, has stolen the hearts of avid variety show viewers. Originally an assistant director in the network's variety department, he was then promoted to producer/director and would go on to introduce the road trip format to Korean reality programming, a breakthrough not only in his career but in variety show formats.

His refreshing ideas, usually putting twists on the usual formats of variety shows, cemented his reputation as the most influential creator and producer in Korean reality television, reaching even international audiences. One of the typical patterns seen among his programs is reality-variety shows, where he aims to create stories when they are put together with other people through his editing.
He also started a trend of going beyond cable and network broadcasting, making some of his most famous works available solely through online streaming, providing creative freedom from the usual broadcast television restrictions. He eventually made his own YouTube Channel, 'Shiboya Channel,' where he will eventually release some of his produced variety shows and follow the fast-paced content creation during this generation.

Here's the second part of the list of some of his produced variety shows that you can all watch as a guide if you are interested in binge-watching all Na PD content! In case you missed it, check out part 1 here.
2019: 'Coffee Friends'
Produced by Na PD, the four actors run a cafe where they offer breakfast to customers on a tangerine plantation on the beautiful island of Jeju Island. The show was based on the monthly charity initiative that Yoo Yeon Seok and Son Ho Jun organized in 2018, where the two friends offered free cups of coffee as part of the donation project in exchange for contributions and donations of any amount. There are no prices listed on the menu at this cafe, and instead, the customers are urged to make donations in lieu of paying for their food and beverages.
Cast: Yoo Yeon Seok, Son Ho Jun, Choi Ji Woo, Yang Se Jong

2019: 'Korean Hostel in Spain'
The cast runs an albergue, a hostel designed specifically for pilgrims walking the 800 km Camino de Santiago. The albergue is 187 kilometers from Santiago de Compostela, the pilgrims' final destination, near Villafranca del Bierzo, Spain. For nine days, the cast offered passing travelers a cozy place to stay and hearty Korean meals that were prepared specifically for Korean pilgrims who missed their native cuisine while traveling so far.

Cast: Cha Seung Won, Yoo Hae Jin, Bae Jung Nam

2019: 'Three Meals in Iceland'
After winning a random draw during a mission on 'New Journey to the West- Season 6', Ji Won and Soo Geun were luckily picked to see the Northern Lights in Iceland. Although both were worried about the long flight, thinking it may be a punishment, they found themselves enjoying Iceland within a few days, all while competing for games and trying to complete missions.
Cast: Eun Ji Won, Lee Soo Geun
2019-2022: 'The Ramyeonator'
Ramen will be the focus of the program's single main ingredient. The program covers a wide range of ramen-related topics, including the finest combinations of ingredients to use when making ramen and how to enjoy it in various contexts. You may learn recipes and advice from watching the cast members consume and prepare ramen throughout the seasons.
[The Ramyeonator]

Cast: Kang Ho Dong
[The Idol Ramyeonators]
Cast: TREASURE's Choi Hyun Suk and Park Ji Hoon
2020: 'Friday Joy Package'
The show is an omnibus program with six distinct corners, each of which lasts only 15 minutes in each episode. Sports, science, art, travel, cookery, and labor are among the genres represented in the corners. The show includes: 'Life Experience Factory,' 'Amazing Science Wonderland,' 'Amazing Art Wonderland,' 'Lee Seo-jin's New York New York,' 'My Friend's Home's Very Special and Secretive Recipes,' and 'We're Cheering For You.'
Cast: Yang Jung Moo, Kim Sang Wook, Han Jun Hee, Lee Seo Jin, Hong Jin Kyung, Eun Ji Won, Park Ji Yoon, Jang Do Yeon, Lee Seung Gi, Song Min Ho
2020: 'Mapo Hipster'
The show is another brainchild of the genius producer, Na Young Seok, where it focuses on fashion, a rare main topic for a variety show. The show features the long-time best friends and self-proclaimed fashionistas Song Min Ho and P.O. going head to head against each other to win the "fashion king" award. Both must compete weekly in order to win the title by dressing in accordance with the missions of Time, Place, and Occasion. It becomes very interesting with the best friends' very different tastes in fashion and the very challenging and experimental concepts given to them.
Cast: Song Min Ho, P.O.
A variation and spin-off of the main show, 'Three Meals a Day,' 'Three Meals for Four' was dedicated to the members of SECHSKIES, which was meant to let the first generation idol members experience living together under one roof, something they haven't experienced when they were younger idols. You can enjoy watching the chemistry of SECHSKIES members and their bickering moments with Na PD while playing games and missions to win ingredients.
Cast: Eun Ji Won, Lee Jae Jin, Kim Jae Duck, Jang Su Won
2020: 'Summer Vacation'
A pair of celebrities from Korea appears on the reality program to unwind from the strains of contemporary metropolitan life; they go on vacation to a faraway place. They also extend a warm invitation to their other celebrity friends to stay at their country getaway to celebrate the wonderful summer vacation with them.

Cast: Jung Yoo Mi, Choi Woo Sik
2020: Lee's Kitchen
The show is a spin-off of 'Kang's Kitchen,' which in turn was a spin-off of 'New Journey to the West,' a television series in which the ensemble operated a restaurant for two seasons. In 'Kang's Kitchen,' Lee Soo Geun worked as a dishwasher and general kitchen assistant. This time, however, he will be in charge of 'Lee's Kitchen' all by himself.
Cast: Lee Soo Geun
2020-2021: 'Things That Make Me Groove'
Capturing the culture of drinking and nuances of how to have fun with your friends, 'Things That Make Me Groove' centers around Kyu Hyun's famous nickname from 'New Journey to the West,' "Drunkard Cho." Do not worry, it's not Kyu Hyun being drunk every week- but rather a mixture of learning about how the culture of drinking is an integral part of Korean cuisine and relationships. Every episode, they deal with new concepts, sometimes inviting Kyu Hyun's friends and acquaintances over while being entertaining.

Cast: Cho Kyu Hyun

2021: 'Youn's Stay'
The show is a spinoff inspired by 'Youn's Kitchen,' in which the cast members operate a hanok guesthouse, especially for foreigners who have lived in South Korea for less than a year so they can experience Korean culture. The cast is shown welcoming visitors who are in Korea on business or for academic purposes but are unable to fully experience the cuisine and culture because of COVID-19 limitations.

Cast: Youn Yuh Jung, Lee Seo Jin, Jung Yu Mi, Park Seo Joon, Choi Woo Sik
2021: 'Don't Look Back'
In order to keep the promise, they made during the last episode of 'Three Meals for Four,' SECHSKIES collaborates with the famous songwriter, Yoo Hee Yeol, to release a brand new single. Before SECHSKIES' brand-new single is released, the new series will go into detail about how the group members and Yoo Hee Yeol collaborated.
Cast: Eun Ji Won, Lee Jae Jin, Kim Jae Duck, Jang Su Won, Yoo Hee Yeol
2021: 'The Devil Wears Jung Nam- Season 1 to 2'
A witty reference to the movie 'The Devil Wears Prada,' Boss Bae- Jung Nam, is the owner of a custom-made clothing store that can be found nowhere in the world. The store offers a multi-faceted solution for people who worry about fashion and styling. The series became very popular for its various fashion tips that could be easily followed in daily life, alongside the amazing chemistry of Boss Bae with his co-consultants and co-workers.
Cast: Bae Jung Nam, Jo Jae Yoon, KAI
2021: 'Three Meals for Doctors: Hospital Playlist Goes Camping'
Yet another spinoff of 'Three Meals a Day,' the cast members- the 99z of the famous drama 'Hospital Playlist' go camping together and head for the peaceful mountain village as they cook, farm, and play!
Cast: Jo Jung Suk, Yoo Yeon Seok, Jung Kyung Ho, Kim Dae Myung, Jeon Mi Do
2021: 'The Game Caterers'
'The Game Caterers' is a business trip program with Na PD, as he caters for games for different people who he visits. He will visit official events and entertainment programs that require various games, from idol groups, and idols within the same company or label, to actresses and actors within the same label or starring in the same drama. The show has become a must-visit program among Korean celebrities who enjoy their time as they play a few episodes together filled with entertaining games.
2021: 'Spring Camp'
The latest spinoff of 'New Journey to the West,' 'Sping Camp,' becomes a reunion show of the members, alongside Jae Hyun, who has temporarily gone into a hiatus. The members go through multiple rounds of teaming up together during their time camping, with several random missions to choose who will be acting as their camping leader.
Cast: Kang Ho Dong, Eun Ji Won, Lee Soo Geun, Ahn Jae Hyun, Cho Kyu Hyun, Song Min Ho, P.O.
2021: 'Athletic Genius Ahn Jae Hyun'
Jae Hyun earned the label "Paper Doll" during his stint in 'New Journey to the West' due to his uncoordinated limbs and weakness in sports and athletic-related activities. The series documents Jae Hyun's determination and his way of challenging himself to become an athletic genius by improving his athletic skills by undergoing multiple sports training from experts.
Cast: Ahn Jae Hyun

2021: 'Song Min Ho's Pilot'
Song Min Ho, also known as MINO, of the boy band WINNER, will be starring in this series that has four segments. The four segments are experimental with different concepts, showing a "pilot episode," and in the end, the audience has the power to choose which one of them they want to continue to see more of.
Cast: Song Min Ho

2022: 'Unexpected Journey'
Youn Yuh Jung, who became the first Korean actress to win an acting Oscar last year, will be featured in 'Unexpected Journey; going through the journey of becoming a presenter for the best supporting actor at the 94th Academy Awards. Alongside her acting manager, Lee Seo Jin, the show will emphasize the daily life and the lifestyle of the professional actress.
Cast: Youn Yuh Jung, Lee Seo Jin
2022: 'Earth Arcade'
To capture the moon rabbit that escaped and came to Earth, four female warriors gathered. These four fly to various locations where they must carry out various tasks in order to get toward their objective of catching the rabbit. The show is a brand-new action-adventure hybrid multiverse concept that starts to take shape across time and space!
Cast: Ahn Yu Jin, Lee Young Ji, Mimi, Lee Eun Ji

Here's the last installment of your go-to guide to Na Young Seok PD's produced variety shows! Which among these shows would you recommend to new audiences, and which among these is your favorite?