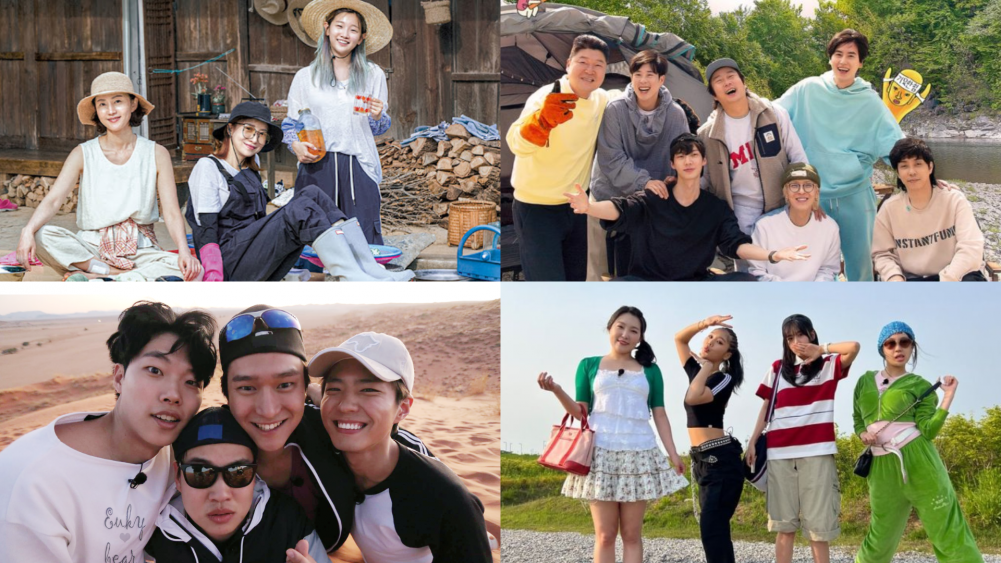 Na Young Seok, one of the top, if not the most popular Korean variety show producers, has stolen the hearts of avid variety show viewers. Initially an assistant director in the network's variety department, he was then promoted to producer/director and would go on to introduce the road trip format to Korean reality programming, a breakthrough not only in his career but in variety show formats.

His refreshing ideas, usually putting twists on the usual formats of variety shows, cemented his reputation as the most influential creator and producer in Korean reality television, reaching even international audiences. One of the usual patterns seen among his programs is reality-variety shows, where he aims to create stories when they are put together with other people through his editing.
He also started a trend of going beyond cable and network broadcasting, making some of his most famous works available solely through online streaming, providing creative freedom from the usual broadcast television restrictions. He eventually made his own YouTube Channel, 'Shiboya Channel,' where he will eventually release some of his produced variety shows and follow the fast-paced content creation during this generation.

Here are some of his produced variety shows that you can all watch as a guide if you are interested in binge-watching all Na PD content!
2004-2010: 'Star Golden Bell'
One of the most popular shows in the past, 'Star Golden Bell' invited various celebrities from music, film, television, and musicals to compete in a series of mini-games, which have certain prize amounts. The winning celebrity is given the opportunity to ring the bell by correctly answering a riddle. If they are correct, the money is donated in the winner's name. All "winnings" go to a charity of KBS's choice.
Cast: Ji Suk Jin, Jun Hyun Moo, Lee Chae Young

2007-2012: '2 Days & 1 Night- Season 1'
His breakthrough program, Na PD, introduced the road trip format to Korean reality programming, as a regular cast visits various places across Korea and spend one night and two days there, hence the title. The program quickly became the highest-rated variety program on KBS and a national viewing pastime, reaching a peak viewership rating of 40%. The show not only boosted tourism among its featured locations but extended to its cast and even the crew, particularly Na PD, because he appeared onscreen during interactions with the cast, making himself a household name among Korean audiences.
Cast: Kang Ho Dong, Lee Soo Geun, Kim Jong Min, Eun Ji Won, Lee Seung Gi, Noh Hong Chul, Ji Sang Ryul, Kim C, MC Mong, Uhm Tae Woong
2013-2018: 'Grandpas Over Flowers- Seasons 1 to 5'
Wordplay of the show 'Boys Over Flowers,' 'Grandpas Over Flowers' features four veteran actors in their seventies who go on a backpacking tour to overseas travel destinations alongside an actor in his forties who acts as their porter. The show defied a youth-centric entertainment industry and secured high viewership ratings, with a show demographic of varying ages. The show started a trend of senior citizen-themed series among competing networks, and the cast attracted increased mainstream popularity among the younger population. Its popularity also resulted in several countries expressing their interest in remaking the variety show, such as China and the United States.

Cast: Lee Soon Jae, Shin Goo, Park Geun Hyung, Baek Il Seob, Lee Seo Jin, Kim Yong Gun, Choi Ji Woo

2013-2014: 'Sisters Over Flowers'
A spinoff from 'Grandpas Over Flowers,' 'Sisters Over Flowers', featured veteran actresses going on a 10-day backpacking trip through Turkey and Croatia, accompanied and assisted by their assigned porter. Again, Na PD highlighted that his reason for casting veteran actresses and cast members was to show their experience as they had life stories to tell. The show eventually surpassed the viewership ratings of its predecessor and even received the Order of the Croatian Star as the show had a notable impact on tourism in Croatia.
Cast: Youn Yuh Jung, Kim Ja Ok, Kim Hee Ae, Lee Mi Yeon, Lee Seung Gi
2014-2018: 'Youth Over Flowers- Season 1 to 5'
Yet another spinoff, this time, the backpacking trip was carried over to showcase a reality trip among cast members who are friends.
[Youth Over Flowers: Peru]
Cast: Yoon Sang, Yoo Hee Yeol, Lee Juck
[Youth Over Flowers: Laos]
Cast: Yoo Yeon Seok, Son Ho Jun, Baro
[Youth Over Flowers: Iceland]
Cast: Jung Sang Hoon, Jung Woo, Jo Jung Suk, Kang Ha Neul
[Youth Over Flowers: Africa]
Cast: Ahn Jae Hong, Ryu Jun Yeol, Go Kyung Pyo, Park Bo Gum

[Youth Over Flowers: Australia]

Cast: WINNER's Kim Jin Woo, Lee Seung Hoon, Song Min Ho, Kang Seung Yoon
2014-2021: 'Three Meals a Day- Season 1 to 10'
The cast must prepare three meals a day using whatever food they can locate while spending three days a week in a tiny fishing or rural community. They connect with the people, experience village life, and invite a number of famous guests for dinner. Na PD stated that he intended to demonstrate to the audience how difficult it is to gather the ingredients for our everyday meals, which are now readily available at stores close to our residences.
[Three Meals a Day: Jeongseon Village]
Cast: Lee Seo Jin, Ok Taecyeon, Kim Kwang Kyu

[Three Meals a Day: Fishing Village]

Cast: Lee Seo Jin, Cha Seung Won, Yoo Hae Jin, Son Ho Jun, Eric Mun, Yoon Kyun Sang

[Three Meals a Day: Gochang Village]

Cast: Cha Seung Won, Yoo Hae Jin, Son Ho Jun, Nam Joo Hyuk

[Three Meals a Day: Mountain Village]

Cast: Yum Jung Ah, Yoon Se Ah, Park So Dam
2015-2020: 'New Journey to the West- Season 1 to 8'
The first project of tvN Go, 'New Journey to the West,' was the first variety show to have its whole distribution through internet streaming. With over 42 million views on Naver TV Cast and 10 million views on the Chinese portal site QQ, the show was a success. The first season was made possible due to the reunion of Na PD with some of '2 Days 1 Night Season 1' members, and its success resulted in more seasons, with the format eventually revolving and adapting. Every cast member in every season travels to various locations in character-specific attire in search of fabled dragon balls. To get dragon balls, they have to finish a task. The members' wishes would be fulfilled if they were able to collect seven dragon balls. This show has grown in popularity and received great audience ratings throughout the years thanks to its original concepts, dynamic plot, diverse cast, and amusing costumes.
Cast: Kang Ho Dong, Lee Seung Gi, Eun Ji Won, Lee Soo Geun, Ahn Jae Hyun, Cho Kyu Hyun, Song Min Ho, P.O.
2017-2018: 'The Dictionary Of Useless Knowledge- Season 1 to 3'
While visiting certain tourist destinations, the casts discuss a range of topics from their areas of expertise, including society, politics, the arts, science, and literature. The panels provide informative discussions on subjects that are simple for individuals to be unaware about and satisfy pointless curiosities that anyone can have daily. As age is used as a measure of position in society, which has led to disputes between the younger and older generations, they also demonstrated that old people might get together and spend the entire evening speaking without creating hierarchy.
Cast: Yoo Hee Yeol, Yoo Si Min, Hwang Gyo Ik, Kim Young Ha, Jeong Jae Seung, Yoo Hyeon Jun, Jang Dong Seon, Kim Jin Ae, Kim Sang Wook
2017-2018: 'Youn's Kitchen- Season 1 to 2'
Two seasons of the show 'Youn's Kitchen' are devoted to the idea of the cast traveling to a foreign country to open a temporary restaurant. Their main ingredient for the first season was bulgogi, which was offered in three different dishes: bulgogi rice, bulgogi noodles, and bulgogi burger. The primary food in the second season was bibimbap, which initially came in three flavors: bulgogi, spicy pork, and vegetable. In accordance with consumer demand and the availability of their products, the menus also occasionally vary.
Cast: Youn Yeo Jung, Shin Goo, Lee Seo Jin, Jung Yoo Mi, Park Seo Joon
2017-2019: Kang's Kitchen- Season 1 to 3'
According to a bet made by PD and the cast members, 'Kang's Kitchen' is a spinoff show of 'New Journey to the West' that was promised to be similar to 'Youn's Kitchen.' The group members carry out their duties as restaurateurs by preparing meals, doing the dishes, and entertaining the customers. While being amusing, you can enjoy learning simple yet delectable dishes, seeing patrons consume food, and observing the members at work.
Cast: Kang Ho Dong, Eun Ji Won, Lee Soo Geun, Ahn Jae Hyun, Cho Kyu Hyun, Song Min Ho, P.O.
2018: 'Little Cabin in the Woods'

Na PD made the decision to produce a documentary-style show that chronicles the lives of famous celebrities living off the grid in a cabin in the middle of the woods, away from people and modern conveniences. There, the cast members must spend their time on missions and performing everyday tasks like cooking, building a fire, and chopping firewood. 'Little Cabin in the Woods' was produced on the concept that TV viewers find great comfort in seeing celebrities live slow-paced, calm lives.
Cast: Park Shin Hye, So Ji Sub
Here's the first installment of your go-to guide to Na Young Seok PD's produced variety shows! Which among these shows would you recommend to new audiences, and which among these is your favorite?