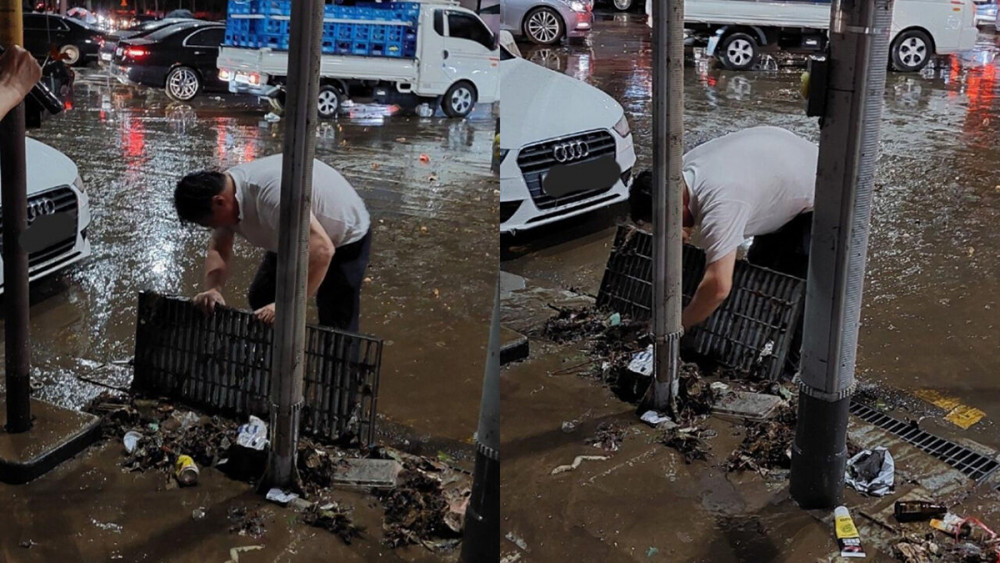 A "real-life superman" is going viral on online communities in light of the flooding in areas across South Korea caused by severe rain.
On the evening of August 8 KST, several parts of South Korea suffered from flooding due to excessive rain, including Seoul and its vicinity. The next morning, various posts about a "real-life superman" emerged on online communities, showing a man lifting up the cover of a road drain near Gangnam station.
Online users revealed, "This man lifted up the road drain and cleared out the trash that was clogging it with his bare hands, so the rain that was coming up to people's calves was drained away instantly. He prevented the roads from being flooded. Isn't he superman?"
Netizens commented, "Without any gloves? That could have been extremely dangerous TT. He is a hero", "Most people wouldn't even dream of getting their hands dirty like that TT. People who throw trash in those drains need to be punished", "All of that trash was in there?? That's so wrong", "That is a job that should have been taken care of by the city officials well before this rain season started!", "What a hero... there are really some amazing people out there", "I want to throw all of that trash right back into the homes of those people who threw them in there", "They should give that man an award".