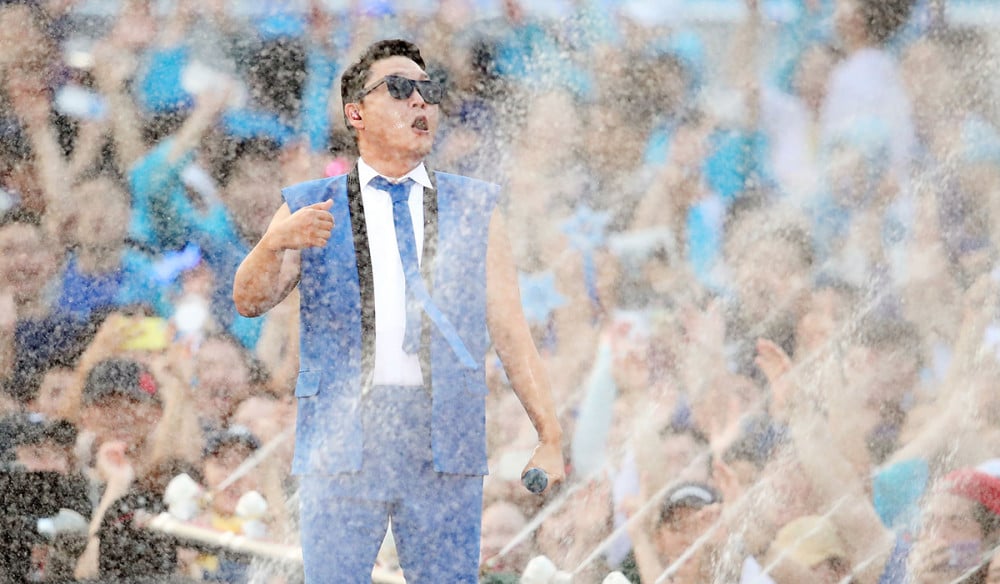 On June 22, P Nation announced an update regarding Psy's upcoming solo concert tour, 'Psy Soak Show - Summer Swag 2022'.
Previously, Psy faced criticism from netizens for the excessive use of water during his soak shows, where attendees are blasted with water cannons and streams throughout the concert. As South Korea's agriculture industry is currently suffering from a severe drought, many felt that Psy should cut back on the water usage. Then, additional concerns were then raised by South Korea's Central Disease Control Headquarters regarding the spread of harmful viruses and bacteria under wet conditions. The Headquarters warned, "We advise that outdoor events refrain from spraying water into crowds, when possible."
Initially, in response to the CDC's warning, Psy's side stated that concert attendees would receive waterproof masks upon entry.
Now, Psy has provided another update regarding the issue, stating,
"P Nation is doubling efforts to ensure that those who attend 'Psy Soak Show - Summer Swag 2022' will be able to watch the show under safe conditions.
P Nation and all affiliated staff participating in the production of this tour promise to follow all regulations for COVID-19 prevention strictly throughout the preparation process and until the end of the last show. Furthermore, all guidelines provided by the Central Disease Control Headquarters will be followed diligently.
In response to the concerns over the sanitation of masks in light of COVID-19, each concert venue will be thoroughly disinfected. All concert attendees will receive 1 waterproof mask, as well as 3 KF94 masks which can be switched out up to three times during the duration of the show.
We will continue to put forward our best efforts into the preparations so that we can greet audiences with the highest quality concert.
Thank you."
Meanwhile, according to South Korea's Ministry of the Interior and Safety in a recent update, the average rainfall amount for June of 2022 fell at half the amount recorded during normal years, and the nationwide drought is expected to continue into July.