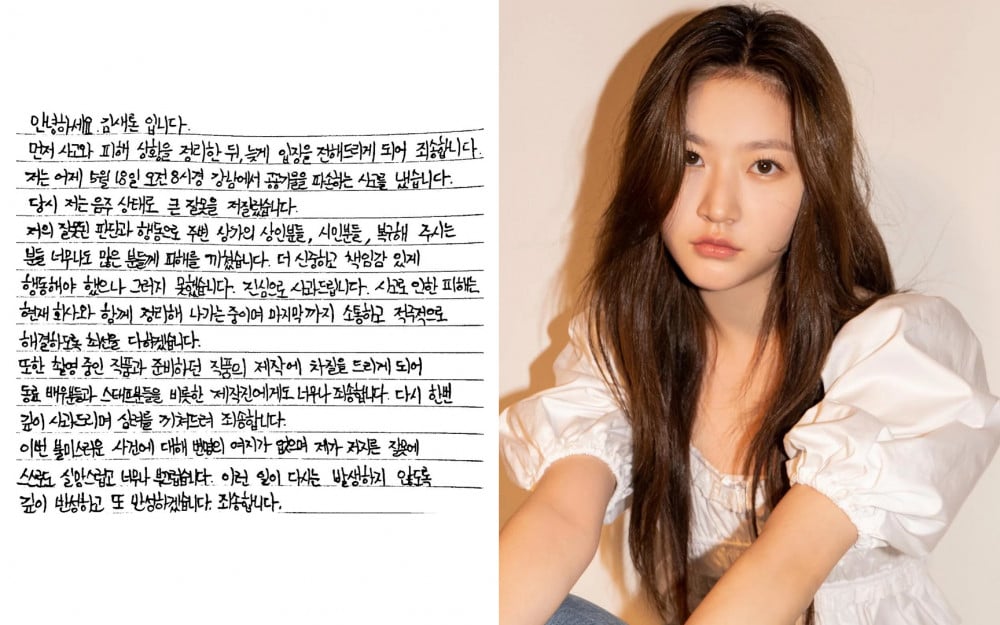 Kim Sae Ron posted a handwritten letter on her Instagram apologizing for the recent DUI incident.

On May 19, the actress posted on her personal Instagram a photo of a handwritten letter in regards to the DUI incident she was embroiled in. She apologized and explained that it took her a while to post the apology because she had to take care of the accident.
She wrote:
"Hello, This is Kim Sae Ron.
I apologize for releasing my statement so late only after taking care of the accident and damages.
I had an accident on May 18 at 8 PM damaging public property in Gangnam. At the time, I was in a drunken state and committed a big mistake.
I've caused much damage and inconvenience to so many people including the store owners of the nearby shops, citizens, and those who are restoring the damages due to my wrong judgment and actions. I should have acted more cautiously and responsibly but I was not able to. I sincerely apologize. I am currently working with my agency to deal with the damages caused by the accident and I will do my best to communicate to actively resolve the issue until the end.



Additionally, I apologize to my fellow actors and staff members along with the producers for causing a disruption to the production of the projects that are being filmed currently and the ones that are in preparation. Once again, I deeply apologize for causing an inconvenience.



There is no excuse for this unfortunate incident and I am so disappointed and ashamed of myself for the wrongdoing I have committed. I will deeply self-reflect so that this will not happen again. I'm sorry."