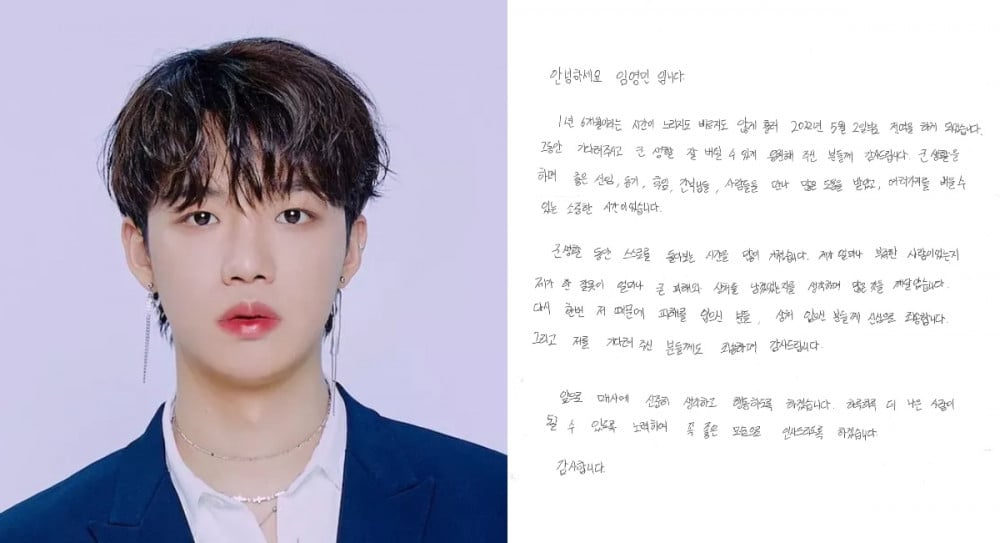 Former AB6IX member Lim Young Min hinted at his upcoming return to the music industry, 1 year and 6 months after leaving AB6IX due to his drunk driving incident.
On May 3 KST, Brand New Music took to their official Twitter to reveal a handwritten letter by former AB6IX member Youngmin, who was discharged from his mandatory military service duties on May 2.
Below is Youngmin's handwritten letter:
"Hello. this is Lim Youngmin.
1 year and 6 months have passed, neither too slow nor too fast, and on May 2, 2022 I have now been discharged from the military.
Thank you to all those who waited for me so that I could endure well in the military and for continuing to encourage me.
During my military service, I met good seniors, colleagues, juniors, executives, and people. It was a valuable time where I received a lot of help and was able to learn a lot.
I also had a lot of time to self-reflect during my military service.
I had many realizations while thinking about how flawed of a person I was and how much damage and hurt my wrong action must have caused.
Once again, I sincerely apologize to all those who were negatively affected and got hurt because of me.
Also, I am sorry and thankful to those who have waited for me.
From now on, I will think carefully before acting.
I will work hard to become a better person day by day, and greet you with a better side of me.
Thank you."