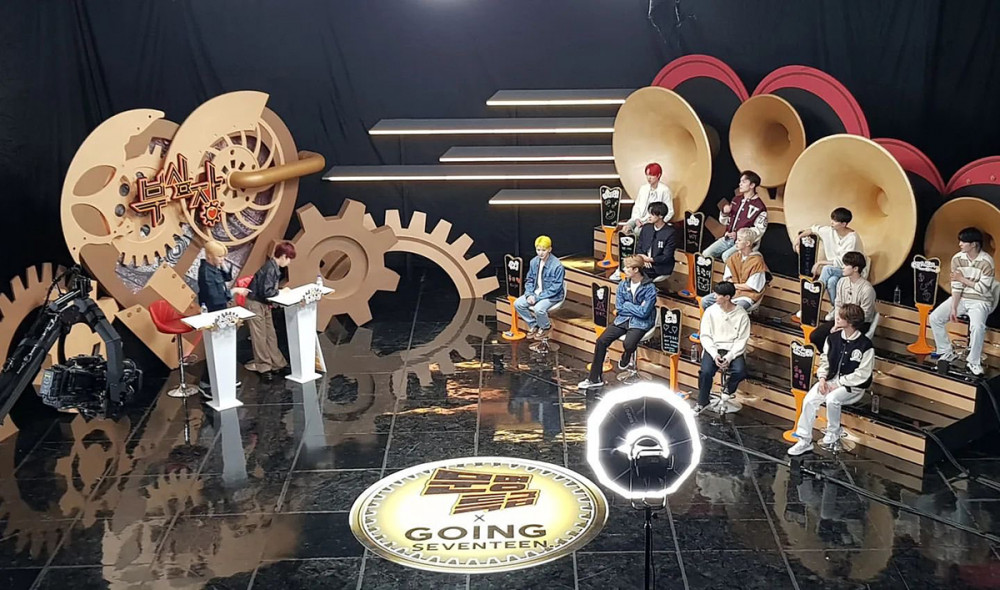 It looks like Seventeen have teamed up with the popular YouTube variety program 'MMTG - Civilization Express' for a special installment of 'Going Seventeen'!

On April 22, fans discovered spoiler images from Seventeen's recent filming set, featuring a logo which read, "MMTG x Going Seventeen".
Furthermore, in the spoiler image shown above, the Seventeen members can be seen sitting in a rather familiar set. MCs Jaejae and Seungkwan are seen standing by two podiums to the left side, right in front of a logo which reads, "Boo Heart". The other Seventeen members sit in the panelist area to the left, each person accompanied by a familiar chalk board next to them, filled with keywords.
There's no doubt about it, Seventeen and MC Jaejae are parodying the classic variety program, 'Strong Heart'!
Stay tuned to find out when this exciting 'MMTG x Going Seventeen' episode will air!