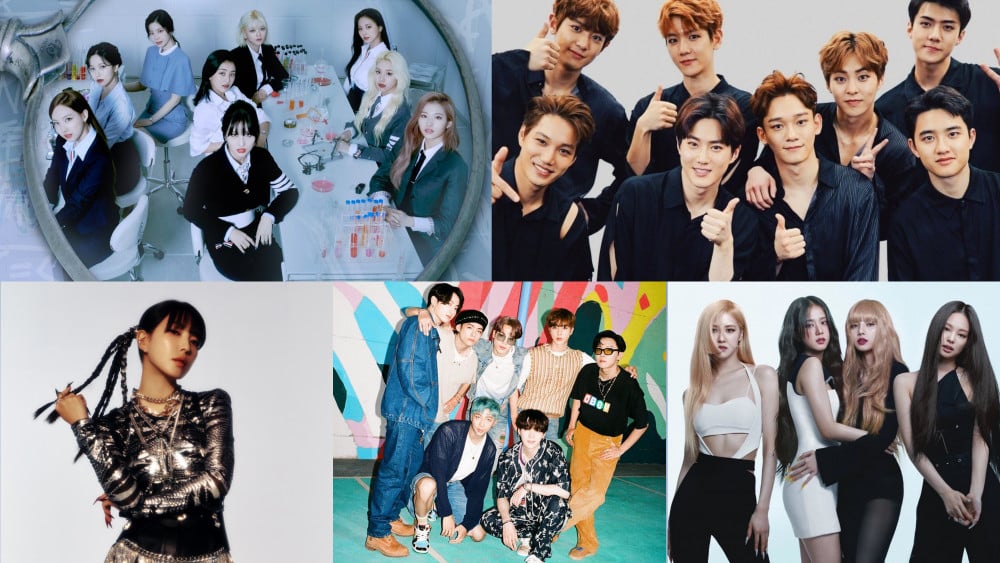 The K-Pop world is full of artists — may it be a soloist or a group — who breaks standards at any chance if they could in the music scene. The artists you will see in this list prove themselves for years that they can go beyond cast-iron borders with the unbreakable spirits they keep within themselves throughout their careers. Here are the different iconic and award-winning legends who have achieved ground-breaking records that aren't broken yet — and will surely take time for others to break.
1. First off with the legendary girl group miss A who won a daesang award 'Song of the Year' with their debut song 'Bad Girl Good Girl' at the 2010 Mnet Asian Music Awards — miss A still remains as the first and only group to achieve this feat in their rookie year, no group has ever followed miss A's achievement even after a decade of their record.
2. The twelve-member fourth-generation girl group shows that they can blow us away with their international records. LOONA proves that they can conquer the western music market as they hold the record with the most No. 1's on the U.S. iTunes, the most for any Korean girl group, extending their record with six albums achieving the milestone — as a matter of fact, it's actually atypical for a Korean girl group to top U.S iTunes charts. LOONA is also the first K-Pop girl group to top both the U.S. iTunes singles and album charts at the same time. They remain as the only K-Pop acts to have all albums to chart at No. 1 on the U.S. iTunes. What an impressive feat by a fourth-generation girl group!
3. The well-known Korean soloist who's known for releasing hits back then PSY still holds the most-viewed music video of all-time by a Korean soloist with 'Gangnam Style,' with over 4.3 billion views since its release in 2012 — the music video still gains a lot of views up until now.
4. BoA remains and will remain as one of the legendary Korean acts in Japan. BoA holds three out of the five best-selling albums by Korean acts in Oricon's history, with 'Valenti' selling over 1.24 million copies, 'Best of Soul' with 1.09 million, and 'Listen To My Soul' with over 932,000 copies sold as the #1, #2, and #4 best-selling albums respectively. This is a jaw-dropping achievement noting that BoA achieved this in 2002-2005 as a female soloist — no other Korean act has broken BoA's record.
5. The male pop duo TVXQ left numerous records in Japan that will absolutely take time for others to break those. TVXQ is the best-selling Korean artist of all-time in Oricon's history, with over 10 million copies sold in Japan alone. We can't have another TVXQ that pulled off longevity in charts and incredible impact in Japan. In fact, TVXQ was named as the 7th most impactful foreign act/entertainer in the Japan Heisei era, along with Michael Jackson, Tom Cruise, Brad Pitt, and more, the only Korean and Asian music act to be included in the Top 10 according to Fuji TV last 2019. Heisei era began in January 1989 and ended in April 2019 (30 years).
6. One of the notable artists in the history of the K-Pop industry is IU. She has been breaking records as soon as she stepped inside the music industry, and she's been carrying tons of achievements in her back since her debut. IU holds the impressive record as the Korean act with the most songs to achieve a Perfect All-Kill (PAK) with 21 songs. From her release in 2010 'Nagging' until her latest single 'Strawberry Moon,' she keeps achieving Perfect All-Kill! It's been more than a decade since her first-ever PAK, IU and her songs never get old as she can still pull off near-perfect tracks, and we don't get tired of her releases!
7. The long-beloved nation's girl group Girls' Generation has had innumerable records. Though some were already broken, there are still some they still hold even after 14 years since their debut. They hold the record as the most-awarded Korean girl group of all-time with over 400 awards, including major awards, music shows, sub-units, and individual trophies —but hey, it's hard and rare for a girl group and its members to slay in everything and bring home tons of awards individually and in terms of sub-unit, so allow me to add those, too. Up to this day, no girl group comes close to the number of awards Girls' Generation have.
8. The global girl group BLACKPINK has cemented their legacy and made their name prominent as soon as their career launched in 2016. The girl group still holds the astonishing record as their debut song 'Whistle' achieved a Perfect All-Kill (PAK) — the first and only K-pop group to achieve this with a debut song — and no one has ever achieved it except BLACKPINK to this date.
9. The K-Pop superstars EXO sold over 66,000 tickets in 0.2 seconds for their 2017 tour 'EXO PLANET #3 -The ElyXiOn' with over 1.15 million fans trying to score a ticket, it currently holds the record as the fastest-selling concert among any Korean acts — and is still never broken.
10. The world-renowned and critically-acclaimed girl group TWICE proves they're one of the powerhouses in the K-Pop industry. With all of their achievements as a six-year-old group, they have shown beyond doubt that they can break any barrier for a girl group. With more than 10 million cumulative sales worldwide, TWICE is the best-selling girl group, and no one comes close—yet. They also hold the record as the first and only girl group to win Song of the Year at the Mnet Asian Music Awards for three consecutive years.
11. The biggest artist right now, who is capable of breaking any record left and right, holding one of the biggest names in the music industry BTS. The group holds countless records under their name and it seems like their hands aren't enough to carry their bags full of trophies. BTS is the first and only K-Pop acts to receive a Grammy nomination. 'Butter' has spent ten weeks at No. 1 on Billboard's 'Hot 100,' the first and only song by a Korean act to do so. BTS also occupies all the Top 5 best-selling albums in South Korea. They broke too many records, and it can't fit in this article — let's leave it as their achievements make noise themselves already.
There are several K-Pop acts who have achieved notable accomplishments in the industry as well, but these artists listed above hold the most impressive records and definitely will take time for other artists to break those.