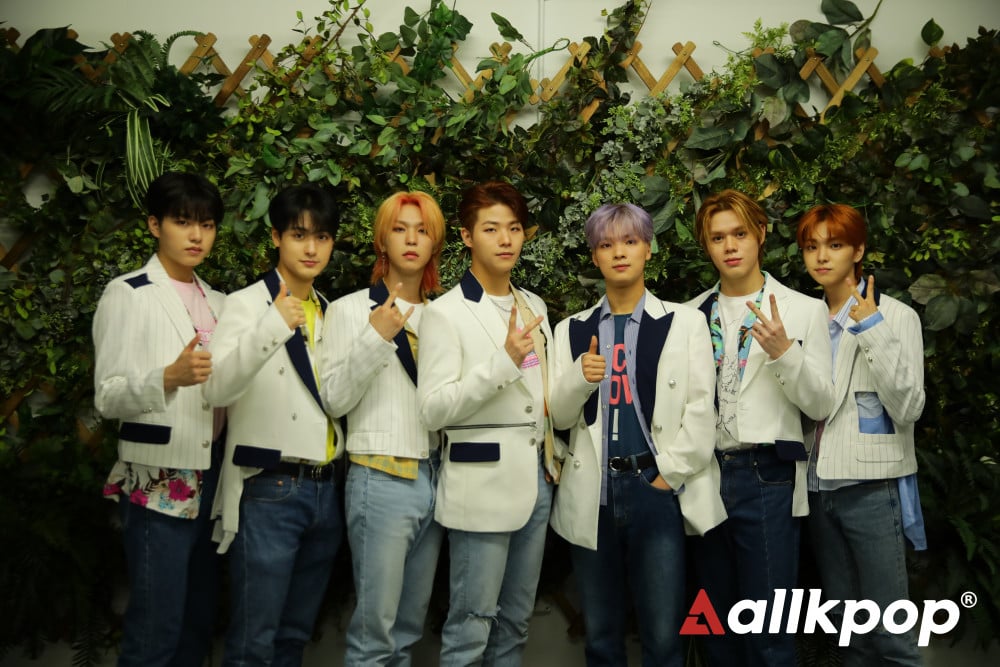 After kicking off their first U.S. tour in LA, Maroo Entertainment boy group GHOST9 sat down with allkpop to discuss their thoughts on promoting overseas and enduring many challenges. Read what the seven members had to say about their albums and the K-Pop scene, from their favorite B-side tracks to the sunbaenims they admire!
AKP: Congratulations on your first U.S. tour! How do you feel?
WOOJIN It was my first time traveling overseas, so I was very nervous. But, I think I feel good even in this very moment. The fact that I have set foot on this land feels like a dream.
SHIN I was kind of worried at first, but now I am glad that we have completed [the concert] without any injuries. We all had fun.
JUNHYUNG This was our first in-person concert, so we were worried a lot and felt a bit uncertain. But, listening to the fans' cheers was incredible.
JUNSEONG The concert was really fun, and it was a great opportunity to learn about new cultures at a foreign place. It's fascinating to approach new experiences, so I am very happy these days.
PRINCE The concert was really fun, so I am very excited about our next one [in San Francisco] as well.
KANGSUNG It was really fun, but the fact that we started it off without any complications is awesome. We were nervous, but we had fun while enjoying ourselves.
AKP: What are some memorable places or things you've done in LA so far?
WOOJIN We went to Santa Monica, and the birds there were different from our pigeons back in Korea. [Other members: You mean the seagulls?] Yes! They were about 1.5 times bigger than our Korean pigeons. That was quite memorable for me. The squirrels were interesting, too.
JUNHYUNG Yes, the squirrels on the streets were as big as rabbits.
KANGSUNG We have only seen coin laundries in films or in M/Vs. I thought they would only take coins here in the U.S. for the laundries but...they also took credit cards, just like in Korea. (laughs)
AKP: After promoting for almost 2 years during a pandemic, what was your initial reaction to seeing your international fans at a live concert venue?
WOOJIN It was the first concert where screaming and cheering were allowed. The high tension of the fans here was great. It was really fun.
JUNHYUNG Yes, it felt like we were partying!
AKP: You have already released five mini albums with various genres. If you could pick one favorite song that isn't the title track, what would it be?
JUNHYUNG For me, the song "FOCUS" from our 2nd mini album is something I'd like to perform often. It's my favorite one.
WOOJIN For me, the song "TRIANGLE" seems to a favorite among the international fans.
AKP That was also one of my favorites!
WOOJIN I also like it because I have a lot of parts in that one (laughs).
KANGSUNG It's difficult to choose, but "Flying at Night" seems to bring a lot of attention among fans over time.
AKP: Your latest title track is called "Control." The lyrics in the chorus, "Your conducting maestro," are very striking. If you could control anything in the world, what would it be, and why?
JUNHYUNG I would like to be able to control my life. It would be great if I could do as my heart desires.

WOOJIN I wish I could control another person's heart.
SHIN I wish I could control time.
KANGSUNG Do you know the film 'About Time'? I wish I could go back to a certain point in time by entering a wardrobe [like in the movie].
JUNSEONG I wish I could control every object.
PRINCE For me, it's my own weight. And, the way my face puffs up. (Other members: Wow, that's really realistic.) I want to be able to control my visuals, image-wise.
JINWOO I would like to control the weather.
AKP: Meanwhile, the title of the album is 'NOW: Who We Are Facing.' What is the biggest challenge you have faced so far, and how did you overcome it?
JUNHYUNG For me, my pre-debut days were the most difficult. The road to a debut as a trainee seems like such a short period of time. And yet, it's a time that makes a lot of difference. I don't know how to explain this, but I went through a lot of emotional distress. There was a lot of pressure to show our best sides, without knowing how we would be judged.
KANGSUNG For me, the jetlag was really difficult. We slept a lot. Even today, I slept for about 12 hours, but I am still tired. But, the fact that we adjusted to the water here is a very fortunate thing. We used to think we would have to drink Coke all the time, but thankfully, nobody has had any trouble with the change of water.
AKP: What kind of concept would you like to try in the future?
JUNHYUNG I want a 'party tonight' concept!
KANGSUNG There's a 'drill' hip-hop genre from the UK, and I think it would be fun to make a unit and show a lunatic side to ourselves (like a "maniac") for variety.
SHIN If we have thus far shown a performative side to ourselves with an edgy choreography, we would like to try a concept where we can simply play on stage.
PRINCE As for me, on the other hand, I'd like to try something acoustic. Something that reminds you of the winter. Spring or winter.
KANGSUNG I think our concept keeps changing because we all have so many different opinions.
AKP: Do you each have a role model out of the sunbaenims in K-Pop? Is there a performance that you find particularly inspiring?
WOOJIN Highlight sunbaenims! My sister also used to like them a lot, so I started liking them, too.
KANGSUNG At first, I used to be in the dark about K-Pop and the idol world. But after cultivating this dream, the first artist I really liked was Zico sunbaenim. I liked how Zico was able to do a variety of things and have fun while being an idol.
PRINCE I really like Sam Kim sunbaenim.
JUNSEONG I really like DAY6 sunbaenim. I love band music. I prefer their music.
JUNHYUNG For me, it's BIG BANG's Taeyang sunbaenim.
SHIN For me, EXO's Kai and SHINee's Taemin sunbaenims.
JINWOO I like Naul sunbaenim. I like his music a lot.
AKP: I want to ask the oldest hyungs in the group, Shin and Junhyung. When do you find the maknaes to be the most adorable?
SHIN In my case, I get 'ignored' a lot, so instead of finding them 'adorable,' I feel like the maknaes are my hyungs.
JINWOO Whenever he tells me something, Shin hyung says that we [maknaes] don't really respond to him. But, whenever I respond, I tend to rely on body language, so I would nod and stuff. But Shin hyung never sees me, so he kind of thinks that I 'ignore' him. (laughs)
SHIN I think Jinwoo is the cutest when he can't get up in the morning.
JINWOO Didn't you initially say you wanted to kill me whenever I couldn't get up during our trainee days? (laughs)
SHIN Well, at least I washed your face for you.
JUNHYUNG I think I find them adorable when they eat.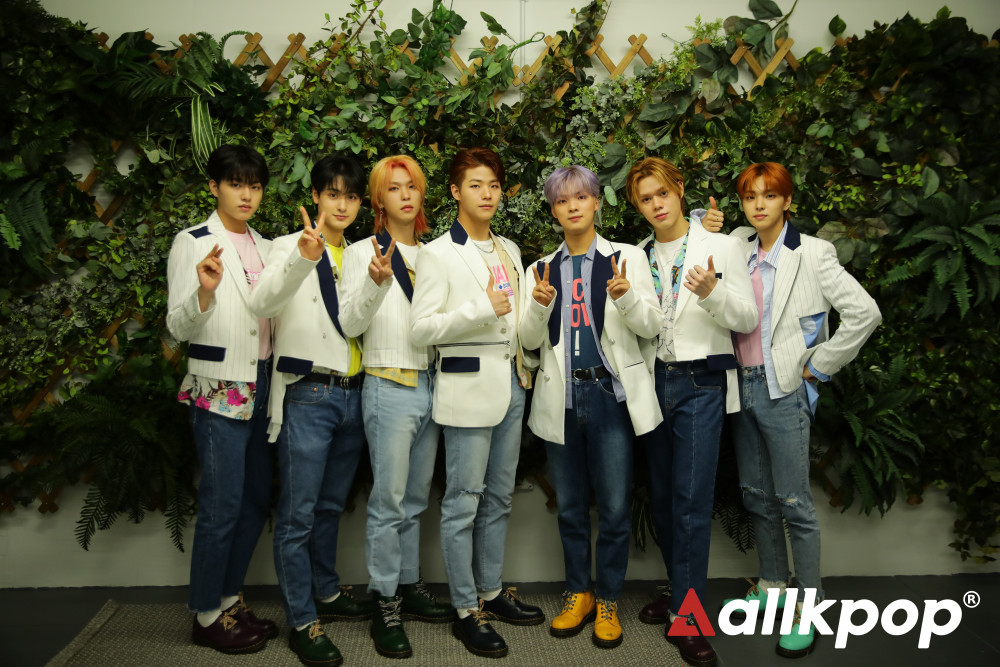 AKP: Now, I want to ask the maknae in the group: Jinwoo. When do you find the hyungs to be the most dependable?
JINWOO Whenever there would be physically robust teachers around, it feels good to have Junhyung hyung stand in the front, because his shoulders are so broad.
SHIN I find Junhyung cool and dependable whenever he orders for us in English.
JINWOO Yes, I was really thankful when Junhyung hyung ordered for us at Five Guys.
KANGSUNG If it weren't for Junhyung hyung, we would have ordered 11 sets of French fries at Five Guys, along with the hamburgers...
AKP: What would you say makes GHOST9 stand out as an idol group?
JUNHYUNG The seven of us are all so different. There is not a single part about us that overlaps. But, I don't think that's a bad thing. Whenever the seven of us would come together, the synergy is out of this world.
KANGSUNG So, even with our concepts, the fact that we can try a bunch of new things without a permanent identity makes us a team capable of experimenting. Ever since our debut, I used to say that we are like chameleons that can digest any concept, whenever. I still think that way.
WOOJIN We also make new adventures. We filmed on top of the 63 Building and at another 80-floored building. We also danced near the Han River and aboard a ship, above the waters. We tried online concerts and now an in-person tour here [in the states]. I think it's great that we try these new adventures every time we release an album.
AKP Yes, and you also performed at UCLA and collaborated with Koreos!
SHIN Yes, the campus was really great. We lied down on the grass for about 30 minutes there. We also saw people with hammocks.
AKP: We're curious about your plans this year! What are you looking forward to the most, and what would you like to accomplish in 2022?
JUNSEONG Since we are all accomplishing our first overseas schedule here for a tour, I would like for us to visit other countries as well to greet more Ghosties.
KANGSUNG I am starting to think about my health, now that I have turned 21...
PRINCE I want to travel, but safely.
SHIN I would like to perform at an end-of-year awards show.
JINWOO I would like to feel a lot of inspiration. Experience a lot of new things.
WOOJIN I would like for us to hit #1, wherever it is.
JUNHYUNG I would like to work on self-improvement.
AKP: Lastly, please give a message to all our Ghosties at allkpop!
JUNHYUNG We were really happy to greet you all in LA, and it feels amazing. We will greet you in many other cities as well, so I hope you look forward to it. Thank you, as always. Love you.
WOOJIN Yes, there are still three more concerts left, so please look forward to them.
KANGSUNG We debuted during COVID, so up until now, a lot of domestic and international Ghostie fans have waited for us a lot. But, we are now just getting started. And, since we have arrived here in the states, we would like to continue to be versatile and create more opportunities to meet our international Ghosties as much as possible.
SHIN We would like to thank our Ghosties in advance for following us through 2022!